Nintendo Switch Fire Emblem Warriors - Three Hopes (MDE)
Release Date: 24 June 2022
Genre: Tactics RPG
Region: Middle East
Step into the shoes of Shez as they join Edelgard, Dimitri, Claude, and other Fire Emblem™: Three Houses characters and fight for the future of Fódlan. Align with a leader to build and command an army in strategic 1-vs.-1,000-style battles. The house you choose will bring you through one of three compelling stories, each with a different outcome.
Issue commands to your army during the chaos of battle to achieve missions and objectives. Swap between characters on the fly to maximize your battle strategies
Plan ahead to create favorable combat. Carefully examine the map, consider your objectives, choose your allies, and equip them with the right weapons. Some will have advantages against specific foes, so deploy wisely.
Classes can help inform your battle strategies. Leverage special attacks based on a character's class to tip the balance in your favor.
Hire battalions that fight alongside your characters to fortify their capabilities, or even shore up a tactical weakness.
Related Products
Nintendo Switch Games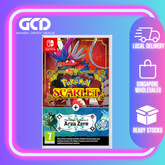 Quick View
{"id":7292032417845,"title":"Nintendo Switch Pokemon Scarlet + The Hidden Treasure of Area Zero","handle":"nintendo-switch-pokemon-scarlet-the-hidden-treasure-of-area-zero","description":"\u003cp\u003e\u003cmeta charset=\"utf-8\"\u003e\u003cstrong\u003eGenre\u003c\/strong\u003e: Adventure\u003cbr\u003e\u003cmeta charset=\"utf-8\"\u003e\u003cstrong\u003eRelease Date:\u003c\/strong\u003e 18th November 2022 \u003cbr\u003e\u003c\/p\u003e\n\u003cp\u003e\u003ciframe title=\"YouTube video player\" src=\"https:\/\/www.youtube.com\/embed\/7qWgjU6REnU?si=eCiuPgNvgdGi5Q3P\" height=\"315\" width=\"560\" allowfullscreen=\"\" allow=\"accelerometer; autoplay; clipboard-write; encrypted-media; gyroscope; picture-in-picture; web-share\" frameborder=\"0\"\u003e\u003c\/iframe\u003e\u003c\/p\u003e\n\u003cp data-mce-fragment=\"1\"\u003eThe newest chapters in the Pokémon series, the Pokémon Scarlet and Pokemon Violet games, are coming to the Nintendo Switch system later this year. As the main character, you can explore a wide-open world at your own pace, and can encounter the Legendary Pokémon Koraidon. In these games, you'll be able to enjoy the iconic adventures of the Pokémon series, like battling against wild Pokémon and trying to catch them! Choose either Sprigatito, the Grass Cat Pokémon, Fuecoco, the Fire Croc Pokémon, or Quaxly, the Duck ling Pokémon to be your first partner Pokémon before setting off on your journey through this new region.\u003c\/p\u003e\n\u003cp data-mce-fragment=\"1\"\u003eExplore freely in the rich open world of Pokémon Scarlet\u003cbr\u003e\u003c\/p\u003e\n\u003cp data-mce-fragment=\"1\"\u003eTrainers can explore an open world where the various towns and cities have no borders and blend seamlessly into the wilderness. Pokémon can be discovered all over this expansive region—in the skies, in the seas, in the forests, on the streets, and more! Your outfit will vary depending on whether you play Pokémon Scarlet or Pokémon Violet. After its release, the Pokémon Scarlet game will be able to link with Pokemon HOME.\u003cbr\u003e\u003c\/p\u003e\n\u003cp data-mce-fragment=\"1\"\u003e\u003cbr\u003e\u003c\/p\u003e","published_at":"2023-11-23T10:45:30+08:00","created_at":"2023-11-23T10:40:34+08:00","vendor":"Games Crazy Deals","type":"Nintendo Switch Games","tags":["Nintendo","Nintendo-Games","Nintendo-Switch","Nintendo-Switch-Games"],"price":8490,"price_min":8490,"price_max":8490,"available":true,"price_varies":false,"compare_at_price":null,"compare_at_price_min":0,"compare_at_price_max":0,"compare_at_price_varies":false,"variants":[{"id":42735140634677,"title":"Default Title","option1":"Default Title","option2":null,"option3":null,"sku":null,"requires_shipping":true,"taxable":true,"featured_image":null,"available":true,"name":"Nintendo Switch Pokemon Scarlet + The Hidden Treasure of Area Zero","public_title":null,"options":["Default Title"],"price":8490,"weight":200,"compare_at_price":null,"inventory_quantity":6,"inventory_management":"shopify","inventory_policy":"deny","barcode":null}],"images":["\/\/gamescrazydeals.com\/cdn\/shop\/files\/NintendoSwitchPokemonScarlet_TheHiddenTreasureofAreaZero_1.png?v=1700707437","\/\/gamescrazydeals.com\/cdn\/shop\/files\/NintendoSwitchPokemonScarlet_TheHiddenTreasureofAreaZero-2.jpg?v=1700707520","\/\/gamescrazydeals.com\/cdn\/shop\/files\/NintendoSwitchPokemonScarlet_TheHiddenTreasureofAreaZero-3.jpg?v=1700707520","\/\/gamescrazydeals.com\/cdn\/shop\/files\/NintendoSwitchPokemonScarlet_TheHiddenTreasureofAreaZero.jpg?v=1700707521"],"featured_image":"\/\/gamescrazydeals.com\/cdn\/shop\/files\/NintendoSwitchPokemonScarlet_TheHiddenTreasureofAreaZero_1.png?v=1700707437","options":["Title"],"media":[{"alt":null,"id":26588160458805,"position":1,"preview_image":{"aspect_ratio":1.0,"height":1080,"width":1080,"src":"\/\/gamescrazydeals.com\/cdn\/shop\/files\/NintendoSwitchPokemonScarlet_TheHiddenTreasureofAreaZero_1.png?v=1700707437"},"aspect_ratio":1.0,"height":1080,"media_type":"image","src":"\/\/gamescrazydeals.com\/cdn\/shop\/files\/NintendoSwitchPokemonScarlet_TheHiddenTreasureofAreaZero_1.png?v=1700707437","width":1080},{"alt":null,"id":26588161933365,"position":2,"preview_image":{"aspect_ratio":1.0,"height":1080,"width":1080,"src":"\/\/gamescrazydeals.com\/cdn\/shop\/files\/NintendoSwitchPokemonScarlet_TheHiddenTreasureofAreaZero-2.jpg?v=1700707520"},"aspect_ratio":1.0,"height":1080,"media_type":"image","src":"\/\/gamescrazydeals.com\/cdn\/shop\/files\/NintendoSwitchPokemonScarlet_TheHiddenTreasureofAreaZero-2.jpg?v=1700707520","width":1080},{"alt":null,"id":26588161966133,"position":3,"preview_image":{"aspect_ratio":1.0,"height":1080,"width":1080,"src":"\/\/gamescrazydeals.com\/cdn\/shop\/files\/NintendoSwitchPokemonScarlet_TheHiddenTreasureofAreaZero-3.jpg?v=1700707520"},"aspect_ratio":1.0,"height":1080,"media_type":"image","src":"\/\/gamescrazydeals.com\/cdn\/shop\/files\/NintendoSwitchPokemonScarlet_TheHiddenTreasureofAreaZero-3.jpg?v=1700707520","width":1080},{"alt":null,"id":26588161998901,"position":4,"preview_image":{"aspect_ratio":1.0,"height":1080,"width":1080,"src":"\/\/gamescrazydeals.com\/cdn\/shop\/files\/NintendoSwitchPokemonScarlet_TheHiddenTreasureofAreaZero.jpg?v=1700707521"},"aspect_ratio":1.0,"height":1080,"media_type":"image","src":"\/\/gamescrazydeals.com\/cdn\/shop\/files\/NintendoSwitchPokemonScarlet_TheHiddenTreasureofAreaZero.jpg?v=1700707521","width":1080}],"content":"\u003cp\u003e\u003cmeta charset=\"utf-8\"\u003e\u003cstrong\u003eGenre\u003c\/strong\u003e: Adventure\u003cbr\u003e\u003cmeta charset=\"utf-8\"\u003e\u003cstrong\u003eRelease Date:\u003c\/strong\u003e 18th November 2022 \u003cbr\u003e\u003c\/p\u003e\n\u003cp\u003e\u003ciframe title=\"YouTube video player\" src=\"https:\/\/www.youtube.com\/embed\/7qWgjU6REnU?si=eCiuPgNvgdGi5Q3P\" height=\"315\" width=\"560\" allowfullscreen=\"\" allow=\"accelerometer; autoplay; clipboard-write; encrypted-media; gyroscope; picture-in-picture; web-share\" frameborder=\"0\"\u003e\u003c\/iframe\u003e\u003c\/p\u003e\n\u003cp data-mce-fragment=\"1\"\u003eThe newest chapters in the Pokémon series, the Pokémon Scarlet and Pokemon Violet games, are coming to the Nintendo Switch system later this year. As the main character, you can explore a wide-open world at your own pace, and can encounter the Legendary Pokémon Koraidon. In these games, you'll be able to enjoy the iconic adventures of the Pokémon series, like battling against wild Pokémon and trying to catch them! Choose either Sprigatito, the Grass Cat Pokémon, Fuecoco, the Fire Croc Pokémon, or Quaxly, the Duck ling Pokémon to be your first partner Pokémon before setting off on your journey through this new region.\u003c\/p\u003e\n\u003cp data-mce-fragment=\"1\"\u003eExplore freely in the rich open world of Pokémon Scarlet\u003cbr\u003e\u003c\/p\u003e\n\u003cp data-mce-fragment=\"1\"\u003eTrainers can explore an open world where the various towns and cities have no borders and blend seamlessly into the wilderness. Pokémon can be discovered all over this expansive region—in the skies, in the seas, in the forests, on the streets, and more! Your outfit will vary depending on whether you play Pokémon Scarlet or Pokémon Violet. After its release, the Pokémon Scarlet game will be able to link with Pokemon HOME.\u003cbr\u003e\u003c\/p\u003e\n\u003cp data-mce-fragment=\"1\"\u003e\u003cbr\u003e\u003c\/p\u003e"}
Nintendo Switch Games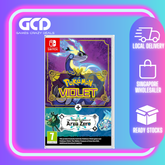 Quick View
{"id":7292030877749,"title":"Nintendo Switch Pokemon Violet + The Hidden Treasure of Area Zero","handle":"copy-of-nintendo-switch-pokemon-violet","description":"\u003cmeta charset=\"utf-8\"\u003e\u003cstrong\u003eGenre\u003c\/strong\u003e: Adventure\u003cbr\u003e\u003cmeta charset=\"utf-8\"\u003e\u003cstrong\u003eRelease Date:\u003c\/strong\u003e 18th November 2022 \u003cbr\u003e\u003ciframe width=\"560\" height=\"315\" src=\"https:\/\/www.youtube.com\/embed\/yBPdzeF0lC4\" title=\"YouTube video player\" frameborder=\"0\" allow=\"accelerometer; autoplay; clipboard-write; encrypted-media; gyroscope; picture-in-picture; web-share\" allowfullscreen=\"\"\u003e\u003c\/iframe\u003e\n\u003cp data-mce-fragment=\"1\"\u003eThe newest chapters in the Pokémon series, the Pokémon Scarlet and Pokemon Violet games, are coming to the Nintendo Switch system later this year. As the main character, you can explore a wide-open world at your own pace, and can encounter the Legendary Pokémon Koraidon. In these games, you'll be able to enjoy the iconic adventures of the Pokémon series, like battling against wild Pokémon and trying to catch them! Choose either Sprigatito, the Grass Cat Pokémon, Fuecoco, the Fire Croc Pokémon, or Quaxly, the Duck ling Pokémon to be your first partner Pokémon before setting off on your journey through this new region.\u003c\/p\u003e\n\u003cp data-mce-fragment=\"1\"\u003eExplore freely in the rich open world of Pokémon Violet\u003cbr\u003e\u003c\/p\u003e\n\u003cp data-mce-fragment=\"1\"\u003eTrainers can explore an open world where the various towns and cities have no borders and blend seamlessly into the wilderness. Pokémon can be discovered all over this expansive region—in the skies, in the seas, in the forests, on the streets, and more! Your outfit will vary depending on whether you play Pokémon Scarlet or Pokémon Violet. After its release, the Pokémon Scarlet game will be able to link with Pokemon HOME.\u003cbr\u003e\u003c\/p\u003e\n\u003cp data-mce-fragment=\"1\"\u003e\u003cbr\u003e\u003c\/p\u003e","published_at":"2023-11-23T10:28:43+08:00","created_at":"2023-11-23T10:24:39+08:00","vendor":"Games Crazy Deals","type":"Nintendo Switch Games","tags":["Nintendo","Nintendo-Games","Nintendo-Switch","Nintendo-Switch-Games"],"price":8490,"price_min":8490,"price_max":8490,"available":true,"price_varies":false,"compare_at_price":null,"compare_at_price_min":0,"compare_at_price_max":0,"compare_at_price_varies":false,"variants":[{"id":42735126282293,"title":"Default Title","option1":"Default Title","option2":null,"option3":null,"sku":null,"requires_shipping":true,"taxable":true,"featured_image":null,"available":true,"name":"Nintendo Switch Pokemon Violet + The Hidden Treasure of Area Zero","public_title":null,"options":["Default Title"],"price":8490,"weight":200,"compare_at_price":null,"inventory_quantity":6,"inventory_management":"shopify","inventory_policy":"deny","barcode":null}],"images":["\/\/gamescrazydeals.com\/cdn\/shop\/files\/NintendoSwitchPokemonViolet_TheHiddenTreasureofAreaZero_1.png?v=1700706360"],"featured_image":"\/\/gamescrazydeals.com\/cdn\/shop\/files\/NintendoSwitchPokemonViolet_TheHiddenTreasureofAreaZero_1.png?v=1700706360","options":["Title"],"media":[{"alt":null,"id":26588139880501,"position":1,"preview_image":{"aspect_ratio":1.0,"height":1080,"width":1080,"src":"\/\/gamescrazydeals.com\/cdn\/shop\/files\/NintendoSwitchPokemonViolet_TheHiddenTreasureofAreaZero_1.png?v=1700706360"},"aspect_ratio":1.0,"height":1080,"media_type":"image","src":"\/\/gamescrazydeals.com\/cdn\/shop\/files\/NintendoSwitchPokemonViolet_TheHiddenTreasureofAreaZero_1.png?v=1700706360","width":1080}],"content":"\u003cmeta charset=\"utf-8\"\u003e\u003cstrong\u003eGenre\u003c\/strong\u003e: Adventure\u003cbr\u003e\u003cmeta charset=\"utf-8\"\u003e\u003cstrong\u003eRelease Date:\u003c\/strong\u003e 18th November 2022 \u003cbr\u003e\u003ciframe width=\"560\" height=\"315\" src=\"https:\/\/www.youtube.com\/embed\/yBPdzeF0lC4\" title=\"YouTube video player\" frameborder=\"0\" allow=\"accelerometer; autoplay; clipboard-write; encrypted-media; gyroscope; picture-in-picture; web-share\" allowfullscreen=\"\"\u003e\u003c\/iframe\u003e\n\u003cp data-mce-fragment=\"1\"\u003eThe newest chapters in the Pokémon series, the Pokémon Scarlet and Pokemon Violet games, are coming to the Nintendo Switch system later this year. As the main character, you can explore a wide-open world at your own pace, and can encounter the Legendary Pokémon Koraidon. In these games, you'll be able to enjoy the iconic adventures of the Pokémon series, like battling against wild Pokémon and trying to catch them! Choose either Sprigatito, the Grass Cat Pokémon, Fuecoco, the Fire Croc Pokémon, or Quaxly, the Duck ling Pokémon to be your first partner Pokémon before setting off on your journey through this new region.\u003c\/p\u003e\n\u003cp data-mce-fragment=\"1\"\u003eExplore freely in the rich open world of Pokémon Violet\u003cbr\u003e\u003c\/p\u003e\n\u003cp data-mce-fragment=\"1\"\u003eTrainers can explore an open world where the various towns and cities have no borders and blend seamlessly into the wilderness. Pokémon can be discovered all over this expansive region—in the skies, in the seas, in the forests, on the streets, and more! Your outfit will vary depending on whether you play Pokémon Scarlet or Pokémon Violet. After its release, the Pokémon Scarlet game will be able to link with Pokemon HOME.\u003cbr\u003e\u003c\/p\u003e\n\u003cp data-mce-fragment=\"1\"\u003e\u003cbr\u003e\u003c\/p\u003e"}
Quick View
{"id":7284054655029,"title":"PlayStation®5 PS5 Slim Console New 2023 Model (Export Set)","handle":"ps5-slim-console","description":"\u003cmeta charset=\"utf-8\"\u003e\n\u003cdiv data-mce-fragment=\"1\" class=\"minorsection background-white aem-GridColumn aem-GridColumn--default--12\"\u003e\n\u003cdiv data-mce-fragment=\"1\" class=\"section-component container expand-content\"\u003e\n\u003ch2 data-mce-fragment=\"1\" class=\"sony-text-h2\"\u003ePlaystation®5 PS5 Slim Console\u003c\/h2\u003e\n\u003ch2 data-mce-fragment=\"1\" class=\"sony-text-h2\"\u003e\u003cpicture data-mce-fragment=\"1\"\u003e\u003csource data-mce-fragment=\"1\" srcset=\"https:\/\/media.direct.playstation.com\/is\/image\/sierialto\/ps5-slim-minorsection?$Minor_Section_Desktop$\" media=\"(min-width: 1024px)\"\u003e\u003csource data-mce-fragment=\"1\" srcset=\"https:\/\/media.direct.playstation.com\/is\/image\/sierialto\/ps5-slim-minorsection?$Minor_Section_Mobile$\" media=\"(max-width: 1023px)\"\u003e\u003cimg data-mce-fragment=\"1\" tabindex=\"\" loading=\"lazy\" class=\"image-banner js-background background loading-skeleton\" src=\"https:\/\/media.direct.playstation.com\/is\/image\/sierialto\/ps5-slim-minorsection\" data-mce-src=\"https:\/\/media.direct.playstation.com\/is\/image\/sierialto\/ps5-slim-minorsection\" data-mce-tabindex=\"\"\u003e\u003c\/source\u003e\u003c\/picture\u003e\u003c\/h2\u003e\n\u003cdiv data-mce-fragment=\"1\" class=\"section-container row\"\u003e\n\u003cdiv data-mce-fragment=\"1\" class=\"item\"\u003e\n\u003cdiv data-mce-fragment=\"1\" class=\"container\"\u003e\n\u003cdiv data-mce-fragment=\"1\" class=\"section-tile image-left row\"\u003e\n\u003cdiv data-mce-fragment=\"1\" class=\"p-0 col-lg-5 order-xs-2 order-lg-2 order-2\"\u003e\n\u003cdiv data-mce-fragment=\"1\" class=\"overline-title-h-four\"\u003e\n\u003cdiv data-mce-fragment=\"1\" class=\"sony-text-body-1\"\u003e\n\u003cp data-mce-fragment=\"1\"\u003e\u003cb data-mce-fragment=\"1\"\u003eSlim Design\u003c\/b\u003e\u003cbr data-mce-fragment=\"1\"\u003eWith PS5®, players get powerful gaming technology packed inside a sleek and compact console design.\u003cbr data-mce-fragment=\"1\"\u003e\u003cbr data-mce-fragment=\"1\"\u003e\u003cb data-mce-fragment=\"1\"\u003e1TB of Storage\u003c\/b\u003e\u003cbr data-mce-fragment=\"1\"\u003eKeep your favorite games ready and waiting for you to jump in and play with 1TB of SSD storage built in.***\u003cbr data-mce-fragment=\"1\"\u003e\u003cbr data-mce-fragment=\"1\"\u003e\u003cb data-mce-fragment=\"1\"\u003eUltra-High Speed SSD\u003cbr data-mce-fragment=\"1\"\u003e\u003c\/b\u003eMaximize your play sessions with near instant load times for installed PS5® games.\u003cbr data-mce-fragment=\"1\"\u003e\u003cbr data-mce-fragment=\"1\"\u003e\u003cb data-mce-fragment=\"1\"\u003eIntegrated I\/O\u003c\/b\u003e\u003cbr data-mce-fragment=\"1\"\u003eThe custom integration of the PS5® console's systems lets creators pull data from the SSD so quickly that they can design games in ways never before possible.\u003cbr data-mce-fragment=\"1\"\u003e\u003c\/p\u003e\n\u003c\/div\u003e\n\u003c\/div\u003e\n\u003c\/div\u003e\n\u003c\/div\u003e\n\u003c\/div\u003e\n\u003c\/div\u003e\n\u003cdiv data-mce-fragment=\"1\" class=\"item\"\u003e\n\u003cdiv data-mce-fragment=\"1\" class=\"container\"\u003e\n\u003cdiv data-mce-fragment=\"1\" class=\"section-tile image-right row\"\u003e\n\u003cdiv data-mce-fragment=\"1\" class=\"p-0 col-lg-7 order-xs-1 order-lg-2 order-1\"\u003e\u003cpicture data-mce-fragment=\"1\"\u003e\u003csource data-mce-fragment=\"1\" srcset=\"https:\/\/media.direct.playstation.com\/is\/image\/sierialto\/ps5-minorsection3?$Minor_Section_Desktop$\" media=\"(min-width: 1024px)\"\u003e\u003csource data-mce-fragment=\"1\" srcset=\"https:\/\/media.direct.playstation.com\/is\/image\/sierialto\/ps5-minorsection3?$Minor_Section_Mobile$\" media=\"(max-width: 1023px)\"\u003e\u003cimg data-mce-fragment=\"1\" tabindex=\"\" loading=\"lazy\" class=\"image-banner js-background background loading-skeleton\" src=\"https:\/\/media.direct.playstation.com\/is\/image\/sierialto\/ps5-minorsection3\" data-mce-src=\"https:\/\/media.direct.playstation.com\/is\/image\/sierialto\/ps5-minorsection3\" data-mce-tabindex=\"\"\u003e\u003c\/source\u003e\u003c\/picture\u003e\u003c\/div\u003e\n\u003cdiv data-mce-fragment=\"1\" class=\"p-0 col-lg-5 order-xs-2 order-lg-1 order-2\"\u003e\n\u003cdiv data-mce-fragment=\"1\" class=\"overline-title-h-four\"\u003e\n\u003cp data-mce-fragment=\"1\" class=\"sony-text-overline\"\u003e \u003cbr data-mce-fragment=\"1\"\u003e\u003c\/p\u003e\n\u003ch2 data-mce-fragment=\"1\" class=\"sony-text-h2\"\u003e\u003cbr data-mce-fragment=\"1\"\u003e\u003c\/h2\u003e\n\u003cdiv data-mce-fragment=\"1\" class=\"sony-text-body-1\"\u003e\n\u003cp data-mce-fragment=\"1\"\u003e\u003cb data-mce-fragment=\"1\"\u003eRay Tracing\u003c\/b\u003e\u003cbr data-mce-fragment=\"1\"\u003eImmerse yourself in worlds with a new level of realism as rays of light are individually simulated, creating true-to-life shadows and reflections in supported PS5® games.\u003cbr data-mce-fragment=\"1\"\u003e\u003cbr data-mce-fragment=\"1\"\u003e\u003cb data-mce-fragment=\"1\"\u003e4K-TV Gaming\u003c\/b\u003e\u003cbr data-mce-fragment=\"1\"\u003ePlay your favorite PS5® games on your stunning 4K TV.\u003cbr data-mce-fragment=\"1\"\u003e\u003cbr data-mce-fragment=\"1\"\u003e\u003cb data-mce-fragment=\"1\"\u003eUp to 120fps with 120Hz output\u003c\/b\u003e\u003cbr data-mce-fragment=\"1\"\u003eEnjoy smooth and fluid high frame rate gameplay at up to 120fps for compatible games, with support for 120Hz output on 4K displays.\u003cbr data-mce-fragment=\"1\"\u003e\u003cb data-mce-fragment=\"1\"\u003e\u003cbr data-mce-fragment=\"1\"\u003eHDR Technology\u003c\/b\u003e\u003cbr data-mce-fragment=\"1\"\u003eWith an HDR TV, supported PS5® games display an unbelievably vibrant and lifelike range of colors.\u003c\/p\u003e\n\u003cp data-mce-fragment=\"1\"\u003e \u003c\/p\u003e\n\u003cp data-mce-fragment=\"1\"\u003e\u003cb data-mce-fragment=\"1\"\u003eTempest 3D AudioTech\u003c\/b\u003e\u003cbr data-mce-fragment=\"1\"\u003eImmerse yourself in soundscapes where it feels as if the sound comes from every direction. Your surroundings truly come alive with Tempest 3D AudioTech** in supported games.\u003c\/p\u003e\n\u003c\/div\u003e\n\u003c\/div\u003e\n\u003c\/div\u003e\n\u003c\/div\u003e\n\u003c\/div\u003e\n\u003c\/div\u003e\n\u003cdiv data-mce-fragment=\"1\" class=\"item\"\u003e\n\u003cdiv data-mce-fragment=\"1\" class=\"container\"\u003e\n\u003cdiv data-mce-fragment=\"1\" class=\"section-tile image-left row\"\u003e\n\u003cdiv data-mce-fragment=\"1\" class=\"p-0 col-lg-7 order-xs-1 order-lg-1 order-1\"\u003e\u003cpicture data-mce-fragment=\"1\"\u003e\u003csource data-mce-fragment=\"1\" srcset=\"https:\/\/media.direct.playstation.com\/is\/image\/sierialto\/ps5-slim-minorsection-2?$Minor_Section_Desktop$\" media=\"(min-width: 1024px)\"\u003e\u003csource data-mce-fragment=\"1\" srcset=\"https:\/\/media.direct.playstation.com\/is\/image\/sierialto\/ps5-slim-minorsection-2?$Minor_Section_Mobile$\" media=\"(max-width: 1023px)\"\u003e\u003cimg data-mce-fragment=\"1\" tabindex=\"\" loading=\"lazy\" class=\"image-banner js-background background loading-skeleton\" src=\"https:\/\/media.direct.playstation.com\/is\/image\/sierialto\/ps5-slim-minorsection-2\" data-mce-src=\"https:\/\/media.direct.playstation.com\/is\/image\/sierialto\/ps5-slim-minorsection-2\" data-mce-tabindex=\"\"\u003e\u003c\/source\u003e\u003c\/picture\u003e\u003c\/div\u003e\n\u003cdiv data-mce-fragment=\"1\" class=\"p-0 col-lg-5 order-xs-2 order-lg-2 order-2\"\u003e\n\u003cdiv data-mce-fragment=\"1\" class=\"overline-title-h-four\"\u003e\n\u003cp data-mce-fragment=\"1\" class=\"sony-text-overline\"\u003e \u003cbr data-mce-fragment=\"1\"\u003e\u003c\/p\u003e\n\u003ch2 data-mce-fragment=\"1\" class=\"sony-text-h2\"\u003e\u003cbr data-mce-fragment=\"1\"\u003e\u003c\/h2\u003e\n\u003cdiv data-mce-fragment=\"1\" class=\"sony-text-body-1\"\u003e\n\u003cp data-mce-fragment=\"1\"\u003e\u003cb data-mce-fragment=\"1\"\u003eHaptic Feedback\u003c\/b\u003e\u003cbr data-mce-fragment=\"1\"\u003eExperience haptic feedback via the DualSense® wireless controller in select PS5® titles and feel the effects and impact of your in-game actions through dynamic sensory feedback.\u003cbr data-mce-fragment=\"1\"\u003e\u003cb data-mce-fragment=\"1\"\u003e\u003cbr data-mce-fragment=\"1\"\u003eAdaptive Triggers\u003c\/b\u003e\u003cbr data-mce-fragment=\"1\"\u003eGet to grips with immersive adaptive triggers, featuring dynamic resistance levels which simulate the physical impact of in-game activities in select PS5® games.\u003cbr data-mce-fragment=\"1\"\u003e\u003cbr data-mce-fragment=\"1\"\u003e\u003cb data-mce-fragment=\"1\"\u003eBackwards Compatibility \u0026amp; Game Boost\u003c\/b\u003e\u003cbr data-mce-fragment=\"1\"\u003eThe PS5® console can play over 4,000 PS4® games. With the Game Boost feature, you can even enjoy faster and smoother frame rates in some of the PS4® console's greatest games.\u003c\/p\u003e\n\u003c\/div\u003e\n\u003c\/div\u003e\n\u003c\/div\u003e\n\u003c\/div\u003e\n\u003c\/div\u003e\n\u003c\/div\u003e\n\u003c\/div\u003e\n\u003c\/div\u003e\n\u003c\/div\u003e\n\u003cdiv data-mce-fragment=\"1\" class=\"inthebox background-white padding-bottom-30 mobile-padding-bottom-30 aem-GridColumn aem-GridColumn--default--12\"\u003e\n\u003cdiv data-mce-fragment=\"1\" class=\"in-the-box-component container\"\u003e\n\u003ch2 data-mce-fragment=\"1\" class=\"sony-text-h2\"\u003e\u003c\/h2\u003e\n\u003ch2 data-mce-fragment=\"1\" class=\"sony-text-h2\"\u003eWhat's in the Box\u003c\/h2\u003e\n\u003cdiv data-mce-fragment=\"1\" class=\"in-the-box-container row\"\u003e\n\u003cdiv data-mce-fragment=\"1\" class=\"col-lg-4 order-xs-2 order-lg-1 order-2 content left list-container\"\u003e\n\u003cul data-mce-fragment=\"1\"\u003e\n\u003cli data-mce-fragment=\"1\"\u003ePlayStation®5 console\u003c\/li\u003e\n\u003cli data-mce-fragment=\"1\"\u003eDualSense™ Wireless Controller\u003c\/li\u003e\n\u003cli data-mce-fragment=\"1\"\u003e1TB SSD\u003c\/li\u003e\n\u003cli data-mce-fragment=\"1\"\u003e2 Horizontal stand feet\u003c\/li\u003e\n\u003cli data-mce-fragment=\"1\"\u003eHDMI® cable\u003c\/li\u003e\n\u003cli data-mce-fragment=\"1\"\u003eAC power cord\u003c\/li\u003e\n\u003cli data-mce-fragment=\"1\"\u003eUSB cable\u003c\/li\u003e\n\u003cli data-mce-fragment=\"1\"\u003ePrinted materials\u003c\/li\u003e\n\u003c\/ul\u003e\n\u003cp data-mce-fragment=\"1\"\u003e \u003cbr data-mce-fragment=\"1\"\u003e\u003c\/p\u003e\n\u003c\/div\u003e\n\u003cdiv data-mce-fragment=\"1\" class=\"col-lg-8 order-xs-1 order-lg-2 order-1 bundleImage\"\u003e\u003cpicture data-mce-fragment=\"1\"\u003e\u003csource data-mce-fragment=\"1\" class=\"hero-banner background\" srcset=\"https:\/\/media.direct.playstation.com\/is\/image\/sierialto\/whats-in-the-box?$InTheBox_Desktop$\" media=\"(min-width: 1024px)\"\u003e\u003csource data-mce-fragment=\"1\" class=\"hero-banner background\" srcset=\"https:\/\/media.direct.playstation.com\/is\/image\/sierialto\/whats-in-the-box?$InTheBox_Mobile$\" media=\"(max-width: 1023px)\"\u003e\u003cimg data-mce-fragment=\"1\" loading=\"lazy\" class=\"hero-banner background loading-skeleton\" src=\"https:\/\/media.direct.playstation.com\/is\/image\/sierialto\/whats-in-the-box\" data-mce-src=\"https:\/\/media.direct.playstation.com\/is\/image\/sierialto\/whats-in-the-box\"\u003e\u003c\/source\u003e\u003c\/picture\u003e\u003c\/div\u003e\n\u003cdiv data-mce-fragment=\"1\" class=\"col-lg-8 order-xs-1 order-lg-2 order-1 bundleImage\"\u003e\u003c\/div\u003e\n\u003cdiv data-mce-fragment=\"1\" class=\"col-lg-8 order-xs-1 order-lg-2 order-1 bundleImage\"\u003e\n\u003cmeta charset=\"utf-8\"\u003e\n\u003cdiv class=\"post-single__content single__content entry-content\"\u003e\n\u003cfigure class=\"wp-block-table\"\u003e\u003cbr\u003e\u003c\/figure\u003e\n\u003c\/div\u003e\n\u003c\/div\u003e\n\u003c\/div\u003e\n\u003c\/div\u003e\n\u003c\/div\u003e","published_at":"2023-11-24T10:34:26+08:00","created_at":"2023-11-14T18:05:41+08:00","vendor":"Games Crazy Deals","type":"PS5-Console","tags":["New Arrivals","Playstation","PS5","PS5-Console"],"price":96990,"price_min":96990,"price_max":96990,"available":true,"price_varies":false,"compare_at_price":null,"compare_at_price_min":0,"compare_at_price_max":0,"compare_at_price_varies":false,"variants":[{"id":42718229397557,"title":"Default Title","option1":"Default Title","option2":null,"option3":null,"sku":null,"requires_shipping":true,"taxable":true,"featured_image":null,"available":true,"name":"PlayStation®5 PS5 Slim Console New 2023 Model (Export Set)","public_title":null,"options":["Default Title"],"price":96990,"weight":5000,"compare_at_price":null,"inventory_quantity":5,"inventory_management":"shopify","inventory_policy":"deny","barcode":null}],"images":["\/\/gamescrazydeals.com\/cdn\/shop\/files\/PS5SLIM_1.png?v=1700712908"],"featured_image":"\/\/gamescrazydeals.com\/cdn\/shop\/files\/PS5SLIM_1.png?v=1700712908","options":["Title"],"media":[{"alt":null,"id":26588246343733,"position":1,"preview_image":{"aspect_ratio":1.0,"height":1080,"width":1080,"src":"\/\/gamescrazydeals.com\/cdn\/shop\/files\/PS5SLIM_1.png?v=1700712908"},"aspect_ratio":1.0,"height":1080,"media_type":"image","src":"\/\/gamescrazydeals.com\/cdn\/shop\/files\/PS5SLIM_1.png?v=1700712908","width":1080}],"content":"\u003cmeta charset=\"utf-8\"\u003e\n\u003cdiv data-mce-fragment=\"1\" class=\"minorsection background-white aem-GridColumn aem-GridColumn--default--12\"\u003e\n\u003cdiv data-mce-fragment=\"1\" class=\"section-component container expand-content\"\u003e\n\u003ch2 data-mce-fragment=\"1\" class=\"sony-text-h2\"\u003ePlaystation®5 PS5 Slim Console\u003c\/h2\u003e\n\u003ch2 data-mce-fragment=\"1\" class=\"sony-text-h2\"\u003e\u003cpicture data-mce-fragment=\"1\"\u003e\u003csource data-mce-fragment=\"1\" srcset=\"https:\/\/media.direct.playstation.com\/is\/image\/sierialto\/ps5-slim-minorsection?$Minor_Section_Desktop$\" media=\"(min-width: 1024px)\"\u003e\u003csource data-mce-fragment=\"1\" srcset=\"https:\/\/media.direct.playstation.com\/is\/image\/sierialto\/ps5-slim-minorsection?$Minor_Section_Mobile$\" media=\"(max-width: 1023px)\"\u003e\u003cimg data-mce-fragment=\"1\" tabindex=\"\" loading=\"lazy\" class=\"image-banner js-background background loading-skeleton\" src=\"https:\/\/media.direct.playstation.com\/is\/image\/sierialto\/ps5-slim-minorsection\" data-mce-src=\"https:\/\/media.direct.playstation.com\/is\/image\/sierialto\/ps5-slim-minorsection\" data-mce-tabindex=\"\"\u003e\u003c\/source\u003e\u003c\/picture\u003e\u003c\/h2\u003e\n\u003cdiv data-mce-fragment=\"1\" class=\"section-container row\"\u003e\n\u003cdiv data-mce-fragment=\"1\" class=\"item\"\u003e\n\u003cdiv data-mce-fragment=\"1\" class=\"container\"\u003e\n\u003cdiv data-mce-fragment=\"1\" class=\"section-tile image-left row\"\u003e\n\u003cdiv data-mce-fragment=\"1\" class=\"p-0 col-lg-5 order-xs-2 order-lg-2 order-2\"\u003e\n\u003cdiv data-mce-fragment=\"1\" class=\"overline-title-h-four\"\u003e\n\u003cdiv data-mce-fragment=\"1\" class=\"sony-text-body-1\"\u003e\n\u003cp data-mce-fragment=\"1\"\u003e\u003cb data-mce-fragment=\"1\"\u003eSlim Design\u003c\/b\u003e\u003cbr data-mce-fragment=\"1\"\u003eWith PS5®, players get powerful gaming technology packed inside a sleek and compact console design.\u003cbr data-mce-fragment=\"1\"\u003e\u003cbr data-mce-fragment=\"1\"\u003e\u003cb data-mce-fragment=\"1\"\u003e1TB of Storage\u003c\/b\u003e\u003cbr data-mce-fragment=\"1\"\u003eKeep your favorite games ready and waiting for you to jump in and play with 1TB of SSD storage built in.***\u003cbr data-mce-fragment=\"1\"\u003e\u003cbr data-mce-fragment=\"1\"\u003e\u003cb data-mce-fragment=\"1\"\u003eUltra-High Speed SSD\u003cbr data-mce-fragment=\"1\"\u003e\u003c\/b\u003eMaximize your play sessions with near instant load times for installed PS5® games.\u003cbr data-mce-fragment=\"1\"\u003e\u003cbr data-mce-fragment=\"1\"\u003e\u003cb data-mce-fragment=\"1\"\u003eIntegrated I\/O\u003c\/b\u003e\u003cbr data-mce-fragment=\"1\"\u003eThe custom integration of the PS5® console's systems lets creators pull data from the SSD so quickly that they can design games in ways never before possible.\u003cbr data-mce-fragment=\"1\"\u003e\u003c\/p\u003e\n\u003c\/div\u003e\n\u003c\/div\u003e\n\u003c\/div\u003e\n\u003c\/div\u003e\n\u003c\/div\u003e\n\u003c\/div\u003e\n\u003cdiv data-mce-fragment=\"1\" class=\"item\"\u003e\n\u003cdiv data-mce-fragment=\"1\" class=\"container\"\u003e\n\u003cdiv data-mce-fragment=\"1\" class=\"section-tile image-right row\"\u003e\n\u003cdiv data-mce-fragment=\"1\" class=\"p-0 col-lg-7 order-xs-1 order-lg-2 order-1\"\u003e\u003cpicture data-mce-fragment=\"1\"\u003e\u003csource data-mce-fragment=\"1\" srcset=\"https:\/\/media.direct.playstation.com\/is\/image\/sierialto\/ps5-minorsection3?$Minor_Section_Desktop$\" media=\"(min-width: 1024px)\"\u003e\u003csource data-mce-fragment=\"1\" srcset=\"https:\/\/media.direct.playstation.com\/is\/image\/sierialto\/ps5-minorsection3?$Minor_Section_Mobile$\" media=\"(max-width: 1023px)\"\u003e\u003cimg data-mce-fragment=\"1\" tabindex=\"\" loading=\"lazy\" class=\"image-banner js-background background loading-skeleton\" src=\"https:\/\/media.direct.playstation.com\/is\/image\/sierialto\/ps5-minorsection3\" data-mce-src=\"https:\/\/media.direct.playstation.com\/is\/image\/sierialto\/ps5-minorsection3\" data-mce-tabindex=\"\"\u003e\u003c\/source\u003e\u003c\/picture\u003e\u003c\/div\u003e\n\u003cdiv data-mce-fragment=\"1\" class=\"p-0 col-lg-5 order-xs-2 order-lg-1 order-2\"\u003e\n\u003cdiv data-mce-fragment=\"1\" class=\"overline-title-h-four\"\u003e\n\u003cp data-mce-fragment=\"1\" class=\"sony-text-overline\"\u003e \u003cbr data-mce-fragment=\"1\"\u003e\u003c\/p\u003e\n\u003ch2 data-mce-fragment=\"1\" class=\"sony-text-h2\"\u003e\u003cbr data-mce-fragment=\"1\"\u003e\u003c\/h2\u003e\n\u003cdiv data-mce-fragment=\"1\" class=\"sony-text-body-1\"\u003e\n\u003cp data-mce-fragment=\"1\"\u003e\u003cb data-mce-fragment=\"1\"\u003eRay Tracing\u003c\/b\u003e\u003cbr data-mce-fragment=\"1\"\u003eImmerse yourself in worlds with a new level of realism as rays of light are individually simulated, creating true-to-life shadows and reflections in supported PS5® games.\u003cbr data-mce-fragment=\"1\"\u003e\u003cbr data-mce-fragment=\"1\"\u003e\u003cb data-mce-fragment=\"1\"\u003e4K-TV Gaming\u003c\/b\u003e\u003cbr data-mce-fragment=\"1\"\u003ePlay your favorite PS5® games on your stunning 4K TV.\u003cbr data-mce-fragment=\"1\"\u003e\u003cbr data-mce-fragment=\"1\"\u003e\u003cb data-mce-fragment=\"1\"\u003eUp to 120fps with 120Hz output\u003c\/b\u003e\u003cbr data-mce-fragment=\"1\"\u003eEnjoy smooth and fluid high frame rate gameplay at up to 120fps for compatible games, with support for 120Hz output on 4K displays.\u003cbr data-mce-fragment=\"1\"\u003e\u003cb data-mce-fragment=\"1\"\u003e\u003cbr data-mce-fragment=\"1\"\u003eHDR Technology\u003c\/b\u003e\u003cbr data-mce-fragment=\"1\"\u003eWith an HDR TV, supported PS5® games display an unbelievably vibrant and lifelike range of colors.\u003c\/p\u003e\n\u003cp data-mce-fragment=\"1\"\u003e \u003c\/p\u003e\n\u003cp data-mce-fragment=\"1\"\u003e\u003cb data-mce-fragment=\"1\"\u003eTempest 3D AudioTech\u003c\/b\u003e\u003cbr data-mce-fragment=\"1\"\u003eImmerse yourself in soundscapes where it feels as if the sound comes from every direction. Your surroundings truly come alive with Tempest 3D AudioTech** in supported games.\u003c\/p\u003e\n\u003c\/div\u003e\n\u003c\/div\u003e\n\u003c\/div\u003e\n\u003c\/div\u003e\n\u003c\/div\u003e\n\u003c\/div\u003e\n\u003cdiv data-mce-fragment=\"1\" class=\"item\"\u003e\n\u003cdiv data-mce-fragment=\"1\" class=\"container\"\u003e\n\u003cdiv data-mce-fragment=\"1\" class=\"section-tile image-left row\"\u003e\n\u003cdiv data-mce-fragment=\"1\" class=\"p-0 col-lg-7 order-xs-1 order-lg-1 order-1\"\u003e\u003cpicture data-mce-fragment=\"1\"\u003e\u003csource data-mce-fragment=\"1\" srcset=\"https:\/\/media.direct.playstation.com\/is\/image\/sierialto\/ps5-slim-minorsection-2?$Minor_Section_Desktop$\" media=\"(min-width: 1024px)\"\u003e\u003csource data-mce-fragment=\"1\" srcset=\"https:\/\/media.direct.playstation.com\/is\/image\/sierialto\/ps5-slim-minorsection-2?$Minor_Section_Mobile$\" media=\"(max-width: 1023px)\"\u003e\u003cimg data-mce-fragment=\"1\" tabindex=\"\" loading=\"lazy\" class=\"image-banner js-background background loading-skeleton\" src=\"https:\/\/media.direct.playstation.com\/is\/image\/sierialto\/ps5-slim-minorsection-2\" data-mce-src=\"https:\/\/media.direct.playstation.com\/is\/image\/sierialto\/ps5-slim-minorsection-2\" data-mce-tabindex=\"\"\u003e\u003c\/source\u003e\u003c\/picture\u003e\u003c\/div\u003e\n\u003cdiv data-mce-fragment=\"1\" class=\"p-0 col-lg-5 order-xs-2 order-lg-2 order-2\"\u003e\n\u003cdiv data-mce-fragment=\"1\" class=\"overline-title-h-four\"\u003e\n\u003cp data-mce-fragment=\"1\" class=\"sony-text-overline\"\u003e \u003cbr data-mce-fragment=\"1\"\u003e\u003c\/p\u003e\n\u003ch2 data-mce-fragment=\"1\" class=\"sony-text-h2\"\u003e\u003cbr data-mce-fragment=\"1\"\u003e\u003c\/h2\u003e\n\u003cdiv data-mce-fragment=\"1\" class=\"sony-text-body-1\"\u003e\n\u003cp data-mce-fragment=\"1\"\u003e\u003cb data-mce-fragment=\"1\"\u003eHaptic Feedback\u003c\/b\u003e\u003cbr data-mce-fragment=\"1\"\u003eExperience haptic feedback via the DualSense® wireless controller in select PS5® titles and feel the effects and impact of your in-game actions through dynamic sensory feedback.\u003cbr data-mce-fragment=\"1\"\u003e\u003cb data-mce-fragment=\"1\"\u003e\u003cbr data-mce-fragment=\"1\"\u003eAdaptive Triggers\u003c\/b\u003e\u003cbr data-mce-fragment=\"1\"\u003eGet to grips with immersive adaptive triggers, featuring dynamic resistance levels which simulate the physical impact of in-game activities in select PS5® games.\u003cbr data-mce-fragment=\"1\"\u003e\u003cbr data-mce-fragment=\"1\"\u003e\u003cb data-mce-fragment=\"1\"\u003eBackwards Compatibility \u0026amp; Game Boost\u003c\/b\u003e\u003cbr data-mce-fragment=\"1\"\u003eThe PS5® console can play over 4,000 PS4® games. With the Game Boost feature, you can even enjoy faster and smoother frame rates in some of the PS4® console's greatest games.\u003c\/p\u003e\n\u003c\/div\u003e\n\u003c\/div\u003e\n\u003c\/div\u003e\n\u003c\/div\u003e\n\u003c\/div\u003e\n\u003c\/div\u003e\n\u003c\/div\u003e\n\u003c\/div\u003e\n\u003c\/div\u003e\n\u003cdiv data-mce-fragment=\"1\" class=\"inthebox background-white padding-bottom-30 mobile-padding-bottom-30 aem-GridColumn aem-GridColumn--default--12\"\u003e\n\u003cdiv data-mce-fragment=\"1\" class=\"in-the-box-component container\"\u003e\n\u003ch2 data-mce-fragment=\"1\" class=\"sony-text-h2\"\u003e\u003c\/h2\u003e\n\u003ch2 data-mce-fragment=\"1\" class=\"sony-text-h2\"\u003eWhat's in the Box\u003c\/h2\u003e\n\u003cdiv data-mce-fragment=\"1\" class=\"in-the-box-container row\"\u003e\n\u003cdiv data-mce-fragment=\"1\" class=\"col-lg-4 order-xs-2 order-lg-1 order-2 content left list-container\"\u003e\n\u003cul data-mce-fragment=\"1\"\u003e\n\u003cli data-mce-fragment=\"1\"\u003ePlayStation®5 console\u003c\/li\u003e\n\u003cli data-mce-fragment=\"1\"\u003eDualSense™ Wireless Controller\u003c\/li\u003e\n\u003cli data-mce-fragment=\"1\"\u003e1TB SSD\u003c\/li\u003e\n\u003cli data-mce-fragment=\"1\"\u003e2 Horizontal stand feet\u003c\/li\u003e\n\u003cli data-mce-fragment=\"1\"\u003eHDMI® cable\u003c\/li\u003e\n\u003cli data-mce-fragment=\"1\"\u003eAC power cord\u003c\/li\u003e\n\u003cli data-mce-fragment=\"1\"\u003eUSB cable\u003c\/li\u003e\n\u003cli data-mce-fragment=\"1\"\u003ePrinted materials\u003c\/li\u003e\n\u003c\/ul\u003e\n\u003cp data-mce-fragment=\"1\"\u003e \u003cbr data-mce-fragment=\"1\"\u003e\u003c\/p\u003e\n\u003c\/div\u003e\n\u003cdiv data-mce-fragment=\"1\" class=\"col-lg-8 order-xs-1 order-lg-2 order-1 bundleImage\"\u003e\u003cpicture data-mce-fragment=\"1\"\u003e\u003csource data-mce-fragment=\"1\" class=\"hero-banner background\" srcset=\"https:\/\/media.direct.playstation.com\/is\/image\/sierialto\/whats-in-the-box?$InTheBox_Desktop$\" media=\"(min-width: 1024px)\"\u003e\u003csource data-mce-fragment=\"1\" class=\"hero-banner background\" srcset=\"https:\/\/media.direct.playstation.com\/is\/image\/sierialto\/whats-in-the-box?$InTheBox_Mobile$\" media=\"(max-width: 1023px)\"\u003e\u003cimg data-mce-fragment=\"1\" loading=\"lazy\" class=\"hero-banner background loading-skeleton\" src=\"https:\/\/media.direct.playstation.com\/is\/image\/sierialto\/whats-in-the-box\" data-mce-src=\"https:\/\/media.direct.playstation.com\/is\/image\/sierialto\/whats-in-the-box\"\u003e\u003c\/source\u003e\u003c\/picture\u003e\u003c\/div\u003e\n\u003cdiv data-mce-fragment=\"1\" class=\"col-lg-8 order-xs-1 order-lg-2 order-1 bundleImage\"\u003e\u003c\/div\u003e\n\u003cdiv data-mce-fragment=\"1\" class=\"col-lg-8 order-xs-1 order-lg-2 order-1 bundleImage\"\u003e\n\u003cmeta charset=\"utf-8\"\u003e\n\u003cdiv class=\"post-single__content single__content entry-content\"\u003e\n\u003cfigure class=\"wp-block-table\"\u003e\u003cbr\u003e\u003c\/figure\u003e\n\u003c\/div\u003e\n\u003c\/div\u003e\n\u003c\/div\u003e\n\u003c\/div\u003e\n\u003c\/div\u003e"}
PS4-Games
Quick View
{"id":7283532595253,"title":"PS4 Lost Judgment (R-ALL)","handle":"ps4-lost-judgment","description":"\u003cdiv\u003e\u003cspan\u003e\u003cstrong\u003eGenre: \u003c\/strong\u003eAction Adventure\u003c\/span\u003e\u003c\/div\u003e\n\u003cdiv\u003e\n\u003cstrong\u003eRegion:\u003c\/strong\u003e R-ALL\u003cbr\u003e\u003cspan\u003e\u003cstrong\u003eRelease Date:\u003c\/strong\u003e \u003cmeta charset=\"utf-8\"\u003eSeptember 24, 2021 \u003c\/span\u003e\n\u003c\/div\u003e\n\u003cdiv\u003e\n\u003ciframe width=\"560\" height=\"315\" src=\"https:\/\/www.youtube.com\/embed\/Y8nWMBqT5_c?si=_NlJ9rqwNO2aY-KO\" title=\"YouTube video player\" frameborder=\"0\" allow=\"accelerometer; autoplay; clipboard-write; encrypted-media; gyroscope; picture-in-picture; web-share\" allowfullscreen=\"\"\u003e\u003c\/iframe\u003e\u003cbr\u003e\n\u003c\/div\u003e\n\u003cdiv\u003e\n\u003ch2\u003e\u003cspan\u003eLost Judgment for PlayStation 4\u003c\/span\u003e\u003c\/h2\u003e\n\u003cp\u003e\u003cspan\u003eSEIZE THE TRUTH - December 2021, Tokyo district court. Akihiro Ehara stands accused of groping a woman on a crowded train. A bystander's video footage of his attempt to flee the scene and subsequent apprehension is all over the news, and public outcry demands a maximum sentence. "Three days ago, a dead body was found in an abandoned building in Yokohama. Have you identified it yet?" he proclaims as confusion cuts through the court room. His defense lawyer, Saori Shirosaki, has no doubt that crucial details of the situation have been overlooked, as Ehara was not even tried for the murder. She contacts detective Takayuki Yagami to investigate this further. How could Ehara have committed two crimes at once? Was the sexual battery just a cover up? Has Ehara gamed the entire justice system? As victims surface and Yagami digs farther into the truth, he is faced with a question: Defend the law, or enact justice? From just a single stumble, one can become a monster… BRINGING JUSTICE AT THE EDGE OF THE LAW - Put Yagami's distinct martial arts forms to the test in order get to the bottom of the case. Harness the Crane, Tiger, and new Snake stance, a graceful style that can deflect and return an opponent's strikes, using their energy against them. EVERYONE'S GOT A STORY -Employ Yagami's arsenal of detective tricks with new gadgets, stealthily tracking suspects, and crafty methods of infiltration. Leave no stone unturned in pursuit of the truth as you take on cases in both Tokyo and Yokohama.\u003c\/span\u003e\u003c\/p\u003e\n\u003ch3\u003e\u003cspan\u003eFeatures\u003c\/span\u003e\u003c\/h3\u003e\n\u003cul class=\"a-unordered-list a-vertical\"\u003e\n\u003cli\u003e\u003cspan class=\"a-list-item\"\u003e\u003cspan\u003ePut Yagami's distinct martial arts forms to the test in order get to the bottom of the case\u003c\/span\u003e\u003c\/span\u003e\u003c\/li\u003e\n\u003cli\u003e\u003cspan class=\"a-list-item\"\u003e\u003cspan\u003eHarness the Crane, Tiger, and new Snake stance, a graceful style that can deflect and return an opponent's strikes, using their energy against them\u003c\/span\u003e\u003c\/span\u003e\u003c\/li\u003e\n\u003cli\u003e\u003cspan class=\"a-list-item\"\u003e\u003cspan\u003eEmploy Yagami's arsenal of detective tricks with new gadgets, stealthily tracking suspects, and crafty methods of infiltration\u003c\/span\u003e\u003c\/span\u003e\u003c\/li\u003e\n\u003cli\u003e\u003cspan class=\"a-list-item\"\u003e\u003cspan\u003eLeave no stone unturned in pursuit of the truth as you take on cases in both Tokyo and Yokohama\u003c\/span\u003e\u003c\/span\u003e\u003c\/li\u003e\n\u003c\/ul\u003e\n\u003c\/div\u003e","published_at":"2023-11-14T13:00:14+08:00","created_at":"2023-11-14T12:54:37+08:00","vendor":"Games Crazy Deals","type":"PS4-Games","tags":["Playstation","PS4","PS4-Games"],"price":2090,"price_min":2090,"price_max":2090,"available":true,"price_varies":false,"compare_at_price":null,"compare_at_price_min":0,"compare_at_price_max":0,"compare_at_price_varies":false,"variants":[{"id":42717284433973,"title":"Default Title","option1":"Default Title","option2":null,"option3":null,"sku":null,"requires_shipping":true,"taxable":true,"featured_image":null,"available":true,"name":"PS4 Lost Judgment (R-ALL)","public_title":null,"options":["Default Title"],"price":2090,"weight":200,"compare_at_price":null,"inventory_quantity":1,"inventory_management":"shopify","inventory_policy":"deny","barcode":null}],"images":["\/\/gamescrazydeals.com\/cdn\/shop\/files\/PS4LostJudgment_R-ALL_1.png?v=1699938033","\/\/gamescrazydeals.com\/cdn\/shop\/files\/PS4LostJudgment_R-ALL_-1.jpg?v=1699938075","\/\/gamescrazydeals.com\/cdn\/shop\/files\/PS4LostJudgment_R-ALL_-2.jpg?v=1699938075","\/\/gamescrazydeals.com\/cdn\/shop\/files\/PS4LostJudgment_R-ALL.jpg?v=1699938075"],"featured_image":"\/\/gamescrazydeals.com\/cdn\/shop\/files\/PS4LostJudgment_R-ALL_1.png?v=1699938033","options":["Title"],"media":[{"alt":null,"id":26565026775093,"position":1,"preview_image":{"aspect_ratio":1.0,"height":1080,"width":1080,"src":"\/\/gamescrazydeals.com\/cdn\/shop\/files\/PS4LostJudgment_R-ALL_1.png?v=1699938033"},"aspect_ratio":1.0,"height":1080,"media_type":"image","src":"\/\/gamescrazydeals.com\/cdn\/shop\/files\/PS4LostJudgment_R-ALL_1.png?v=1699938033","width":1080},{"alt":null,"id":26565028839477,"position":2,"preview_image":{"aspect_ratio":1.777,"height":844,"width":1500,"src":"\/\/gamescrazydeals.com\/cdn\/shop\/files\/PS4LostJudgment_R-ALL_-1.jpg?v=1699938075"},"aspect_ratio":1.777,"height":844,"media_type":"image","src":"\/\/gamescrazydeals.com\/cdn\/shop\/files\/PS4LostJudgment_R-ALL_-1.jpg?v=1699938075","width":1500},{"alt":null,"id":26565028872245,"position":3,"preview_image":{"aspect_ratio":1.777,"height":844,"width":1500,"src":"\/\/gamescrazydeals.com\/cdn\/shop\/files\/PS4LostJudgment_R-ALL_-2.jpg?v=1699938075"},"aspect_ratio":1.777,"height":844,"media_type":"image","src":"\/\/gamescrazydeals.com\/cdn\/shop\/files\/PS4LostJudgment_R-ALL_-2.jpg?v=1699938075","width":1500},{"alt":null,"id":26565028905013,"position":4,"preview_image":{"aspect_ratio":1.777,"height":844,"width":1500,"src":"\/\/gamescrazydeals.com\/cdn\/shop\/files\/PS4LostJudgment_R-ALL.jpg?v=1699938075"},"aspect_ratio":1.777,"height":844,"media_type":"image","src":"\/\/gamescrazydeals.com\/cdn\/shop\/files\/PS4LostJudgment_R-ALL.jpg?v=1699938075","width":1500}],"content":"\u003cdiv\u003e\u003cspan\u003e\u003cstrong\u003eGenre: \u003c\/strong\u003eAction Adventure\u003c\/span\u003e\u003c\/div\u003e\n\u003cdiv\u003e\n\u003cstrong\u003eRegion:\u003c\/strong\u003e R-ALL\u003cbr\u003e\u003cspan\u003e\u003cstrong\u003eRelease Date:\u003c\/strong\u003e \u003cmeta charset=\"utf-8\"\u003eSeptember 24, 2021 \u003c\/span\u003e\n\u003c\/div\u003e\n\u003cdiv\u003e\n\u003ciframe width=\"560\" height=\"315\" src=\"https:\/\/www.youtube.com\/embed\/Y8nWMBqT5_c?si=_NlJ9rqwNO2aY-KO\" title=\"YouTube video player\" frameborder=\"0\" allow=\"accelerometer; autoplay; clipboard-write; encrypted-media; gyroscope; picture-in-picture; web-share\" allowfullscreen=\"\"\u003e\u003c\/iframe\u003e\u003cbr\u003e\n\u003c\/div\u003e\n\u003cdiv\u003e\n\u003ch2\u003e\u003cspan\u003eLost Judgment for PlayStation 4\u003c\/span\u003e\u003c\/h2\u003e\n\u003cp\u003e\u003cspan\u003eSEIZE THE TRUTH - December 2021, Tokyo district court. Akihiro Ehara stands accused of groping a woman on a crowded train. A bystander's video footage of his attempt to flee the scene and subsequent apprehension is all over the news, and public outcry demands a maximum sentence. "Three days ago, a dead body was found in an abandoned building in Yokohama. Have you identified it yet?" he proclaims as confusion cuts through the court room. His defense lawyer, Saori Shirosaki, has no doubt that crucial details of the situation have been overlooked, as Ehara was not even tried for the murder. She contacts detective Takayuki Yagami to investigate this further. How could Ehara have committed two crimes at once? Was the sexual battery just a cover up? Has Ehara gamed the entire justice system? As victims surface and Yagami digs farther into the truth, he is faced with a question: Defend the law, or enact justice? From just a single stumble, one can become a monster… BRINGING JUSTICE AT THE EDGE OF THE LAW - Put Yagami's distinct martial arts forms to the test in order get to the bottom of the case. Harness the Crane, Tiger, and new Snake stance, a graceful style that can deflect and return an opponent's strikes, using their energy against them. EVERYONE'S GOT A STORY -Employ Yagami's arsenal of detective tricks with new gadgets, stealthily tracking suspects, and crafty methods of infiltration. Leave no stone unturned in pursuit of the truth as you take on cases in both Tokyo and Yokohama.\u003c\/span\u003e\u003c\/p\u003e\n\u003ch3\u003e\u003cspan\u003eFeatures\u003c\/span\u003e\u003c\/h3\u003e\n\u003cul class=\"a-unordered-list a-vertical\"\u003e\n\u003cli\u003e\u003cspan class=\"a-list-item\"\u003e\u003cspan\u003ePut Yagami's distinct martial arts forms to the test in order get to the bottom of the case\u003c\/span\u003e\u003c\/span\u003e\u003c\/li\u003e\n\u003cli\u003e\u003cspan class=\"a-list-item\"\u003e\u003cspan\u003eHarness the Crane, Tiger, and new Snake stance, a graceful style that can deflect and return an opponent's strikes, using their energy against them\u003c\/span\u003e\u003c\/span\u003e\u003c\/li\u003e\n\u003cli\u003e\u003cspan class=\"a-list-item\"\u003e\u003cspan\u003eEmploy Yagami's arsenal of detective tricks with new gadgets, stealthily tracking suspects, and crafty methods of infiltration\u003c\/span\u003e\u003c\/span\u003e\u003c\/li\u003e\n\u003cli\u003e\u003cspan class=\"a-list-item\"\u003e\u003cspan\u003eLeave no stone unturned in pursuit of the truth as you take on cases in both Tokyo and Yokohama\u003c\/span\u003e\u003c\/span\u003e\u003c\/li\u003e\n\u003c\/ul\u003e\n\u003c\/div\u003e"}
Quick View
{"id":7279140732981,"title":"Nintendo Switch Detective Pikachu Return (MDE)","handle":"nintendo-switch-detective-pikachu-return-mde","description":"\u003cdiv class=\"gameInfo-list leftColumn\"\u003e\n\u003cmeta charset=\"utf-8\"\u003e \u003cstrong\u003eGenre\u003c\/strong\u003e: Adventure\u003c\/div\u003e\n\u003cdiv class=\"gameInfo-list leftColumn\"\u003e\n\u003cmeta charset=\"utf-8\"\u003e\n\u003cstrong\u003eRelease Date\u003c\/strong\u003e\u003cspan\u003e: October 6, 2023\u003c\/span\u003e\n\u003c\/div\u003e\n\u003cdiv class=\"gameInfo-list leftColumn\"\u003e\n\u003cstrong\u003eRegion\u003c\/strong\u003e: MDE\n\u003cp\u003e\u003ciframe title=\"YouTube video player\" src=\"https:\/\/www.youtube.com\/embed\/KIJIidyLpgo?si=0PqGc334NJe65h8b\" height=\"315\" width=\"560\" allowfullscreen=\"\" allow=\"accelerometer; autoplay; clipboard-write; encrypted-media; gyroscope; picture-in-picture; web-share\" frameborder=\"0\"\u003e\u003c\/iframe\u003e\u003cbr\u003e\u003c\/p\u003e\n\u003ch2\u003eNintendo Switch Detective Pikachu Returns \u003c\/h2\u003e\n\u003cp\u003eSolve mysteries with the personality-packed Detective Pikachu! Unravel a series of mysteries across Ryme City with a tough-talking, coffee-loving Pikachu who calls himself a great detective. This Pikachu may have a self-assured attitude and talk like a middle-aged man, but he somehow manages to keep his lovable charm. Together with his partner Tim Goodman, this great detective duo cracks several cases with the help of the many Pokémon and people who live in Ryme City. Investigate Ryme City, where Pokémon and people live side by side. Search for clues in Ryme City, where Pokémon and humans coexist in harmony. With the help of many other Pokémon, Tim and his talkative Pikachu partner work together to solve a series of mysterious incidents in this cinematic adventure game.\u003c\/p\u003e\n\u003cp\u003e Solve multiple mysteries alongside a big-talking, coffee-loving Pikachu Who calls himself a great detective\u003c\/p\u003e\n\u003cp\u003eTake on several cases around Ryme City With Tim Goodman and Detective Pikachu. The great detective duo\u003c\/p\u003e\n\u003cdiv\u003eExplore Ryme City A place where humans and Pokémon live in harmony\u003c\/div\u003e\n\u003c\/div\u003e","published_at":"2023-11-09T10:43:10+08:00","created_at":"2023-11-09T10:34:13+08:00","vendor":"Games Crazy Deals","type":"Nintendo-Switch-Games","tags":["New Arrivals","Nintendo","Nintendo-Switch","Nintendo-Switch-Games"],"price":6000,"price_min":6000,"price_max":6000,"available":true,"price_varies":false,"compare_at_price":7990,"compare_at_price_min":7990,"compare_at_price_max":7990,"compare_at_price_varies":false,"variants":[{"id":42707418382389,"title":"Default Title","option1":"Default Title","option2":null,"option3":null,"sku":null,"requires_shipping":true,"taxable":true,"featured_image":null,"available":true,"name":"Nintendo Switch Detective Pikachu Return (MDE)","public_title":null,"options":["Default Title"],"price":6000,"weight":200,"compare_at_price":7990,"inventory_quantity":6,"inventory_management":"shopify","inventory_policy":"deny","barcode":null}],"images":["\/\/gamescrazydeals.com\/cdn\/shop\/files\/NintendoSwitchDetectivePikachuReturn_MDE_1.png?v=1699497580","\/\/gamescrazydeals.com\/cdn\/shop\/files\/NintendoSwitchDetectivePikachuReturn_MDE_-1.jpg?v=1699497685","\/\/gamescrazydeals.com\/cdn\/shop\/files\/NintendoSwitchDetectivePikachuReturn_MDE_-2.jpg?v=1699497685","\/\/gamescrazydeals.com\/cdn\/shop\/files\/NintendoSwitchDetectivePikachuReturn_MDE_-3.jpg?v=1699497686","\/\/gamescrazydeals.com\/cdn\/shop\/files\/NintendoSwitchDetectivePikachuReturn_MDE_-4.jpg?v=1699497686","\/\/gamescrazydeals.com\/cdn\/shop\/files\/NintendoSwitchDetectivePikachuReturn_MDE.jpg?v=1699497686"],"featured_image":"\/\/gamescrazydeals.com\/cdn\/shop\/files\/NintendoSwitchDetectivePikachuReturn_MDE_1.png?v=1699497580","options":["Title"],"media":[{"alt":null,"id":26553173704757,"position":1,"preview_image":{"aspect_ratio":1.0,"height":1080,"width":1080,"src":"\/\/gamescrazydeals.com\/cdn\/shop\/files\/NintendoSwitchDetectivePikachuReturn_MDE_1.png?v=1699497580"},"aspect_ratio":1.0,"height":1080,"media_type":"image","src":"\/\/gamescrazydeals.com\/cdn\/shop\/files\/NintendoSwitchDetectivePikachuReturn_MDE_1.png?v=1699497580","width":1080},{"alt":null,"id":26553174982709,"position":2,"preview_image":{"aspect_ratio":1.0,"height":1080,"width":1080,"src":"\/\/gamescrazydeals.com\/cdn\/shop\/files\/NintendoSwitchDetectivePikachuReturn_MDE_-1.jpg?v=1699497685"},"aspect_ratio":1.0,"height":1080,"media_type":"image","src":"\/\/gamescrazydeals.com\/cdn\/shop\/files\/NintendoSwitchDetectivePikachuReturn_MDE_-1.jpg?v=1699497685","width":1080},{"alt":null,"id":26553175015477,"position":3,"preview_image":{"aspect_ratio":1.0,"height":1080,"width":1080,"src":"\/\/gamescrazydeals.com\/cdn\/shop\/files\/NintendoSwitchDetectivePikachuReturn_MDE_-2.jpg?v=1699497685"},"aspect_ratio":1.0,"height":1080,"media_type":"image","src":"\/\/gamescrazydeals.com\/cdn\/shop\/files\/NintendoSwitchDetectivePikachuReturn_MDE_-2.jpg?v=1699497685","width":1080},{"alt":null,"id":26553175048245,"position":4,"preview_image":{"aspect_ratio":1.0,"height":1080,"width":1080,"src":"\/\/gamescrazydeals.com\/cdn\/shop\/files\/NintendoSwitchDetectivePikachuReturn_MDE_-3.jpg?v=1699497686"},"aspect_ratio":1.0,"height":1080,"media_type":"image","src":"\/\/gamescrazydeals.com\/cdn\/shop\/files\/NintendoSwitchDetectivePikachuReturn_MDE_-3.jpg?v=1699497686","width":1080},{"alt":null,"id":26553175081013,"position":5,"preview_image":{"aspect_ratio":1.0,"height":1080,"width":1080,"src":"\/\/gamescrazydeals.com\/cdn\/shop\/files\/NintendoSwitchDetectivePikachuReturn_MDE_-4.jpg?v=1699497686"},"aspect_ratio":1.0,"height":1080,"media_type":"image","src":"\/\/gamescrazydeals.com\/cdn\/shop\/files\/NintendoSwitchDetectivePikachuReturn_MDE_-4.jpg?v=1699497686","width":1080},{"alt":null,"id":26553175113781,"position":6,"preview_image":{"aspect_ratio":1.0,"height":1080,"width":1080,"src":"\/\/gamescrazydeals.com\/cdn\/shop\/files\/NintendoSwitchDetectivePikachuReturn_MDE.jpg?v=1699497686"},"aspect_ratio":1.0,"height":1080,"media_type":"image","src":"\/\/gamescrazydeals.com\/cdn\/shop\/files\/NintendoSwitchDetectivePikachuReturn_MDE.jpg?v=1699497686","width":1080}],"content":"\u003cdiv class=\"gameInfo-list leftColumn\"\u003e\n\u003cmeta charset=\"utf-8\"\u003e \u003cstrong\u003eGenre\u003c\/strong\u003e: Adventure\u003c\/div\u003e\n\u003cdiv class=\"gameInfo-list leftColumn\"\u003e\n\u003cmeta charset=\"utf-8\"\u003e\n\u003cstrong\u003eRelease Date\u003c\/strong\u003e\u003cspan\u003e: October 6, 2023\u003c\/span\u003e\n\u003c\/div\u003e\n\u003cdiv class=\"gameInfo-list leftColumn\"\u003e\n\u003cstrong\u003eRegion\u003c\/strong\u003e: MDE\n\u003cp\u003e\u003ciframe title=\"YouTube video player\" src=\"https:\/\/www.youtube.com\/embed\/KIJIidyLpgo?si=0PqGc334NJe65h8b\" height=\"315\" width=\"560\" allowfullscreen=\"\" allow=\"accelerometer; autoplay; clipboard-write; encrypted-media; gyroscope; picture-in-picture; web-share\" frameborder=\"0\"\u003e\u003c\/iframe\u003e\u003cbr\u003e\u003c\/p\u003e\n\u003ch2\u003eNintendo Switch Detective Pikachu Returns \u003c\/h2\u003e\n\u003cp\u003eSolve mysteries with the personality-packed Detective Pikachu! Unravel a series of mysteries across Ryme City with a tough-talking, coffee-loving Pikachu who calls himself a great detective. This Pikachu may have a self-assured attitude and talk like a middle-aged man, but he somehow manages to keep his lovable charm. Together with his partner Tim Goodman, this great detective duo cracks several cases with the help of the many Pokémon and people who live in Ryme City. Investigate Ryme City, where Pokémon and people live side by side. Search for clues in Ryme City, where Pokémon and humans coexist in harmony. With the help of many other Pokémon, Tim and his talkative Pikachu partner work together to solve a series of mysterious incidents in this cinematic adventure game.\u003c\/p\u003e\n\u003cp\u003e Solve multiple mysteries alongside a big-talking, coffee-loving Pikachu Who calls himself a great detective\u003c\/p\u003e\n\u003cp\u003eTake on several cases around Ryme City With Tim Goodman and Detective Pikachu. The great detective duo\u003c\/p\u003e\n\u003cdiv\u003eExplore Ryme City A place where humans and Pokémon live in harmony\u003c\/div\u003e\n\u003c\/div\u003e"}
Quick View
{"id":7267098099765,"title":"Sega Mega Drive Mini 2 With 60 Games Japan Version","handle":"sega-mega-drive-mini-2","description":"\u003cmeta charset=\"utf-8\"\u003e \u003cbr\u003e\u003cstrong data-mce-fragment=\"1\"\u003eMega Drive Games\u003c\/strong\u003e\n\u003cul data-mce-fragment=\"1\"\u003e\n\u003cli data-mce-fragment=\"1\"\u003eAfter Burner II\u003c\/li\u003e\n\u003cli data-mce-fragment=\"1\"\u003eAlien Soldier\u003c\/li\u003e\n\u003cli data-mce-fragment=\"1\"\u003eAtomic Runner\u003c\/li\u003e\n\u003cli data-mce-fragment=\"1\"\u003eBonanza Bros.\u003c\/li\u003e\n\u003cli data-mce-fragment=\"1\"\u003eClayFighter\u003c\/li\u003e\n\u003cli data-mce-fragment=\"1\"\u003eCrusader of Centy\u003c\/li\u003e\n\u003cli data-mce-fragment=\"1\"\u003eDesert Strike: Return to the Gulf\u003c\/li\u003e\n\u003cli data-mce-fragment=\"1\"\u003eEarthworm Jim 2\u003c\/li\u003e\n\u003cli data-mce-fragment=\"1\"\u003eElemental Master\u003c\/li\u003e\n\u003cli data-mce-fragment=\"1\"\u003eFatal Fury 2\u003c\/li\u003e\n\u003cli data-mce-fragment=\"1\"\u003eGain Ground\u003c\/li\u003e\n\u003cli data-mce-fragment=\"1\"\u003eGolden Axe II\u003c\/li\u003e\n\u003cli data-mce-fragment=\"1\"\u003eGranada\u003c\/li\u003e\n\u003cli data-mce-fragment=\"1\"\u003eHellfire\u003c\/li\u003e\n\u003cli data-mce-fragment=\"1\"\u003eHerzog Zwei\u003c\/li\u003e\n\u003cli data-mce-fragment=\"1\"\u003eLightening Force: Quest for the Darkstar\u003c\/li\u003e\n\u003cli data-mce-fragment=\"1\"\u003eMidnight Resistance\u003c\/li\u003e\n\u003cli data-mce-fragment=\"1\"\u003eThe Ooze\u003c\/li\u003e\n\u003cli data-mce-fragment=\"1\"\u003eOutRun\u003c\/li\u003e\n\u003cli data-mce-fragment=\"1\"\u003eOutRunners\u003c\/li\u003e\n\u003cli data-mce-fragment=\"1\"\u003ePhantasy Star II\u003c\/li\u003e\n\u003cli data-mce-fragment=\"1\"\u003ePopulous\u003c\/li\u003e\n\u003cli data-mce-fragment=\"1\"\u003eRainbow Islands: Extra\u003c\/li\u003e\n\u003cli data-mce-fragment=\"1\"\u003eRanger-X\u003c\/li\u003e\n\u003cli data-mce-fragment=\"1\"\u003eThe Revenge of Shinobi\u003c\/li\u003e\n\u003cli data-mce-fragment=\"1\"\u003eRistar\u003c\/li\u003e\n\u003cli data-mce-fragment=\"1\"\u003eRolling Thunder 2\u003c\/li\u003e\n\u003cli data-mce-fragment=\"1\"\u003eShadow Dancer: The Secret of Shinobi\u003c\/li\u003e\n\u003cli data-mce-fragment=\"1\"\u003eShining Force II\u003c\/li\u003e\n\u003cli data-mce-fragment=\"1\"\u003eShining in the Darkness\u003c\/li\u003e\n\u003cli data-mce-fragment=\"1\"\u003eSonic 3D Blast\u003c\/li\u003e\n\u003cli data-mce-fragment=\"1\"\u003eSplatterhouse 2\u003c\/li\u003e\n\u003cli data-mce-fragment=\"1\"\u003eStreets of Rage 3\u003c\/li\u003e\n\u003cli data-mce-fragment=\"1\"\u003eSuper Hang-On\u003c\/li\u003e\n\u003cli data-mce-fragment=\"1\"\u003eSuper Street Fighter II: The New Challengers\u003c\/li\u003e\n\u003cli data-mce-fragment=\"1\"\u003eToeJam \u0026amp; Earl in Panic on Funkotron\u003c\/li\u003e\n\u003cli data-mce-fragment=\"1\"\u003eTruxton\u003c\/li\u003e\n\u003cli data-mce-fragment=\"1\"\u003eVectorMan 2\u003c\/li\u003e\n\u003cli data-mce-fragment=\"1\"\u003eViewpoint\u003c\/li\u003e\n\u003cli data-mce-fragment=\"1\"\u003eVirtua Racing\u003c\/li\u003e\n\u003cli data-mce-fragment=\"1\"\u003eWarsong\u003cstrong data-mce-fragment=\"1\"\u003e\u003c\/strong\u003e\n\u003c\/li\u003e\n\u003c\/ul\u003e\n\u003cp\u003e \u003c\/p\u003e\n\u003cp data-mce-fragment=\"1\"\u003e\u003cstrong data-mce-fragment=\"1\"\u003eSEGA CD Titles\u003c\/strong\u003e\u003c\/p\u003e\n\u003cul data-mce-fragment=\"1\"\u003e\n\u003cli data-mce-fragment=\"1\"\u003eEcco the Dolphin\u003c\/li\u003e\n\u003cli data-mce-fragment=\"1\"\u003eEcco: The Tides of Time\u003c\/li\u003e\n\u003cli data-mce-fragment=\"1\"\u003eFinal Fight CD\u003c\/li\u003e\n\u003cli data-mce-fragment=\"1\"\u003eMansion of Hidden Souls\u003c\/li\u003e\n\u003cli data-mce-fragment=\"1\"\u003eNight Striker\u003c\/li\u003e\n\u003cli data-mce-fragment=\"1\"\u003eNight Trap\u003c\/li\u003e\n\u003cli data-mce-fragment=\"1\"\u003eRobo Aleste\u003c\/li\u003e\n\u003cli data-mce-fragment=\"1\"\u003eSewer Shark\u003c\/li\u003e\n\u003cli data-mce-fragment=\"1\"\u003eShining Force CD\u003c\/li\u003e\n\u003cli data-mce-fragment=\"1\"\u003eSilpheed\u003c\/li\u003e\n\u003cli data-mce-fragment=\"1\"\u003eSonic CD\u003c\/li\u003e\n\u003cli data-mce-fragment=\"1\"\u003eThe Ninja Warriors\u003c\/li\u003e\n\u003c\/ul\u003e\n\u003cp\u003e \u003c\/p\u003e\n\u003cp data-mce-fragment=\"1\"\u003e\u003cstrong data-mce-fragment=\"1\"\u003eBonus Games\u003c\/strong\u003e\u003c\/p\u003e\n\u003cul data-mce-fragment=\"1\"\u003e\n\u003cli data-mce-fragment=\"1\"\u003eDevi \u0026amp; Pii\u003c\/li\u003e\n\u003cli data-mce-fragment=\"1\"\u003eFantasy Zone\u003c\/li\u003e\n\u003cli data-mce-fragment=\"1\"\u003eSpace Harrier II\u003c\/li\u003e\n\u003cli data-mce-fragment=\"1\"\u003eSpatter\u003c\/li\u003e\n\u003cli data-mce-fragment=\"1\"\u003eStar Mobile\u003c\/li\u003e\n\u003cli data-mce-fragment=\"1\"\u003eSuper Locomotive\u003c\/li\u003e\n\u003cli data-mce-fragment=\"1\"\u003eVS Puyo Puyo Sun\u003c\/li\u003e\n\u003c\/ul\u003e","published_at":"2023-11-01T11:52:05+08:00","created_at":"2023-11-01T11:28:38+08:00","vendor":"Games Crazy Deals","type":"Classic-Games","tags":["Classic-Games","Toys \u0026 Board Games"],"price":22500,"price_min":22500,"price_max":22500,"available":true,"price_varies":false,"compare_at_price":null,"compare_at_price_min":0,"compare_at_price_max":0,"compare_at_price_varies":false,"variants":[{"id":42683971371061,"title":"Default Title","option1":"Default Title","option2":null,"option3":null,"sku":null,"requires_shipping":true,"taxable":true,"featured_image":null,"available":true,"name":"Sega Mega Drive Mini 2 With 60 Games Japan Version","public_title":null,"options":["Default Title"],"price":22500,"weight":500,"compare_at_price":null,"inventory_quantity":5,"inventory_management":"shopify","inventory_policy":"deny","barcode":null}],"images":["\/\/gamescrazydeals.com\/cdn\/shop\/files\/SegaMegaDriveMini2_3.png?v=1698809958","\/\/gamescrazydeals.com\/cdn\/shop\/files\/SegaMegaDrive2-1.jpg?v=1698809958","\/\/gamescrazydeals.com\/cdn\/shop\/files\/SegaMegaDrive2.jpg?v=1698809958","\/\/gamescrazydeals.com\/cdn\/shop\/files\/WhatsAppImage2023-11-01at11.15.06_1.jpg?v=1698809987"],"featured_image":"\/\/gamescrazydeals.com\/cdn\/shop\/files\/SegaMegaDriveMini2_3.png?v=1698809958","options":["Title"],"media":[{"alt":null,"id":26531074375733,"position":1,"preview_image":{"aspect_ratio":1.0,"height":1080,"width":1080,"src":"\/\/gamescrazydeals.com\/cdn\/shop\/files\/SegaMegaDriveMini2_3.png?v=1698809958"},"aspect_ratio":1.0,"height":1080,"media_type":"image","src":"\/\/gamescrazydeals.com\/cdn\/shop\/files\/SegaMegaDriveMini2_3.png?v=1698809958","width":1080},{"alt":null,"id":26531072278581,"position":2,"preview_image":{"aspect_ratio":1.366,"height":497,"width":679,"src":"\/\/gamescrazydeals.com\/cdn\/shop\/files\/SegaMegaDrive2-1.jpg?v=1698809958"},"aspect_ratio":1.366,"height":497,"media_type":"image","src":"\/\/gamescrazydeals.com\/cdn\/shop\/files\/SegaMegaDrive2-1.jpg?v=1698809958","width":679},{"alt":null,"id":26531072311349,"position":3,"preview_image":{"aspect_ratio":1.369,"height":496,"width":679,"src":"\/\/gamescrazydeals.com\/cdn\/shop\/files\/SegaMegaDrive2.jpg?v=1698809958"},"aspect_ratio":1.369,"height":496,"media_type":"image","src":"\/\/gamescrazydeals.com\/cdn\/shop\/files\/SegaMegaDrive2.jpg?v=1698809958","width":679},{"alt":null,"id":26531074965557,"position":4,"preview_image":{"aspect_ratio":1.338,"height":994,"width":1330,"src":"\/\/gamescrazydeals.com\/cdn\/shop\/files\/WhatsAppImage2023-11-01at11.15.06_1.jpg?v=1698809987"},"aspect_ratio":1.338,"height":994,"media_type":"image","src":"\/\/gamescrazydeals.com\/cdn\/shop\/files\/WhatsAppImage2023-11-01at11.15.06_1.jpg?v=1698809987","width":1330}],"content":"\u003cmeta charset=\"utf-8\"\u003e \u003cbr\u003e\u003cstrong data-mce-fragment=\"1\"\u003eMega Drive Games\u003c\/strong\u003e\n\u003cul data-mce-fragment=\"1\"\u003e\n\u003cli data-mce-fragment=\"1\"\u003eAfter Burner II\u003c\/li\u003e\n\u003cli data-mce-fragment=\"1\"\u003eAlien Soldier\u003c\/li\u003e\n\u003cli data-mce-fragment=\"1\"\u003eAtomic Runner\u003c\/li\u003e\n\u003cli data-mce-fragment=\"1\"\u003eBonanza Bros.\u003c\/li\u003e\n\u003cli data-mce-fragment=\"1\"\u003eClayFighter\u003c\/li\u003e\n\u003cli data-mce-fragment=\"1\"\u003eCrusader of Centy\u003c\/li\u003e\n\u003cli data-mce-fragment=\"1\"\u003eDesert Strike: Return to the Gulf\u003c\/li\u003e\n\u003cli data-mce-fragment=\"1\"\u003eEarthworm Jim 2\u003c\/li\u003e\n\u003cli data-mce-fragment=\"1\"\u003eElemental Master\u003c\/li\u003e\n\u003cli data-mce-fragment=\"1\"\u003eFatal Fury 2\u003c\/li\u003e\n\u003cli data-mce-fragment=\"1\"\u003eGain Ground\u003c\/li\u003e\n\u003cli data-mce-fragment=\"1\"\u003eGolden Axe II\u003c\/li\u003e\n\u003cli data-mce-fragment=\"1\"\u003eGranada\u003c\/li\u003e\n\u003cli data-mce-fragment=\"1\"\u003eHellfire\u003c\/li\u003e\n\u003cli data-mce-fragment=\"1\"\u003eHerzog Zwei\u003c\/li\u003e\n\u003cli data-mce-fragment=\"1\"\u003eLightening Force: Quest for the Darkstar\u003c\/li\u003e\n\u003cli data-mce-fragment=\"1\"\u003eMidnight Resistance\u003c\/li\u003e\n\u003cli data-mce-fragment=\"1\"\u003eThe Ooze\u003c\/li\u003e\n\u003cli data-mce-fragment=\"1\"\u003eOutRun\u003c\/li\u003e\n\u003cli data-mce-fragment=\"1\"\u003eOutRunners\u003c\/li\u003e\n\u003cli data-mce-fragment=\"1\"\u003ePhantasy Star II\u003c\/li\u003e\n\u003cli data-mce-fragment=\"1\"\u003ePopulous\u003c\/li\u003e\n\u003cli data-mce-fragment=\"1\"\u003eRainbow Islands: Extra\u003c\/li\u003e\n\u003cli data-mce-fragment=\"1\"\u003eRanger-X\u003c\/li\u003e\n\u003cli data-mce-fragment=\"1\"\u003eThe Revenge of Shinobi\u003c\/li\u003e\n\u003cli data-mce-fragment=\"1\"\u003eRistar\u003c\/li\u003e\n\u003cli data-mce-fragment=\"1\"\u003eRolling Thunder 2\u003c\/li\u003e\n\u003cli data-mce-fragment=\"1\"\u003eShadow Dancer: The Secret of Shinobi\u003c\/li\u003e\n\u003cli data-mce-fragment=\"1\"\u003eShining Force II\u003c\/li\u003e\n\u003cli data-mce-fragment=\"1\"\u003eShining in the Darkness\u003c\/li\u003e\n\u003cli data-mce-fragment=\"1\"\u003eSonic 3D Blast\u003c\/li\u003e\n\u003cli data-mce-fragment=\"1\"\u003eSplatterhouse 2\u003c\/li\u003e\n\u003cli data-mce-fragment=\"1\"\u003eStreets of Rage 3\u003c\/li\u003e\n\u003cli data-mce-fragment=\"1\"\u003eSuper Hang-On\u003c\/li\u003e\n\u003cli data-mce-fragment=\"1\"\u003eSuper Street Fighter II: The New Challengers\u003c\/li\u003e\n\u003cli data-mce-fragment=\"1\"\u003eToeJam \u0026amp; Earl in Panic on Funkotron\u003c\/li\u003e\n\u003cli data-mce-fragment=\"1\"\u003eTruxton\u003c\/li\u003e\n\u003cli data-mce-fragment=\"1\"\u003eVectorMan 2\u003c\/li\u003e\n\u003cli data-mce-fragment=\"1\"\u003eViewpoint\u003c\/li\u003e\n\u003cli data-mce-fragment=\"1\"\u003eVirtua Racing\u003c\/li\u003e\n\u003cli data-mce-fragment=\"1\"\u003eWarsong\u003cstrong data-mce-fragment=\"1\"\u003e\u003c\/strong\u003e\n\u003c\/li\u003e\n\u003c\/ul\u003e\n\u003cp\u003e \u003c\/p\u003e\n\u003cp data-mce-fragment=\"1\"\u003e\u003cstrong data-mce-fragment=\"1\"\u003eSEGA CD Titles\u003c\/strong\u003e\u003c\/p\u003e\n\u003cul data-mce-fragment=\"1\"\u003e\n\u003cli data-mce-fragment=\"1\"\u003eEcco the Dolphin\u003c\/li\u003e\n\u003cli data-mce-fragment=\"1\"\u003eEcco: The Tides of Time\u003c\/li\u003e\n\u003cli data-mce-fragment=\"1\"\u003eFinal Fight CD\u003c\/li\u003e\n\u003cli data-mce-fragment=\"1\"\u003eMansion of Hidden Souls\u003c\/li\u003e\n\u003cli data-mce-fragment=\"1\"\u003eNight Striker\u003c\/li\u003e\n\u003cli data-mce-fragment=\"1\"\u003eNight Trap\u003c\/li\u003e\n\u003cli data-mce-fragment=\"1\"\u003eRobo Aleste\u003c\/li\u003e\n\u003cli data-mce-fragment=\"1\"\u003eSewer Shark\u003c\/li\u003e\n\u003cli data-mce-fragment=\"1\"\u003eShining Force CD\u003c\/li\u003e\n\u003cli data-mce-fragment=\"1\"\u003eSilpheed\u003c\/li\u003e\n\u003cli data-mce-fragment=\"1\"\u003eSonic CD\u003c\/li\u003e\n\u003cli data-mce-fragment=\"1\"\u003eThe Ninja Warriors\u003c\/li\u003e\n\u003c\/ul\u003e\n\u003cp\u003e \u003c\/p\u003e\n\u003cp data-mce-fragment=\"1\"\u003e\u003cstrong data-mce-fragment=\"1\"\u003eBonus Games\u003c\/strong\u003e\u003c\/p\u003e\n\u003cul data-mce-fragment=\"1\"\u003e\n\u003cli data-mce-fragment=\"1\"\u003eDevi \u0026amp; Pii\u003c\/li\u003e\n\u003cli data-mce-fragment=\"1\"\u003eFantasy Zone\u003c\/li\u003e\n\u003cli data-mce-fragment=\"1\"\u003eSpace Harrier II\u003c\/li\u003e\n\u003cli data-mce-fragment=\"1\"\u003eSpatter\u003c\/li\u003e\n\u003cli data-mce-fragment=\"1\"\u003eStar Mobile\u003c\/li\u003e\n\u003cli data-mce-fragment=\"1\"\u003eSuper Locomotive\u003c\/li\u003e\n\u003cli data-mce-fragment=\"1\"\u003eVS Puyo Puyo Sun\u003c\/li\u003e\n\u003c\/ul\u003e"}
Nintendo-Switch-Games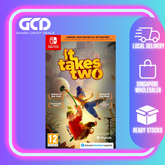 Quick View
{"id":7255881678901,"title":"Nintendo Switch It Takes Two (EU)","handle":"nintendo-switch-it-takes-two-eu","description":"\u003cstrong\u003eGenre: \u003c\/strong\u003eAction Adventure\u003cbr\u003e\u003cstrong\u003eRegion\u003c\/strong\u003e: EU\u003cbr\u003e\u003cstrong\u003eLanguage:\u003cspan\u003e \u003c\/span\u003e\u003c\/strong\u003e\u003cspan\u003eEnglish\u003c\/span\u003e\n\u003cp\u003e\u003ciframe title=\"YouTube video player\" src=\"https:\/\/www.youtube.com\/embed\/mo6Ynbt90yM?si=7CGL8BfNuCx3URN0\" height=\"315\" width=\"560\" allowfullscreen=\"\" allow=\"accelerometer; autoplay; clipboard-write; encrypted-media; gyroscope; picture-in-picture; web-share\" frameborder=\"0\"\u003e\u003c\/iframe\u003e\u003cbr\u003e\u003c\/p\u003e\n\u003cul class=\"a-unordered-list a-vertical a-spacing-mini\"\u003e\n\u003cli class=\"a-spacing-mini\"\u003e\u003cspan class=\"a-list-item\"\u003eNEW TO THE NINTENDO SWITCH: The adventure fans know and love has been optimized for the Nintendo Switch; You and a friend can play couch co-op with a pair of joy-cons or a controller per player, utilize local wireless play by connecting two Nintendo Switch consoles, or play online co-op with another Nintendo Switch player using Friend's Pass\u003c\/span\u003e\u003c\/li\u003e\n\u003cli class=\"a-spacing-mini\"\u003e\u003cspan class=\"a-list-item\"\u003ePURE CO-OP PERFECTION: Invite a friend to join for free with Friend's Pass and experience a thrilling adventure built purely for two; Choose from couch or online co-op with split-screen play, and face ever-changing challenges where working together is the only way forward\u003c\/span\u003e\u003c\/li\u003e\n\u003cli class=\"a-spacing-mini\"\u003e\u003cspan class=\"a-list-item\"\u003eGLEEFULLY DISRUPTIVE GAMEPLAY: From rampaging vacuum cleaners to suave love gurus – with It Takes Two, you never know what you're up against next; Filled with genre-bending challenges and new character abilities to master in every level, you'll experience a metaphorical merging of gameplay and narrative that pushes the boundaries of interactive storytelling\u003c\/span\u003e\u003c\/li\u003e\n\u003cli class=\"a-spacing-mini\"\u003e\u003cspan class=\"a-list-item\"\u003eA UNIVERSAL TALE OF RELATIONSHIPS: Discover a touching and heartfelt story of the challenges in getting along; Help Cody and May learn how to overcome their differences; Meet a diverse cast of strange and endearing characters; Join forces, and go on an adventure you'll treasure – together\u003c\/span\u003e\u003c\/li\u003e\n\u003c\/ul\u003e\n\u003cp\u003e \u003c\/p\u003e\n\u003cdiv class=\"a-section a-spacing-extra-large\" id=\"descriptionAndDetails\"\u003e\n\u003cdiv data-cel-widget=\"productDescription_feature_div\" data-feature-name=\"productDescription\" class=\"celwidget\" id=\"productDescription_feature_div\"\u003e\n\u003cdiv data-cel-widget=\"productDescription_feature_div\" class=\"a-row feature\" data-template-name=\"productDescription\" data-feature-name=\"productDescription\" id=\"productDescription_feature_div\"\u003e\n\u003cdiv class=\"a-section a-spacing-small\" id=\"productDescription\"\u003e\n\u003cul class=\"a-unordered-list a-vertical a-spacing-none\"\u003e\u003c\/ul\u003e\n\u003c\/div\u003e\n\u003c\/div\u003e\n\u003c\/div\u003e\n\u003c\/div\u003e","published_at":"2023-10-20T15:09:48+08:00","created_at":"2023-10-20T15:04:45+08:00","vendor":"Games Crazy Deals","type":"Nintendo-Switch-Games","tags":["Nintendo","Nintendo-Switch","Nintendo-Switch-Games"],"price":3590,"price_min":3590,"price_max":3590,"available":true,"price_varies":false,"compare_at_price":null,"compare_at_price_min":0,"compare_at_price_max":0,"compare_at_price_varies":false,"variants":[{"id":42656819216437,"title":"Default Title","option1":"Default Title","option2":null,"option3":null,"sku":null,"requires_shipping":true,"taxable":true,"featured_image":null,"available":true,"name":"Nintendo Switch It Takes Two (EU)","public_title":null,"options":["Default Title"],"price":3590,"weight":200,"compare_at_price":null,"inventory_quantity":5,"inventory_management":"shopify","inventory_policy":"deny","barcode":null}],"images":["\/\/gamescrazydeals.com\/cdn\/shop\/files\/NintendoSwitchItTakesTwo_EU_1.png?v=1697785626","\/\/gamescrazydeals.com\/cdn\/shop\/files\/NintendoSwitchItTakesTwo_EU_-1.jpg?v=1697785625","\/\/gamescrazydeals.com\/cdn\/shop\/files\/NintendoSwitchItTakesTwo_EU_-2.jpg?v=1697785626","\/\/gamescrazydeals.com\/cdn\/shop\/files\/NintendoSwitchItTakesTwo_EU_-3.jpg?v=1697785626","\/\/gamescrazydeals.com\/cdn\/shop\/files\/NintendoSwitchItTakesTwo_EU.jpg?v=1697785625"],"featured_image":"\/\/gamescrazydeals.com\/cdn\/shop\/files\/NintendoSwitchItTakesTwo_EU_1.png?v=1697785626","options":["Title"],"media":[{"alt":null,"id":26506293968949,"position":1,"preview_image":{"aspect_ratio":1.0,"height":1080,"width":1080,"src":"\/\/gamescrazydeals.com\/cdn\/shop\/files\/NintendoSwitchItTakesTwo_EU_1.png?v=1697785626"},"aspect_ratio":1.0,"height":1080,"media_type":"image","src":"\/\/gamescrazydeals.com\/cdn\/shop\/files\/NintendoSwitchItTakesTwo_EU_1.png?v=1697785626","width":1080},{"alt":null,"id":26506294001717,"position":2,"preview_image":{"aspect_ratio":1.777,"height":844,"width":1500,"src":"\/\/gamescrazydeals.com\/cdn\/shop\/files\/NintendoSwitchItTakesTwo_EU_-1.jpg?v=1697785625"},"aspect_ratio":1.777,"height":844,"media_type":"image","src":"\/\/gamescrazydeals.com\/cdn\/shop\/files\/NintendoSwitchItTakesTwo_EU_-1.jpg?v=1697785625","width":1500},{"alt":null,"id":26506294034485,"position":3,"preview_image":{"aspect_ratio":1.777,"height":844,"width":1500,"src":"\/\/gamescrazydeals.com\/cdn\/shop\/files\/NintendoSwitchItTakesTwo_EU_-2.jpg?v=1697785626"},"aspect_ratio":1.777,"height":844,"media_type":"image","src":"\/\/gamescrazydeals.com\/cdn\/shop\/files\/NintendoSwitchItTakesTwo_EU_-2.jpg?v=1697785626","width":1500},{"alt":null,"id":26506294067253,"position":4,"preview_image":{"aspect_ratio":1.777,"height":844,"width":1500,"src":"\/\/gamescrazydeals.com\/cdn\/shop\/files\/NintendoSwitchItTakesTwo_EU_-3.jpg?v=1697785626"},"aspect_ratio":1.777,"height":844,"media_type":"image","src":"\/\/gamescrazydeals.com\/cdn\/shop\/files\/NintendoSwitchItTakesTwo_EU_-3.jpg?v=1697785626","width":1500},{"alt":null,"id":26506294100021,"position":5,"preview_image":{"aspect_ratio":1.777,"height":844,"width":1500,"src":"\/\/gamescrazydeals.com\/cdn\/shop\/files\/NintendoSwitchItTakesTwo_EU.jpg?v=1697785625"},"aspect_ratio":1.777,"height":844,"media_type":"image","src":"\/\/gamescrazydeals.com\/cdn\/shop\/files\/NintendoSwitchItTakesTwo_EU.jpg?v=1697785625","width":1500}],"content":"\u003cstrong\u003eGenre: \u003c\/strong\u003eAction Adventure\u003cbr\u003e\u003cstrong\u003eRegion\u003c\/strong\u003e: EU\u003cbr\u003e\u003cstrong\u003eLanguage:\u003cspan\u003e \u003c\/span\u003e\u003c\/strong\u003e\u003cspan\u003eEnglish\u003c\/span\u003e\n\u003cp\u003e\u003ciframe title=\"YouTube video player\" src=\"https:\/\/www.youtube.com\/embed\/mo6Ynbt90yM?si=7CGL8BfNuCx3URN0\" height=\"315\" width=\"560\" allowfullscreen=\"\" allow=\"accelerometer; autoplay; clipboard-write; encrypted-media; gyroscope; picture-in-picture; web-share\" frameborder=\"0\"\u003e\u003c\/iframe\u003e\u003cbr\u003e\u003c\/p\u003e\n\u003cul class=\"a-unordered-list a-vertical a-spacing-mini\"\u003e\n\u003cli class=\"a-spacing-mini\"\u003e\u003cspan class=\"a-list-item\"\u003eNEW TO THE NINTENDO SWITCH: The adventure fans know and love has been optimized for the Nintendo Switch; You and a friend can play couch co-op with a pair of joy-cons or a controller per player, utilize local wireless play by connecting two Nintendo Switch consoles, or play online co-op with another Nintendo Switch player using Friend's Pass\u003c\/span\u003e\u003c\/li\u003e\n\u003cli class=\"a-spacing-mini\"\u003e\u003cspan class=\"a-list-item\"\u003ePURE CO-OP PERFECTION: Invite a friend to join for free with Friend's Pass and experience a thrilling adventure built purely for two; Choose from couch or online co-op with split-screen play, and face ever-changing challenges where working together is the only way forward\u003c\/span\u003e\u003c\/li\u003e\n\u003cli class=\"a-spacing-mini\"\u003e\u003cspan class=\"a-list-item\"\u003eGLEEFULLY DISRUPTIVE GAMEPLAY: From rampaging vacuum cleaners to suave love gurus – with It Takes Two, you never know what you're up against next; Filled with genre-bending challenges and new character abilities to master in every level, you'll experience a metaphorical merging of gameplay and narrative that pushes the boundaries of interactive storytelling\u003c\/span\u003e\u003c\/li\u003e\n\u003cli class=\"a-spacing-mini\"\u003e\u003cspan class=\"a-list-item\"\u003eA UNIVERSAL TALE OF RELATIONSHIPS: Discover a touching and heartfelt story of the challenges in getting along; Help Cody and May learn how to overcome their differences; Meet a diverse cast of strange and endearing characters; Join forces, and go on an adventure you'll treasure – together\u003c\/span\u003e\u003c\/li\u003e\n\u003c\/ul\u003e\n\u003cp\u003e \u003c\/p\u003e\n\u003cdiv class=\"a-section a-spacing-extra-large\" id=\"descriptionAndDetails\"\u003e\n\u003cdiv data-cel-widget=\"productDescription_feature_div\" data-feature-name=\"productDescription\" class=\"celwidget\" id=\"productDescription_feature_div\"\u003e\n\u003cdiv data-cel-widget=\"productDescription_feature_div\" class=\"a-row feature\" data-template-name=\"productDescription\" data-feature-name=\"productDescription\" id=\"productDescription_feature_div\"\u003e\n\u003cdiv class=\"a-section a-spacing-small\" id=\"productDescription\"\u003e\n\u003cul class=\"a-unordered-list a-vertical a-spacing-none\"\u003e\u003c\/ul\u003e\n\u003c\/div\u003e\n\u003c\/div\u003e\n\u003c\/div\u003e\n\u003c\/div\u003e"}
Quick View
{"id":7255879909429,"title":"Nintendo Switch Gear Club Unlimited 2: Tracks Edition (EU)","handle":"nintendo-switch-gear-club-unlimited-2-tracks-edition-eu","description":"\u003cstrong\u003eGenre:\u003cspan\u003e \u003c\/span\u003e\u003c\/strong\u003e\u003cspan\u003eRacing\u003c\/span\u003e\u003cbr\u003e\u003cstrong\u003eRegion\u003c\/strong\u003e: EU\u003cbr\u003e\u003cstrong\u003eLanguage:\u003cspan\u003e \u003c\/span\u003e\u003c\/strong\u003e\u003cspan\u003eEnglish\u003c\/span\u003e\n\u003cp\u003e\u003ciframe width=\"560\" height=\"315\" src=\"https:\/\/www.youtube.com\/embed\/ByNYliWRrzk?si=6USq4RlgxJOb3xZI\" title=\"YouTube video player\" frameborder=\"0\" allow=\"accelerometer; autoplay; clipboard-write; encrypted-media; gyroscope; picture-in-picture; web-share\" allowfullscreen=\"\"\u003e\u003c\/iframe\u003e\u003cbr\u003e\u003c\/p\u003e\n\u003cp\u003e\u003cspan\u003eWith the pedal to the metal, race along more than 1800 miles of tracks that await you! On the mountainside, through a nature Park, in the middle of the desert, or along the coast, defend your position in more than 250 races - with Championships, grand Prix, and exhibition races.\u003c\/span\u003e\u003c\/p\u003e\n\u003cp\u003e\u003cspan\u003efind all the gear Club unlimited 2 content and discover a new motorsport experience in the new game mode inspired by the 24H Le Mans event, the \"endurance Championship\" Campaign. Drive on the legendary 24H Le Mans circuit by Succeeding in challenging Trials and driving new vehicles built for this mythical race: Nissan GT-R lm Nismo (winner of the 2019 Edition), Porsche 919 hybrid, Mercedes amg GT3, and the bentley continental gt3-r.\u003c\/span\u003e\u003c\/p\u003e\n\u003cp\u003e\u003cspan\u003eif you're strong enough, you will master the legendary Ford GT40 Mk I Gulf, winner of the 24H Le Mans race in 1968 and 1969!. \u003c\/span\u003e\u003c\/p\u003e\n\u003cp\u003e \u003c\/p\u003e\n\u003cp\u003e \u003c\/p\u003e\n\u003cdiv class=\"a-section a-spacing-extra-large\" id=\"descriptionAndDetails\"\u003e\n\u003cdiv data-cel-widget=\"productDescription_feature_div\" data-feature-name=\"productDescription\" class=\"celwidget\" id=\"productDescription_feature_div\"\u003e\n\u003cdiv data-cel-widget=\"productDescription_feature_div\" class=\"a-row feature\" data-template-name=\"productDescription\" data-feature-name=\"productDescription\" id=\"productDescription_feature_div\"\u003e\n\u003cdiv class=\"a-section a-spacing-small\" id=\"productDescription\"\u003e\n\u003cul class=\"a-unordered-list a-vertical a-spacing-none\"\u003e\u003c\/ul\u003e\n\u003c\/div\u003e\n\u003c\/div\u003e\n\u003c\/div\u003e\n\u003c\/div\u003e","published_at":"2023-10-20T15:02:51+08:00","created_at":"2023-10-20T14:55:48+08:00","vendor":"Games Crazy Deals","type":"Nintendo-Switch-Games","tags":["Nintendo","Nintendo-Switch","Nintendo-Switch-Games"],"price":2990,"price_min":2990,"price_max":2990,"available":true,"price_varies":false,"compare_at_price":null,"compare_at_price_min":0,"compare_at_price_max":0,"compare_at_price_varies":false,"variants":[{"id":42656806797365,"title":"Default Title","option1":"Default Title","option2":null,"option3":null,"sku":null,"requires_shipping":true,"taxable":true,"featured_image":null,"available":true,"name":"Nintendo Switch Gear Club Unlimited 2: Tracks Edition (EU)","public_title":null,"options":["Default Title"],"price":2990,"weight":200,"compare_at_price":null,"inventory_quantity":5,"inventory_management":"shopify","inventory_policy":"deny","barcode":null}],"images":["\/\/gamescrazydeals.com\/cdn\/shop\/files\/NintendoSwitchGearClubUnlimited2TracksEdition_EU_1.png?v=1697785262","\/\/gamescrazydeals.com\/cdn\/shop\/files\/NintendoSwitchGearClubUnlimited2-TracksEdition_EU_-1.jpg?v=1697785262","\/\/gamescrazydeals.com\/cdn\/shop\/files\/NintendoSwitchGearClubUnlimited2-TracksEdition_EU_-3.jpg?v=1697785262","\/\/gamescrazydeals.com\/cdn\/shop\/files\/NintendoSwitchGearClubUnlimited2-TracksEdition_EU.jpg?v=1697785262"],"featured_image":"\/\/gamescrazydeals.com\/cdn\/shop\/files\/NintendoSwitchGearClubUnlimited2TracksEdition_EU_1.png?v=1697785262","options":["Title"],"media":[{"alt":null,"id":26506289152053,"position":1,"preview_image":{"aspect_ratio":1.0,"height":1080,"width":1080,"src":"\/\/gamescrazydeals.com\/cdn\/shop\/files\/NintendoSwitchGearClubUnlimited2TracksEdition_EU_1.png?v=1697785262"},"aspect_ratio":1.0,"height":1080,"media_type":"image","src":"\/\/gamescrazydeals.com\/cdn\/shop\/files\/NintendoSwitchGearClubUnlimited2TracksEdition_EU_1.png?v=1697785262","width":1080},{"alt":null,"id":26506287775797,"position":2,"preview_image":{"aspect_ratio":1.778,"height":720,"width":1280,"src":"\/\/gamescrazydeals.com\/cdn\/shop\/files\/NintendoSwitchGearClubUnlimited2-TracksEdition_EU_-1.jpg?v=1697785262"},"aspect_ratio":1.778,"height":720,"media_type":"image","src":"\/\/gamescrazydeals.com\/cdn\/shop\/files\/NintendoSwitchGearClubUnlimited2-TracksEdition_EU_-1.jpg?v=1697785262","width":1280},{"alt":null,"id":26506287808565,"position":3,"preview_image":{"aspect_ratio":1.778,"height":720,"width":1280,"src":"\/\/gamescrazydeals.com\/cdn\/shop\/files\/NintendoSwitchGearClubUnlimited2-TracksEdition_EU_-3.jpg?v=1697785262"},"aspect_ratio":1.778,"height":720,"media_type":"image","src":"\/\/gamescrazydeals.com\/cdn\/shop\/files\/NintendoSwitchGearClubUnlimited2-TracksEdition_EU_-3.jpg?v=1697785262","width":1280},{"alt":null,"id":26506287841333,"position":4,"preview_image":{"aspect_ratio":1.778,"height":720,"width":1280,"src":"\/\/gamescrazydeals.com\/cdn\/shop\/files\/NintendoSwitchGearClubUnlimited2-TracksEdition_EU.jpg?v=1697785262"},"aspect_ratio":1.778,"height":720,"media_type":"image","src":"\/\/gamescrazydeals.com\/cdn\/shop\/files\/NintendoSwitchGearClubUnlimited2-TracksEdition_EU.jpg?v=1697785262","width":1280}],"content":"\u003cstrong\u003eGenre:\u003cspan\u003e \u003c\/span\u003e\u003c\/strong\u003e\u003cspan\u003eRacing\u003c\/span\u003e\u003cbr\u003e\u003cstrong\u003eRegion\u003c\/strong\u003e: EU\u003cbr\u003e\u003cstrong\u003eLanguage:\u003cspan\u003e \u003c\/span\u003e\u003c\/strong\u003e\u003cspan\u003eEnglish\u003c\/span\u003e\n\u003cp\u003e\u003ciframe width=\"560\" height=\"315\" src=\"https:\/\/www.youtube.com\/embed\/ByNYliWRrzk?si=6USq4RlgxJOb3xZI\" title=\"YouTube video player\" frameborder=\"0\" allow=\"accelerometer; autoplay; clipboard-write; encrypted-media; gyroscope; picture-in-picture; web-share\" allowfullscreen=\"\"\u003e\u003c\/iframe\u003e\u003cbr\u003e\u003c\/p\u003e\n\u003cp\u003e\u003cspan\u003eWith the pedal to the metal, race along more than 1800 miles of tracks that await you! On the mountainside, through a nature Park, in the middle of the desert, or along the coast, defend your position in more than 250 races - with Championships, grand Prix, and exhibition races.\u003c\/span\u003e\u003c\/p\u003e\n\u003cp\u003e\u003cspan\u003efind all the gear Club unlimited 2 content and discover a new motorsport experience in the new game mode inspired by the 24H Le Mans event, the \"endurance Championship\" Campaign. Drive on the legendary 24H Le Mans circuit by Succeeding in challenging Trials and driving new vehicles built for this mythical race: Nissan GT-R lm Nismo (winner of the 2019 Edition), Porsche 919 hybrid, Mercedes amg GT3, and the bentley continental gt3-r.\u003c\/span\u003e\u003c\/p\u003e\n\u003cp\u003e\u003cspan\u003eif you're strong enough, you will master the legendary Ford GT40 Mk I Gulf, winner of the 24H Le Mans race in 1968 and 1969!. \u003c\/span\u003e\u003c\/p\u003e\n\u003cp\u003e \u003c\/p\u003e\n\u003cp\u003e \u003c\/p\u003e\n\u003cdiv class=\"a-section a-spacing-extra-large\" id=\"descriptionAndDetails\"\u003e\n\u003cdiv data-cel-widget=\"productDescription_feature_div\" data-feature-name=\"productDescription\" class=\"celwidget\" id=\"productDescription_feature_div\"\u003e\n\u003cdiv data-cel-widget=\"productDescription_feature_div\" class=\"a-row feature\" data-template-name=\"productDescription\" data-feature-name=\"productDescription\" id=\"productDescription_feature_div\"\u003e\n\u003cdiv class=\"a-section a-spacing-small\" id=\"productDescription\"\u003e\n\u003cul class=\"a-unordered-list a-vertical a-spacing-none\"\u003e\u003c\/ul\u003e\n\u003c\/div\u003e\n\u003c\/div\u003e\n\u003c\/div\u003e\n\u003c\/div\u003e"}
Quick View
{"id":7244076711989,"title":"PS4 Watch Dogs 2 San Francisco Edition *FIGURINE ONLY, NO GAME DISC INCLUDED*","handle":"ps4-watch-dogs-2-san-francisco-edition","description":"\u003cdiv\u003e\n\u003cmeta charset=\"utf-8\"\u003e\n\u003cul class=\"a-unordered-list a-vertical a-spacing-mini\"\u003e\n\u003cli class=\"a-spacing-mini\"\u003e\u003cspan class=\"a-list-item\"\u003eGET THE OFFICIAL FIGURINE - Created by the makers of Watch_Dogs 2, the Marcus Figurine is perfectly accurate to the in-game character.\u003c\/span\u003e\u003c\/li\u003e\n\u003cli class=\"a-spacing-mini\"\u003e\u003cspan class=\"a-list-item\"\u003eCONTAINS ALL OF MARCUS'S TOOLS - The Marcus Figurine includes his 3D printed gun, thunder ball melee weapon and his cell phone, which he can use to hack nearly anything.\u003c\/span\u003e\u003c\/li\u003e\n\u003cli class=\"a-spacing-mini\"\u003e\u003cspan class=\"a-list-item\"\u003eASSEMBLE THE WATCH_DOGS 2 DIORAMA - The Marcus Figurine locks in with The Wrench Figurine (sold separately).\u003c\/span\u003e\u003c\/li\u003e\n\u003cli class=\"a-spacing-mini\"\u003e\u003cspan class=\"a-list-item\"\u003eStands at a height of 9.5 inches\u003c\/span\u003e\u003c\/li\u003e\n\u003cli class=\"a-spacing-mini\"\u003e\u003cspan class=\"a-list-item\"\u003eRecommended Ages: 14+\u003c\/span\u003e\u003c\/li\u003e\n\u003c\/ul\u003e\n\u003c\/div\u003e\n\u003cp\u003e  \u003c\/p\u003e\n\u003cdiv\u003e\u003cstrong\u003e\u003cspan data-key=\"19\"\u003e\u003c\/span\u003e\u003c\/strong\u003e\u003c\/div\u003e","published_at":"2023-10-11T09:43:40+08:00","created_at":"2023-10-11T09:33:24+08:00","vendor":"Games Crazy Deals","type":"PS4-Games","tags":["Playstation","PS4","PS4-Games"],"price":2900,"price_min":2900,"price_max":2900,"available":true,"price_varies":false,"compare_at_price":2690,"compare_at_price_min":2690,"compare_at_price_max":2690,"compare_at_price_varies":false,"variants":[{"id":42628464934965,"title":"Default Title","option1":"Default Title","option2":null,"option3":null,"sku":null,"requires_shipping":true,"taxable":true,"featured_image":null,"available":true,"name":"PS4 Watch Dogs 2 San Francisco Edition *FIGURINE ONLY, NO GAME DISC INCLUDED*","public_title":null,"options":["Default Title"],"price":2900,"weight":2000,"compare_at_price":2690,"inventory_quantity":2,"inventory_management":"shopify","inventory_policy":"deny","barcode":null}],"images":["\/\/gamescrazydeals.com\/cdn\/shop\/files\/PS4WatchDogs2SanFranciscoEditionFIGURINEONLY_NOGAMEDISCINCLUDED_1.png?v=1701765803"],"featured_image":"\/\/gamescrazydeals.com\/cdn\/shop\/files\/PS4WatchDogs2SanFranciscoEditionFIGURINEONLY_NOGAMEDISCINCLUDED_1.png?v=1701765803","options":["Title"],"media":[{"alt":null,"id":26626513895477,"position":1,"preview_image":{"aspect_ratio":1.0,"height":1080,"width":1080,"src":"\/\/gamescrazydeals.com\/cdn\/shop\/files\/PS4WatchDogs2SanFranciscoEditionFIGURINEONLY_NOGAMEDISCINCLUDED_1.png?v=1701765803"},"aspect_ratio":1.0,"height":1080,"media_type":"image","src":"\/\/gamescrazydeals.com\/cdn\/shop\/files\/PS4WatchDogs2SanFranciscoEditionFIGURINEONLY_NOGAMEDISCINCLUDED_1.png?v=1701765803","width":1080}],"content":"\u003cdiv\u003e\n\u003cmeta charset=\"utf-8\"\u003e\n\u003cul class=\"a-unordered-list a-vertical a-spacing-mini\"\u003e\n\u003cli class=\"a-spacing-mini\"\u003e\u003cspan class=\"a-list-item\"\u003eGET THE OFFICIAL FIGURINE - Created by the makers of Watch_Dogs 2, the Marcus Figurine is perfectly accurate to the in-game character.\u003c\/span\u003e\u003c\/li\u003e\n\u003cli class=\"a-spacing-mini\"\u003e\u003cspan class=\"a-list-item\"\u003eCONTAINS ALL OF MARCUS'S TOOLS - The Marcus Figurine includes his 3D printed gun, thunder ball melee weapon and his cell phone, which he can use to hack nearly anything.\u003c\/span\u003e\u003c\/li\u003e\n\u003cli class=\"a-spacing-mini\"\u003e\u003cspan class=\"a-list-item\"\u003eASSEMBLE THE WATCH_DOGS 2 DIORAMA - The Marcus Figurine locks in with The Wrench Figurine (sold separately).\u003c\/span\u003e\u003c\/li\u003e\n\u003cli class=\"a-spacing-mini\"\u003e\u003cspan class=\"a-list-item\"\u003eStands at a height of 9.5 inches\u003c\/span\u003e\u003c\/li\u003e\n\u003cli class=\"a-spacing-mini\"\u003e\u003cspan class=\"a-list-item\"\u003eRecommended Ages: 14+\u003c\/span\u003e\u003c\/li\u003e\n\u003c\/ul\u003e\n\u003c\/div\u003e\n\u003cp\u003e  \u003c\/p\u003e\n\u003cdiv\u003e\u003cstrong\u003e\u003cspan data-key=\"19\"\u003e\u003c\/span\u003e\u003c\/strong\u003e\u003c\/div\u003e"}
XBOXSERIES X & S Accessories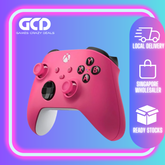 Quick View
{"id":7243134631989,"title":"Xbox Wireless Controller Pink","handle":"xbox-wireless-controller-pink","description":"\u003chr noshade size=\"1\" class=\"bucketDivider\"\u003e\n\u003ch2\u003eFrom the manufacturer\u003c\/h2\u003e\n\u003cdiv class=\"aplus-v2 desktop celwidget\" data-csa-c-id=\"m593ah-fn3hpl-f8y5j8-uvnk5f\" data-cel-widget=\"aplus\" cel_widget_id=\"aplus\"\u003e\n\u003cdiv class=\"celwidget aplus-module module-11 aplus-standard\" data-csa-c-id=\"fhrqb6-8amwyw-jx4uzf-l286cj\" data-cel-widget=\"aplus-module-11\" cel_widget_id=\"aplus-module-11\"\u003e\n\u003cdiv aria-live=\"polite\" data-a-expander-name=\"aplus-module-expander\" data-a-expander-collapsed-height=\"360\" class=\"a-expander-collapsed-height a-row a-expander-container a-expander-partial-collapse-container\"\u003e\n\u003cdiv aria-expanded=\"false\" class=\"a-expander-content a-expander-partial-collapse-content\"\u003e\n\u003cdiv class=\"aplus-module-wrapper apm-spacing apm-floatnone apm-fixed-width\"\u003e\n\u003cdiv class=\"apm-sidemodule aplus-module-content\"\u003e\n\u003cdiv class=\"apm-hero-image\"\u003e\u003cmeta charset=\"utf-8\"\u003e\u003c\/div\u003e\n\u003cdiv class=\"apm-heromodule-textright apm-hero-text\"\u003e\n\u003ch3\u003eElevate your game\u003c\/h3\u003e\n\u003cp\u003eExperience the modernized design of the Xbox Wireless Controller in Pulse Red, featuring sculpted surfaces and refined geometry for enhanced comfort and effortless control during gameplay with battery usage up to 40 hours.*\u003c\/p\u003e\n\u003c\/div\u003e\n\u003c\/div\u003e\n\u003c\/div\u003e\n\u003c\/div\u003e\n\u003c\/div\u003e\n\u003c\/div\u003e\n\u003cdiv class=\"celwidget aplus-module module-12 aplus-standard\" data-csa-c-id=\"ekezne-4qis1v-yed2dg-rn81db\" data-cel-widget=\"aplus-module-12\" cel_widget_id=\"aplus-module-12\"\u003e\n\u003cdiv aria-live=\"polite\" data-a-expander-name=\"aplus-module-expander\" data-a-expander-collapsed-height=\"360\" class=\"a-expander-collapsed-height a-row a-expander-container a-expander-partial-collapse-container\"\u003e\n\u003cdiv aria-expanded=\"false\" class=\"a-expander-content a-expander-partial-collapse-content\"\u003e\n\u003cdiv class=\"aplus-module-wrapper apm-spacing apm-floatnone apm-fixed-width\"\u003e\n\u003cdiv class=\"apm-sidemodule aplus-module-content\"\u003e\n\u003cdiv class=\"apm-hero-image\"\u003e\u003cmeta charset=\"utf-8\"\u003e\u003c\/div\u003e\n\u003cdiv class=\"textright apm-hero-text\"\u003e\n\u003ch3\u003eCustom mapping\u003c\/h3\u003e\n\u003cp\u003eMake the controller your own by customizing button mapping.* Plus, plug in any compatible headset with the 3.5mm audio headset jack.\u003c\/p\u003e\n\u003c\/div\u003e\n\u003c\/div\u003e\n\u003c\/div\u003e\n\u003c\/div\u003e\n\u003c\/div\u003e\n\u003c\/div\u003e\n\u003cdiv class=\"celwidget aplus-module module-12 aplus-standard\" data-csa-c-id=\"2oee1v-jenyfo-dox5o9-2fxxx6\" data-cel-widget=\"aplus-module-12\" cel_widget_id=\"aplus-module-12\"\u003e\n\u003cdiv aria-live=\"polite\" data-a-expander-name=\"aplus-module-expander\" data-a-expander-collapsed-height=\"360\" class=\"a-expander-collapsed-height a-row a-expander-container a-expander-partial-collapse-container\"\u003e\n\u003cdiv aria-expanded=\"false\" class=\"a-expander-content a-expander-partial-collapse-content\"\u003e\n\u003cdiv class=\"aplus-module-wrapper apm-spacing apm-floatnone apm-fixed-width\"\u003e\n\u003cdiv class=\"apm-sidemodule aplus-module-content\"\u003e\n\u003cdiv class=\"textright apm-hero-text\"\u003e\n\u003ch3\u003eStay on target\u003c\/h3\u003e\n\u003cp\u003eStay on target with a hybrid D-pad, textured grip on the triggers, bumpers, and back-case. Connect using the USB-C port for direct plug and play to console and PC. Support for AA batteries is included on the rear.\u003c\/p\u003e\n\u003c\/div\u003e\n\u003c\/div\u003e\n\u003c\/div\u003e\n\u003cdiv\u003e\u003cbr\u003e\u003c\/div\u003e\n\u003c\/div\u003e\n\u003c\/div\u003e\n\u003c\/div\u003e\n\u003cdiv class=\"celwidget aplus-module module-9 aplus-standard\" data-csa-c-id=\"wecx5t-gdt912-hw0fs0-svlbdk\" data-cel-widget=\"aplus-module-9\" cel_widget_id=\"aplus-module-9\"\u003e\n\u003cdiv aria-live=\"polite\" data-a-expander-name=\"aplus-module-expander\" data-a-expander-collapsed-height=\"700\" class=\"a-expander-collapsed-height a-row a-expander-container a-expander-partial-collapse-container\"\u003e\n\u003cdiv aria-expanded=\"false\" class=\"a-expander-content a-expander-partial-collapse-content\"\u003e\n\u003cdiv class=\"aplus-module-wrapper apm-fixed-width\"\u003e\n\u003cdiv class=\"apm-spacing apm-fixed-width\"\u003e\n\u003ctable class=\"apm-fixed-width apm-eventhirdcol-table\"\u003e\n\u003ctbody\u003e\n\u003ctr\u003e\n\u003cth class=\"apm-center\"\u003e\n\u003cdiv class=\"apm-eventhirdcol apm-floatleft\"\u003e\n\u003cp\u003e\u003cimg alt=\"bluetooth\" src=\"https:\/\/m.media-amazon.com\/images\/S\/aplus-media\/vc\/ec43de32-701c-4a2b-8b5c-f06ed61176da.__CR0,0,300,300_PT0_SX300_V1___.jpg\" class=\"a-spacing-mini\" data-src=\"https:\/\/m.media-amazon.com\/images\/S\/aplus-media\/vc\/ec43de32-701c-4a2b-8b5c-f06ed61176da.__CR0,0,300,300_PT0_SX300_V1___.jpg\"\u003e\u003c\/p\u003e\n\u003c\/div\u003e\n\u003c\/th\u003e\n\u003cth class=\"apm-center\"\u003e\n\u003cdiv class=\"apm-eventhirdcol apm-floatleft\"\u003e\n\u003cp\u003e\u003cimg alt=\"share\" src=\"https:\/\/m.media-amazon.com\/images\/S\/aplus-media\/vc\/ff2130ce-18bc-48fd-87b4-298d2c294365.__CR0,0,300,300_PT0_SX300_V1___.jpg\" class=\"a-spacing-mini\" data-src=\"https:\/\/m.media-amazon.com\/images\/S\/aplus-media\/vc\/ff2130ce-18bc-48fd-87b4-298d2c294365.__CR0,0,300,300_PT0_SX300_V1___.jpg\"\u003e\u003c\/p\u003e\n\u003c\/div\u003e\n\u003c\/th\u003e\n\u003cth class=\"apm-center\"\u003e\n\u003cdiv class=\"apm-eventhirdcol apm-floatleft\"\u003e\n\u003cp\u003e\u003cimg alt=\"pair\" src=\"https:\/\/m.media-amazon.com\/images\/S\/aplus-media\/vc\/c91bdf7c-f4c8-4251-83c7-7bb07d67eb3a.__CR0,0,300,300_PT0_SX300_V1___.jpg\" class=\"a-spacing-mini\" data-src=\"https:\/\/m.media-amazon.com\/images\/S\/aplus-media\/vc\/c91bdf7c-f4c8-4251-83c7-7bb07d67eb3a.__CR0,0,300,300_PT0_SX300_V1___.jpg\"\u003e\u003c\/p\u003e\n\u003c\/div\u003e\n\u003c\/th\u003e\n\u003c\/tr\u003e\n\u003ctr\u003e\n\u003ctd class=\"apm-top\"\u003e\n\u003cdiv class=\"apm-eventhirdcol apm-floatleft\"\u003e\n\u003ch4 class=\"a-spacing-mini\"\u003eXbox Wireless and Bluetooth technology\u003c\/h4\u003e\n\u003cp\u003eIncludes Xbox Wireless and Bluetooth technology for wireless gaming on supported consoles, Windows 10 PCs, Android phones, and tablets.*\u003c\/p\u003e\n\u003c\/div\u003e\n\u003c\/td\u003e\n\u003ctd class=\"apm-top\"\u003e\n\u003cdiv class=\"apm-eventhirdcol apm-floatleft\"\u003e\n\u003ch4 class=\"a-spacing-mini\"\u003eShare button\u003c\/h4\u003e\n\u003cp\u003eSeamlessly capture and share content such as screenshots, recordings, and more with the dedicated Share button.\u003c\/p\u003e\n\u003c\/div\u003e\n\u003c\/td\u003e\n\u003ctd class=\"apm-top\"\u003e\n\u003cdiv class=\"apm-eventhirdcol apm-floatleft\"\u003e\n\u003ch4 class=\"a-spacing-mini\"\u003eEasily pair and switch\u003c\/h4\u003e\n\u003cp\u003eQuickly pair with, play on, and switch between devices including Xbox Series X|S, Xbox One, Windows 10 PCs, and Android and iOS phones and tablets.*\u003c\/p\u003e\n\u003c\/div\u003e\n\u003c\/td\u003e\n\u003c\/tr\u003e\n\u003c\/tbody\u003e\n\u003c\/table\u003e\n\u003c\/div\u003e\n\u003c\/div\u003e\n\u003c\/div\u003e\n\u003c\/div\u003e\n\u003c\/div\u003e\n\u003c\/div\u003e","published_at":"2023-10-10T14:19:26+08:00","created_at":"2023-10-10T14:10:44+08:00","vendor":"Games Crazy Deals","type":"XBOXSERIES X \u0026 S Accessories","tags":[],"price":8890,"price_min":8890,"price_max":8890,"available":true,"price_varies":false,"compare_at_price":0,"compare_at_price_min":0,"compare_at_price_max":0,"compare_at_price_varies":false,"variants":[{"id":42623728025653,"title":"Default Title","option1":"Default Title","option2":null,"option3":null,"sku":null,"requires_shipping":true,"taxable":true,"featured_image":null,"available":true,"name":"Xbox Wireless Controller Pink","public_title":null,"options":["Default Title"],"price":8890,"weight":1010,"compare_at_price":0,"inventory_quantity":5,"inventory_management":"shopify","inventory_policy":"deny","barcode":null}],"images":["\/\/gamescrazydeals.com\/cdn\/shop\/files\/XboxWirelessControllerPink_1.png?v=1696918680","\/\/gamescrazydeals.com\/cdn\/shop\/files\/image-removebg-preview_45.png?v=1696918739","\/\/gamescrazydeals.com\/cdn\/shop\/files\/image-removebg-preview_44.png?v=1696918739"],"featured_image":"\/\/gamescrazydeals.com\/cdn\/shop\/files\/XboxWirelessControllerPink_1.png?v=1696918680","options":["Title"],"media":[{"alt":null,"id":26482417696821,"position":1,"preview_image":{"aspect_ratio":1.0,"height":1080,"width":1080,"src":"\/\/gamescrazydeals.com\/cdn\/shop\/files\/XboxWirelessControllerPink_1.png?v=1696918680"},"aspect_ratio":1.0,"height":1080,"media_type":"image","src":"\/\/gamescrazydeals.com\/cdn\/shop\/files\/XboxWirelessControllerPink_1.png?v=1696918680","width":1080},{"alt":null,"id":26482419531829,"position":2,"preview_image":{"aspect_ratio":1.0,"height":500,"width":500,"src":"\/\/gamescrazydeals.com\/cdn\/shop\/files\/image-removebg-preview_45.png?v=1696918739"},"aspect_ratio":1.0,"height":500,"media_type":"image","src":"\/\/gamescrazydeals.com\/cdn\/shop\/files\/image-removebg-preview_45.png?v=1696918739","width":500},{"alt":null,"id":26482419171381,"position":3,"preview_image":{"aspect_ratio":1.0,"height":500,"width":500,"src":"\/\/gamescrazydeals.com\/cdn\/shop\/files\/image-removebg-preview_44.png?v=1696918739"},"aspect_ratio":1.0,"height":500,"media_type":"image","src":"\/\/gamescrazydeals.com\/cdn\/shop\/files\/image-removebg-preview_44.png?v=1696918739","width":500}],"content":"\u003chr noshade size=\"1\" class=\"bucketDivider\"\u003e\n\u003ch2\u003eFrom the manufacturer\u003c\/h2\u003e\n\u003cdiv class=\"aplus-v2 desktop celwidget\" data-csa-c-id=\"m593ah-fn3hpl-f8y5j8-uvnk5f\" data-cel-widget=\"aplus\" cel_widget_id=\"aplus\"\u003e\n\u003cdiv class=\"celwidget aplus-module module-11 aplus-standard\" data-csa-c-id=\"fhrqb6-8amwyw-jx4uzf-l286cj\" data-cel-widget=\"aplus-module-11\" cel_widget_id=\"aplus-module-11\"\u003e\n\u003cdiv aria-live=\"polite\" data-a-expander-name=\"aplus-module-expander\" data-a-expander-collapsed-height=\"360\" class=\"a-expander-collapsed-height a-row a-expander-container a-expander-partial-collapse-container\"\u003e\n\u003cdiv aria-expanded=\"false\" class=\"a-expander-content a-expander-partial-collapse-content\"\u003e\n\u003cdiv class=\"aplus-module-wrapper apm-spacing apm-floatnone apm-fixed-width\"\u003e\n\u003cdiv class=\"apm-sidemodule aplus-module-content\"\u003e\n\u003cdiv class=\"apm-hero-image\"\u003e\u003cmeta charset=\"utf-8\"\u003e\u003c\/div\u003e\n\u003cdiv class=\"apm-heromodule-textright apm-hero-text\"\u003e\n\u003ch3\u003eElevate your game\u003c\/h3\u003e\n\u003cp\u003eExperience the modernized design of the Xbox Wireless Controller in Pulse Red, featuring sculpted surfaces and refined geometry for enhanced comfort and effortless control during gameplay with battery usage up to 40 hours.*\u003c\/p\u003e\n\u003c\/div\u003e\n\u003c\/div\u003e\n\u003c\/div\u003e\n\u003c\/div\u003e\n\u003c\/div\u003e\n\u003c\/div\u003e\n\u003cdiv class=\"celwidget aplus-module module-12 aplus-standard\" data-csa-c-id=\"ekezne-4qis1v-yed2dg-rn81db\" data-cel-widget=\"aplus-module-12\" cel_widget_id=\"aplus-module-12\"\u003e\n\u003cdiv aria-live=\"polite\" data-a-expander-name=\"aplus-module-expander\" data-a-expander-collapsed-height=\"360\" class=\"a-expander-collapsed-height a-row a-expander-container a-expander-partial-collapse-container\"\u003e\n\u003cdiv aria-expanded=\"false\" class=\"a-expander-content a-expander-partial-collapse-content\"\u003e\n\u003cdiv class=\"aplus-module-wrapper apm-spacing apm-floatnone apm-fixed-width\"\u003e\n\u003cdiv class=\"apm-sidemodule aplus-module-content\"\u003e\n\u003cdiv class=\"apm-hero-image\"\u003e\u003cmeta charset=\"utf-8\"\u003e\u003c\/div\u003e\n\u003cdiv class=\"textright apm-hero-text\"\u003e\n\u003ch3\u003eCustom mapping\u003c\/h3\u003e\n\u003cp\u003eMake the controller your own by customizing button mapping.* Plus, plug in any compatible headset with the 3.5mm audio headset jack.\u003c\/p\u003e\n\u003c\/div\u003e\n\u003c\/div\u003e\n\u003c\/div\u003e\n\u003c\/div\u003e\n\u003c\/div\u003e\n\u003c\/div\u003e\n\u003cdiv class=\"celwidget aplus-module module-12 aplus-standard\" data-csa-c-id=\"2oee1v-jenyfo-dox5o9-2fxxx6\" data-cel-widget=\"aplus-module-12\" cel_widget_id=\"aplus-module-12\"\u003e\n\u003cdiv aria-live=\"polite\" data-a-expander-name=\"aplus-module-expander\" data-a-expander-collapsed-height=\"360\" class=\"a-expander-collapsed-height a-row a-expander-container a-expander-partial-collapse-container\"\u003e\n\u003cdiv aria-expanded=\"false\" class=\"a-expander-content a-expander-partial-collapse-content\"\u003e\n\u003cdiv class=\"aplus-module-wrapper apm-spacing apm-floatnone apm-fixed-width\"\u003e\n\u003cdiv class=\"apm-sidemodule aplus-module-content\"\u003e\n\u003cdiv class=\"textright apm-hero-text\"\u003e\n\u003ch3\u003eStay on target\u003c\/h3\u003e\n\u003cp\u003eStay on target with a hybrid D-pad, textured grip on the triggers, bumpers, and back-case. Connect using the USB-C port for direct plug and play to console and PC. Support for AA batteries is included on the rear.\u003c\/p\u003e\n\u003c\/div\u003e\n\u003c\/div\u003e\n\u003c\/div\u003e\n\u003cdiv\u003e\u003cbr\u003e\u003c\/div\u003e\n\u003c\/div\u003e\n\u003c\/div\u003e\n\u003c\/div\u003e\n\u003cdiv class=\"celwidget aplus-module module-9 aplus-standard\" data-csa-c-id=\"wecx5t-gdt912-hw0fs0-svlbdk\" data-cel-widget=\"aplus-module-9\" cel_widget_id=\"aplus-module-9\"\u003e\n\u003cdiv aria-live=\"polite\" data-a-expander-name=\"aplus-module-expander\" data-a-expander-collapsed-height=\"700\" class=\"a-expander-collapsed-height a-row a-expander-container a-expander-partial-collapse-container\"\u003e\n\u003cdiv aria-expanded=\"false\" class=\"a-expander-content a-expander-partial-collapse-content\"\u003e\n\u003cdiv class=\"aplus-module-wrapper apm-fixed-width\"\u003e\n\u003cdiv class=\"apm-spacing apm-fixed-width\"\u003e\n\u003ctable class=\"apm-fixed-width apm-eventhirdcol-table\"\u003e\n\u003ctbody\u003e\n\u003ctr\u003e\n\u003cth class=\"apm-center\"\u003e\n\u003cdiv class=\"apm-eventhirdcol apm-floatleft\"\u003e\n\u003cp\u003e\u003cimg alt=\"bluetooth\" src=\"https:\/\/m.media-amazon.com\/images\/S\/aplus-media\/vc\/ec43de32-701c-4a2b-8b5c-f06ed61176da.__CR0,0,300,300_PT0_SX300_V1___.jpg\" class=\"a-spacing-mini\" data-src=\"https:\/\/m.media-amazon.com\/images\/S\/aplus-media\/vc\/ec43de32-701c-4a2b-8b5c-f06ed61176da.__CR0,0,300,300_PT0_SX300_V1___.jpg\"\u003e\u003c\/p\u003e\n\u003c\/div\u003e\n\u003c\/th\u003e\n\u003cth class=\"apm-center\"\u003e\n\u003cdiv class=\"apm-eventhirdcol apm-floatleft\"\u003e\n\u003cp\u003e\u003cimg alt=\"share\" src=\"https:\/\/m.media-amazon.com\/images\/S\/aplus-media\/vc\/ff2130ce-18bc-48fd-87b4-298d2c294365.__CR0,0,300,300_PT0_SX300_V1___.jpg\" class=\"a-spacing-mini\" data-src=\"https:\/\/m.media-amazon.com\/images\/S\/aplus-media\/vc\/ff2130ce-18bc-48fd-87b4-298d2c294365.__CR0,0,300,300_PT0_SX300_V1___.jpg\"\u003e\u003c\/p\u003e\n\u003c\/div\u003e\n\u003c\/th\u003e\n\u003cth class=\"apm-center\"\u003e\n\u003cdiv class=\"apm-eventhirdcol apm-floatleft\"\u003e\n\u003cp\u003e\u003cimg alt=\"pair\" src=\"https:\/\/m.media-amazon.com\/images\/S\/aplus-media\/vc\/c91bdf7c-f4c8-4251-83c7-7bb07d67eb3a.__CR0,0,300,300_PT0_SX300_V1___.jpg\" class=\"a-spacing-mini\" data-src=\"https:\/\/m.media-amazon.com\/images\/S\/aplus-media\/vc\/c91bdf7c-f4c8-4251-83c7-7bb07d67eb3a.__CR0,0,300,300_PT0_SX300_V1___.jpg\"\u003e\u003c\/p\u003e\n\u003c\/div\u003e\n\u003c\/th\u003e\n\u003c\/tr\u003e\n\u003ctr\u003e\n\u003ctd class=\"apm-top\"\u003e\n\u003cdiv class=\"apm-eventhirdcol apm-floatleft\"\u003e\n\u003ch4 class=\"a-spacing-mini\"\u003eXbox Wireless and Bluetooth technology\u003c\/h4\u003e\n\u003cp\u003eIncludes Xbox Wireless and Bluetooth technology for wireless gaming on supported consoles, Windows 10 PCs, Android phones, and tablets.*\u003c\/p\u003e\n\u003c\/div\u003e\n\u003c\/td\u003e\n\u003ctd class=\"apm-top\"\u003e\n\u003cdiv class=\"apm-eventhirdcol apm-floatleft\"\u003e\n\u003ch4 class=\"a-spacing-mini\"\u003eShare button\u003c\/h4\u003e\n\u003cp\u003eSeamlessly capture and share content such as screenshots, recordings, and more with the dedicated Share button.\u003c\/p\u003e\n\u003c\/div\u003e\n\u003c\/td\u003e\n\u003ctd class=\"apm-top\"\u003e\n\u003cdiv class=\"apm-eventhirdcol apm-floatleft\"\u003e\n\u003ch4 class=\"a-spacing-mini\"\u003eEasily pair and switch\u003c\/h4\u003e\n\u003cp\u003eQuickly pair with, play on, and switch between devices including Xbox Series X|S, Xbox One, Windows 10 PCs, and Android and iOS phones and tablets.*\u003c\/p\u003e\n\u003c\/div\u003e\n\u003c\/td\u003e\n\u003c\/tr\u003e\n\u003c\/tbody\u003e\n\u003c\/table\u003e\n\u003c\/div\u003e\n\u003c\/div\u003e\n\u003c\/div\u003e\n\u003c\/div\u003e\n\u003c\/div\u003e\n\u003c\/div\u003e"}
Quick View
{"id":7238782418997,"title":"PS5 Marvel Spider-Man 2 Collector's Edition (R3)","handle":"pre-order-ps5-marvel-spider-man-2-collectors-edition-r3","description":"\u003cmeta charset=\"utf-8\"\u003e\u003cstrong\u003eRegion\u003c\/strong\u003e: R3\u003cbr\u003e\u003cstrong\u003eGenre\u003c\/strong\u003e: Adventure, Action\u003cbr\u003e\u003cstrong\u003eRelease Date\u003c\/strong\u003e: 20TH OF OCTOBER 2023\n\u003cp\u003e\u003ciframe width=\"560\" height=\"315\" src=\"https:\/\/www.youtube.com\/embed\/bgqGdIoa52s\" title=\"YouTube video player\" frameborder=\"0\" allow=\"accelerometer; autoplay; clipboard-write; encrypted-media; gyroscope; picture-in-picture; web-share\" allowfullscreen=\"\"\u003e\u003c\/iframe\u003e\u003cbr\u003e\u003c\/p\u003e\n\u003cdiv data-cel-widget=\"productDescription_feature_div\" data-csa-c-id=\"dsnj1o-y0dglb-iomiog-2d1jfj\" data-csa-c-is-in-initial-active-row=\"false\" data-csa-c-asin=\"\" data-csa-c-slot-id=\"productDescription_feature_div\" data-csa-c-content-id=\"productDescription\" data-csa-c-type=\"widget\" data-feature-name=\"productDescription\" class=\"celwidget\" id=\"productDescription_feature_div\"\u003e\n\u003cdiv\u003e\n\u003cdiv data-cel-widget=\"productDescription_feature_div\" class=\"a-row feature\" id=\"productDescription_feature_div\" data-template-name=\"productDescription\" data-feature-name=\"productDescription\"\u003e\n\u003cdiv class=\"a-section a-spacing-small\" id=\"productDescription\"\u003e\n\u003cul class=\"a-unordered-list a-vertical a-spacing-mini\"\u003e\n\u003cli class=\"a-spacing-mini\"\u003e\u003cspan class=\"a-list-item\"\u003eSpider-Men, Peter Parker and Miles Morales, return for an exciting new  adventure in the critically acclaimed Marvel's Spider-Man franchise. Swing, jump, and utilize the new Web Wings to travel across Marvel's New York, quickly switching between Peter Parker and Miles Morales to experience different stories and epic new powers, as the iconic villain Venom threatens to destroy their lives, their city, and the ones they love.\u003c\/span\u003e\u003c\/li\u003e\n\u003cli class=\"a-spacing-mini\"\u003e\u003cspan class=\"a-list-item\"\u003eAn evolution of the Spider-Man story: The incredible power of the symbiote forces Peter and Miles to face the ultimate test of strength, both inside and outside the mask, as they balance their lives, friendships, and their duty to protect those in need.\u003c\/span\u003e\u003c\/li\u003e\n\u003cli class=\"a-spacing-mini\"\u003e\u003cspan class=\"a-list-item\"\u003eExperience two playable Spider-Men: Quickly swap between both Spider-Men as you explore an expanded Marvel's New York. Experience Peter's new symbiote abilities and Miles' explosive bio-electric venom powers, and discover upgradeable, high-tech equipment that enhances the combat experience for extensive gameplay depth and variety.\u003c\/span\u003e\u003c\/li\u003e\n\u003cli class=\"a-spacing-mini\"\u003e\u003cspan class=\"a-list-item\"\u003eBattle iconic Marvel Super Villains: Fight against a variety of new and iconic villains, including an original take on the monstrous Venom, the ruthless Kraven the Hunter, the volatile Lizard, and many more!\u003c\/span\u003e\u003c\/li\u003e\n\u003c\/ul\u003e\n\u003cul class=\"a-unordered-list a-vertical a-spacing-mini\"\u003e\u003c\/ul\u003e\n\u003c\/div\u003e\n\u003c\/div\u003e\n\u003c\/div\u003e\n\u003c\/div\u003e\n\u003cdiv data-cel-widget=\"sponsoredProducts2_feature_div\" data-csa-c-id=\"s526qq-m1gpto-e3fxse-2js4yg\" data-csa-c-is-in-initial-active-row=\"false\" data-csa-c-asin=\"\" data-csa-c-slot-id=\"sponsoredProducts2_feature_div\" data-csa-c-content-id=\"sponsoredProducts2\" data-csa-c-type=\"widget\" data-feature-name=\"sponsoredProducts2\" class=\"celwidget\" id=\"sponsoredProducts2_feature_div\"\u003e\n\u003cmeta charset=\"utf-8\"\u003e\n\u003cstrong\u003eCollector's Edition includes\u003c\/strong\u003e:\n\u003cul data-mce-fragment=\"1\"\u003e\n\u003cli data-mce-fragment=\"1\"\u003eMarvel's Spider-Man 2 full game digital voucher code*\u003c\/li\u003e\n\u003cli data-mce-fragment=\"1\"\u003eSteelBook® display case\u003c\/li\u003e\n\u003cli data-mce-fragment=\"1\"\u003e19-inch Collector's Edition statue: Spider-Man Peter Parker, Spider-Man Miles Morales, and Venom\u003c\/li\u003e\n\u003c\/ul\u003e\n\u003cstrong\u003eIncludes pre-order bonus items\u003c\/strong\u003e:\n\u003cul data-mce-fragment=\"1\"\u003e\n\u003cli data-mce-fragment=\"1\"\u003eArachknight Suit for Peter early unlock (includes three color variants).\u003c\/li\u003e\n\u003cli data-mce-fragment=\"1\"\u003eShadow-Spider Suit for Miles early unlock (includes three color variants).\u003c\/li\u003e\n\u003cli data-mce-fragment=\"1\"\u003eWeb Grabber gadget early unlock.\u003c\/li\u003e\n\u003cli data-mce-fragment=\"1\"\u003e+3 Skill Points.\u003c\/li\u003e\n\u003c\/ul\u003e\n \u003c\/div\u003e\n\u003cdiv data-cel-widget=\"sims-themis-sponsored-products-2_feature_div\" data-csa-c-id=\"nnh1yc-homoqv-8638cv-cvnspl\" data-csa-c-is-in-initial-active-row=\"false\" data-csa-c-asin=\"\" data-csa-c-slot-id=\"sims-themis-sponsored-products-2_feature_div\" data-csa-c-content-id=\"sims-themis-sponsored-products-2\" data-csa-c-type=\"widget\" data-feature-name=\"sims-themis-sponsored-products-2\" class=\"celwidget\" id=\"sims-themis-sponsored-products-2_feature_div\"\u003e\n\u003cdiv id=\"sims-consolidated-4_feature_div\"\u003e\n\u003cdiv id=\"sims-consolidated-4_feature_div\"\u003e\n\u003cdiv data-cel-widget=\"sims-consolidated-4_csm_instrumentation_wrapper\" data-csa-c-id=\"1p9hm2-1d8121-8ctxdn-wq6x41\" class=\"celwidget\" cel_widget_id=\"sims-consolidated-4_csm_instrumentation_wrapper\"\u003e\n\u003cdiv data-cel-widget=\"desktop-dp-sims_SponsoredProductsSimsDp2Desktop\" data-csa-c-id=\"toht6n-brhml2-4oeso0-xwo6m8\" data-csa-c-painter=\"FirebirdPainter\" data-csa-c-type=\"widget\" data-csa-c-slot-id=\"sponsored-products-5\" data-csa-c-content-id=\"amzn1.sym.0d1092dc-81bb-493f-8769-d5c802257e94\" data-csa-op-log-render=\"\" class=\"celwidget pd_rd_w-4YUJA content-id-amzn1.sym.0d1092dc-81bb-493f-8769-d5c802257e94 pf_rd_p-0d1092dc-81bb-493f-8769-d5c802257e94 pf_rd_r-5G34DS98EFA1RACSQ4HP pd_rd_wg-GjQDM pd_rd_r-da3b3700-f05d-4596-9ad9-068a8ef3b716\" cel_widget_id=\"desktop-dp-sims_SponsoredProductsSimsDp2Desktop\"\u003e\n\u003cdiv data-csa-c-id=\"q10se4-d7ror3-ditv2f-mfcca\" data-csa-c-slot-id=\"sp_detail2\" data-csa-c-type=\"widget\"\u003e\u003cbr\u003e\u003c\/div\u003e\n\u003c\/div\u003e\n\u003c\/div\u003e\n\u003c\/div\u003e\n\u003c\/div\u003e\n\u003c\/div\u003e","published_at":"2023-10-05T15:20:41+08:00","created_at":"2023-10-05T15:12:41+08:00","vendor":"Games Crazy Deals","type":"ps5-games","tags":["New-Game","Playstation","Pre-Order","PS5","PS5-Games"],"price":39900,"price_min":39900,"price_max":39900,"available":false,"price_varies":false,"compare_at_price":null,"compare_at_price_min":0,"compare_at_price_max":0,"compare_at_price_varies":false,"variants":[{"id":42611556122677,"title":"Default Title","option1":"Default Title","option2":null,"option3":null,"sku":null,"requires_shipping":true,"taxable":true,"featured_image":null,"available":false,"name":"PS5 Marvel Spider-Man 2 Collector's Edition (R3)","public_title":null,"options":["Default Title"],"price":39900,"weight":5000,"compare_at_price":null,"inventory_quantity":0,"inventory_management":"shopify","inventory_policy":"deny","barcode":null}],"images":["\/\/gamescrazydeals.com\/cdn\/shop\/files\/PREORDER_PS5MARVELSPIDER-MAN2Collector_sEdition_R3_1.png?v=1696490178","\/\/gamescrazydeals.com\/cdn\/shop\/files\/image-removebg-preview_39.png?v=1696490294"],"featured_image":"\/\/gamescrazydeals.com\/cdn\/shop\/files\/PREORDER_PS5MARVELSPIDER-MAN2Collector_sEdition_R3_1.png?v=1696490178","options":["Title"],"media":[{"alt":null,"id":26469779669045,"position":1,"preview_image":{"aspect_ratio":1.0,"height":1080,"width":1080,"src":"\/\/gamescrazydeals.com\/cdn\/shop\/files\/PREORDER_PS5MARVELSPIDER-MAN2Collector_sEdition_R3_1.png?v=1696490178"},"aspect_ratio":1.0,"height":1080,"media_type":"image","src":"\/\/gamescrazydeals.com\/cdn\/shop\/files\/PREORDER_PS5MARVELSPIDER-MAN2Collector_sEdition_R3_1.png?v=1696490178","width":1080},{"alt":null,"id":26469782388789,"position":2,"preview_image":{"aspect_ratio":1.0,"height":500,"width":500,"src":"\/\/gamescrazydeals.com\/cdn\/shop\/files\/image-removebg-preview_39.png?v=1696490294"},"aspect_ratio":1.0,"height":500,"media_type":"image","src":"\/\/gamescrazydeals.com\/cdn\/shop\/files\/image-removebg-preview_39.png?v=1696490294","width":500}],"content":"\u003cmeta charset=\"utf-8\"\u003e\u003cstrong\u003eRegion\u003c\/strong\u003e: R3\u003cbr\u003e\u003cstrong\u003eGenre\u003c\/strong\u003e: Adventure, Action\u003cbr\u003e\u003cstrong\u003eRelease Date\u003c\/strong\u003e: 20TH OF OCTOBER 2023\n\u003cp\u003e\u003ciframe width=\"560\" height=\"315\" src=\"https:\/\/www.youtube.com\/embed\/bgqGdIoa52s\" title=\"YouTube video player\" frameborder=\"0\" allow=\"accelerometer; autoplay; clipboard-write; encrypted-media; gyroscope; picture-in-picture; web-share\" allowfullscreen=\"\"\u003e\u003c\/iframe\u003e\u003cbr\u003e\u003c\/p\u003e\n\u003cdiv data-cel-widget=\"productDescription_feature_div\" data-csa-c-id=\"dsnj1o-y0dglb-iomiog-2d1jfj\" data-csa-c-is-in-initial-active-row=\"false\" data-csa-c-asin=\"\" data-csa-c-slot-id=\"productDescription_feature_div\" data-csa-c-content-id=\"productDescription\" data-csa-c-type=\"widget\" data-feature-name=\"productDescription\" class=\"celwidget\" id=\"productDescription_feature_div\"\u003e\n\u003cdiv\u003e\n\u003cdiv data-cel-widget=\"productDescription_feature_div\" class=\"a-row feature\" id=\"productDescription_feature_div\" data-template-name=\"productDescription\" data-feature-name=\"productDescription\"\u003e\n\u003cdiv class=\"a-section a-spacing-small\" id=\"productDescription\"\u003e\n\u003cul class=\"a-unordered-list a-vertical a-spacing-mini\"\u003e\n\u003cli class=\"a-spacing-mini\"\u003e\u003cspan class=\"a-list-item\"\u003eSpider-Men, Peter Parker and Miles Morales, return for an exciting new  adventure in the critically acclaimed Marvel's Spider-Man franchise. Swing, jump, and utilize the new Web Wings to travel across Marvel's New York, quickly switching between Peter Parker and Miles Morales to experience different stories and epic new powers, as the iconic villain Venom threatens to destroy their lives, their city, and the ones they love.\u003c\/span\u003e\u003c\/li\u003e\n\u003cli class=\"a-spacing-mini\"\u003e\u003cspan class=\"a-list-item\"\u003eAn evolution of the Spider-Man story: The incredible power of the symbiote forces Peter and Miles to face the ultimate test of strength, both inside and outside the mask, as they balance their lives, friendships, and their duty to protect those in need.\u003c\/span\u003e\u003c\/li\u003e\n\u003cli class=\"a-spacing-mini\"\u003e\u003cspan class=\"a-list-item\"\u003eExperience two playable Spider-Men: Quickly swap between both Spider-Men as you explore an expanded Marvel's New York. Experience Peter's new symbiote abilities and Miles' explosive bio-electric venom powers, and discover upgradeable, high-tech equipment that enhances the combat experience for extensive gameplay depth and variety.\u003c\/span\u003e\u003c\/li\u003e\n\u003cli class=\"a-spacing-mini\"\u003e\u003cspan class=\"a-list-item\"\u003eBattle iconic Marvel Super Villains: Fight against a variety of new and iconic villains, including an original take on the monstrous Venom, the ruthless Kraven the Hunter, the volatile Lizard, and many more!\u003c\/span\u003e\u003c\/li\u003e\n\u003c\/ul\u003e\n\u003cul class=\"a-unordered-list a-vertical a-spacing-mini\"\u003e\u003c\/ul\u003e\n\u003c\/div\u003e\n\u003c\/div\u003e\n\u003c\/div\u003e\n\u003c\/div\u003e\n\u003cdiv data-cel-widget=\"sponsoredProducts2_feature_div\" data-csa-c-id=\"s526qq-m1gpto-e3fxse-2js4yg\" data-csa-c-is-in-initial-active-row=\"false\" data-csa-c-asin=\"\" data-csa-c-slot-id=\"sponsoredProducts2_feature_div\" data-csa-c-content-id=\"sponsoredProducts2\" data-csa-c-type=\"widget\" data-feature-name=\"sponsoredProducts2\" class=\"celwidget\" id=\"sponsoredProducts2_feature_div\"\u003e\n\u003cmeta charset=\"utf-8\"\u003e\n\u003cstrong\u003eCollector's Edition includes\u003c\/strong\u003e:\n\u003cul data-mce-fragment=\"1\"\u003e\n\u003cli data-mce-fragment=\"1\"\u003eMarvel's Spider-Man 2 full game digital voucher code*\u003c\/li\u003e\n\u003cli data-mce-fragment=\"1\"\u003eSteelBook® display case\u003c\/li\u003e\n\u003cli data-mce-fragment=\"1\"\u003e19-inch Collector's Edition statue: Spider-Man Peter Parker, Spider-Man Miles Morales, and Venom\u003c\/li\u003e\n\u003c\/ul\u003e\n\u003cstrong\u003eIncludes pre-order bonus items\u003c\/strong\u003e:\n\u003cul data-mce-fragment=\"1\"\u003e\n\u003cli data-mce-fragment=\"1\"\u003eArachknight Suit for Peter early unlock (includes three color variants).\u003c\/li\u003e\n\u003cli data-mce-fragment=\"1\"\u003eShadow-Spider Suit for Miles early unlock (includes three color variants).\u003c\/li\u003e\n\u003cli data-mce-fragment=\"1\"\u003eWeb Grabber gadget early unlock.\u003c\/li\u003e\n\u003cli data-mce-fragment=\"1\"\u003e+3 Skill Points.\u003c\/li\u003e\n\u003c\/ul\u003e\n \u003c\/div\u003e\n\u003cdiv data-cel-widget=\"sims-themis-sponsored-products-2_feature_div\" data-csa-c-id=\"nnh1yc-homoqv-8638cv-cvnspl\" data-csa-c-is-in-initial-active-row=\"false\" data-csa-c-asin=\"\" data-csa-c-slot-id=\"sims-themis-sponsored-products-2_feature_div\" data-csa-c-content-id=\"sims-themis-sponsored-products-2\" data-csa-c-type=\"widget\" data-feature-name=\"sims-themis-sponsored-products-2\" class=\"celwidget\" id=\"sims-themis-sponsored-products-2_feature_div\"\u003e\n\u003cdiv id=\"sims-consolidated-4_feature_div\"\u003e\n\u003cdiv id=\"sims-consolidated-4_feature_div\"\u003e\n\u003cdiv data-cel-widget=\"sims-consolidated-4_csm_instrumentation_wrapper\" data-csa-c-id=\"1p9hm2-1d8121-8ctxdn-wq6x41\" class=\"celwidget\" cel_widget_id=\"sims-consolidated-4_csm_instrumentation_wrapper\"\u003e\n\u003cdiv data-cel-widget=\"desktop-dp-sims_SponsoredProductsSimsDp2Desktop\" data-csa-c-id=\"toht6n-brhml2-4oeso0-xwo6m8\" data-csa-c-painter=\"FirebirdPainter\" data-csa-c-type=\"widget\" data-csa-c-slot-id=\"sponsored-products-5\" data-csa-c-content-id=\"amzn1.sym.0d1092dc-81bb-493f-8769-d5c802257e94\" data-csa-op-log-render=\"\" class=\"celwidget pd_rd_w-4YUJA content-id-amzn1.sym.0d1092dc-81bb-493f-8769-d5c802257e94 pf_rd_p-0d1092dc-81bb-493f-8769-d5c802257e94 pf_rd_r-5G34DS98EFA1RACSQ4HP pd_rd_wg-GjQDM pd_rd_r-da3b3700-f05d-4596-9ad9-068a8ef3b716\" cel_widget_id=\"desktop-dp-sims_SponsoredProductsSimsDp2Desktop\"\u003e\n\u003cdiv data-csa-c-id=\"q10se4-d7ror3-ditv2f-mfcca\" data-csa-c-slot-id=\"sp_detail2\" data-csa-c-type=\"widget\"\u003e\u003cbr\u003e\u003c\/div\u003e\n\u003c\/div\u003e\n\u003c\/div\u003e\n\u003c\/div\u003e\n\u003c\/div\u003e\n\u003c\/div\u003e"}
Quick View
{"id":7237329223733,"title":"Nintendo Switch OLED Mario Red Edition With Free Mario + Rabbids Sparks Of Hope (1 Year Local Agent Warranty)","handle":"pre-order-nintendo-switch-console-mario-red-edition-with-free-mario-rabbids-sparks-of-hope-1-year-local-agent-warranty","description":"\u003ch2 data-mce-fragment=\"1\" class=\"Heading__StyledHeading-sc-1m9kw5a-0 fhmjpN h-text-center\" data-test=\"tabListHeading\"\u003e\u003cspan\u003eItem available on 6th October 2023\u003c\/span\u003e\u003c\/h2\u003e\n\u003cdiv class=\"Row-uds8za-0 fdXLni h-margin-v-default\"\u003e\n\u003cdiv class=\"Col-favj32-0 hKWLcP\"\u003e\n\u003cdiv class=\"styles__FullHeightDiv-sc-1abi2x5-1 cnoboG h-bg-white h-padding-a-tiny h-margin-h-default\"\u003e\n\u003ch3 class=\"h-text-bs h-margin-l-default h-margin-t-default\"\u003eAt a glance\u003c\/h3\u003e\n\u003cdiv class=\"Row-uds8za-0 fdXLni h-margin-h-tight h-margin-t-tight h-margin-b-default\" data-test=\"wellnessBadgesOnly\"\u003e\n\u003cdiv data-test=\"wellnessBadgeOnly\" class=\"h-margin-h-default h-margin-v-tiny h-text-center h-padding-h-tiny\"\u003e\n\u003cdiv class=\"styles__WellnessBadge-sc-1abi2x5-2 bOuErm h-text-break-word\"\u003e\n\u003cdiv\u003e\u003cpicture\u003e\u003csource srcset=\"https:\/\/target.scene7.com\/is\/image\/Target\/GUEST_030609dd-938f-49d1-8900-52a5b3f2982c?wid=75\u0026amp;hei=75\u0026amp;qlt=80\u0026amp;fmt=webp\" media=\"(min-width: 768px)\"\u003e\u003csource srcset=\"https:\/\/target.scene7.com\/is\/image\/Target\/GUEST_030609dd-938f-49d1-8900-52a5b3f2982c?wid=75\u0026amp;hei=75\u0026amp;qlt=80\u0026amp;fmt=webp\" media=\"(min-width: 0px)\"\u003e\u003cimg alt=\"Nintendo Switch Compatible\"\u003e\u003c\/source\u003e\u003c\/picture\u003e\u003c\/div\u003e\n\u003c\/div\u003e\n\u003cdiv class=\"styles__MaxWidth75Div-sc-1abi2x5-4 clrRTD h-text-bold\"\u003eNintendo Switch OLED Compatible\u003cbr\u003e\u003cbr\u003e\n\u003c\/div\u003e\n\u003c\/div\u003e\n\u003c\/div\u003e\n\u003c\/div\u003e\n\u003c\/div\u003e\n\u003cdiv class=\"Col-favj32-0 hKWLcP\"\u003e\n\u003cdiv class=\"styles__FullHeightDiv-sc-1abi2x5-1 cnoboG h-bg-white h-padding-a-tiny h-margin-h-default\"\u003e\n\u003ch3 class=\"h-text-bs h-margin-t-default h-margin-l-default\"\u003eHighlights\u003c\/h3\u003e\n\u003cdiv\u003e\n\u003cdiv class=\"styles__FullHeightDiv-sc-6aebpn-3 bBjdaQ h-bg-white\"\u003e\n\u003cul direction=\"column\" class=\"styles__BulletList-sc-6aebpn-1 ddyaWM h-display-flex h-margin-t-x2 h-margin-b-default\"\u003e\n\u003cli class=\"styles__Bullet-sc-6aebpn-0 dKfJvU h-padding-t-x2 h-padding-r-tight h-text-md\"\u003e\u003cspan\u003eVivid 7\" OLED screen\u003c\/span\u003e\u003c\/li\u003e\n\u003cli class=\"styles__Bullet-sc-6aebpn-0 dKfJvU h-padding-t-x2 h-padding-r-tight h-text-md\"\u003e\u003cspan\u003eDesign elements inspired by Mario\u003c\/span\u003e\u003c\/li\u003e\n\u003cli class=\"styles__Bullet-sc-6aebpn-0 dKfJvU h-padding-t-x2 h-padding-r-tight h-text-md\"\u003e\u003cspan\u003eThree play modes: TV, Tabletop, and Handheld\u003c\/span\u003e\u003c\/li\u003e\n\u003cli class=\"styles__Bullet-sc-6aebpn-0 dKfJvU h-padding-t-x2 h-padding-r-tight h-text-md\"\u003e\u003cspan\u003eLocal co-op*, local wireless*, and online multiplayer**\u003c\/span\u003e\u003c\/li\u003e\n\u003cli class=\"styles__Bullet-sc-6aebpn-0 dKfJvU h-padding-t-x2 h-padding-r-tight h-text-md\"\u003e\u003cspan\u003eDetachable Joy-Con controllers\u003c\/span\u003e\u003c\/li\u003e\n\u003cli class=\"styles__Bullet-sc-6aebpn-0 dKfJvU h-padding-t-x2 h-padding-r-tight h-text-md\"\u003e\u003cspan\u003e64 GB internal storage (a portion of which is reserved for use by the system)\u003c\/span\u003e\u003c\/li\u003e\n\u003cli class=\"styles__Bullet-sc-6aebpn-0 dKfJvU h-padding-t-x2 h-padding-r-tight h-text-md\"\u003e\u003cspan\u003eEnhanced audio in Handheld and Tabletop modes\u003c\/span\u003e\u003c\/li\u003e\n\u003cli class=\"styles__Bullet-sc-6aebpn-0 dKfJvU h-padding-t-x2 h-padding-r-tight h-text-md\"\u003e\u003cspan\u003eWide adjustable stand\u003c\/span\u003e\u003c\/li\u003e\n\u003cli class=\"styles__Bullet-sc-6aebpn-0 dKfJvU h-padding-t-x2 h-padding-r-tight h-text-md\"\u003e\u003cspan\u003eDock with wired LAN port (LAN cable sold separately)\u003c\/span\u003e\u003c\/li\u003e\n\u003cli class=\"styles__Bullet-sc-6aebpn-0 dKfJvU h-padding-t-x2 h-padding-r-tight h-text-md\"\u003e\u003cspan\u003eNintendo Switch is the home of Mario and more family-friendly series!\u003c\/span\u003e\u003c\/li\u003e\n\u003c\/ul\u003e\n\u003c\/div\u003e\n\u003c\/div\u003e\n\u003c\/div\u003e\n\u003c\/div\u003e\n\u003c\/div\u003e\n\u003cdiv class=\"h-bg-white h-margin-a-default h-padding-h-tiny h-padding-v-default\" id=\"specAndDescript\"\u003e\n\u003cdiv class=\"Row-uds8za-0 fdXLni\"\u003e\n\u003cdiv class=\"Col-favj32-0 hKWLcP h-padding-h-default\"\u003e\n\u003ch3 class=\"h-text-bs h-margin-b-default\" tabindex=\"-1\" data-mce-tabindex=\"-1\"\u003e\u003c\/h3\u003e\n\u003ch3 class=\"h-text-bs h-margin-b-default\" tabindex=\"-1\" data-mce-tabindex=\"-1\"\u003eSpecifications\u003cbr\u003e\n\u003c\/h3\u003e\n\u003cdiv\u003e\n\u003cdiv class=\"Col-favj32-0 hKWLcP h-padding-h-default\"\u003e\n\u003cdiv\u003e\n\u003cdiv\u003e\n\u003cb\u003eDimensions (Overall):\u003c\/b\u003e\u003cspan\u003e \u003cmeta charset=\"utf-8\"\u003e8.25 Inches (H) x 10.22 Inches (W) x 3.93 Inches (D)\u003c\/span\u003e\n\u003c\/div\u003e\n\u003chr\u003e\n\u003c\/div\u003e\n\u003cdiv\u003e\n\u003cdiv\u003e\n\u003cb\u003eWeight: \u003c\/b\u003e3.9 Pounds\u003c\/div\u003e\n\u003chr\u003e\n\u003c\/div\u003e\n\u003cdiv\u003e\n\u003cdiv\u003e\n\u003cb\u003eModel Compatibility:\u003c\/b\u003e\u003cspan\u003e \u003c\/span\u003eNintendo Switch OLED\u003c\/div\u003e\n\u003chr\u003e\n\u003c\/div\u003e\n\u003cdiv\u003e\n\u003cdiv\u003e\n\u003cb\u003eIncludes:\u003c\/b\u003e\u003cspan\u003e \u003c\/span\u003eNintendo Switch Console – OLED Model in Mario Red, Joy-Con (L)\/(R) controllers in Mario Red, Joy-Con strap, Nintendo Switch Dock – OLED Model in Mario Red, Joy-Con grip, Nintendo Switch AC Adapter, High speed HDMI cable\u003c\/div\u003e\n\u003chr\u003e\n\u003c\/div\u003e\n\u003cdiv\u003e\n\u003cdiv\u003e\n\u003cb\u003eElectronics Features:\u003c\/b\u003e\u003cspan\u003e \u003cmeta charset=\"utf-8\"\u003eBacklit Display, Touchscreen Display\u003c\/span\u003e\n\u003c\/div\u003e\n\u003chr\u003e\n\u003c\/div\u003e\n\u003cdiv\u003e\n\u003cdiv\u003e\n\u003cb\u003eConnection Types:\u003c\/b\u003e\u003cspan\u003e \u003c\/span\u003e\u003cspan data-mce-fragment=\"1\"\u003eUSB-C, HDMI, MicroSD\u003c\/span\u003e\n\u003c\/div\u003e\n\u003chr\u003e\n\u003c\/div\u003e\n\u003cdiv\u003e\n\u003cdiv\u003e\n\u003cb\u003eScreen Size: \u003c\/b\u003e7.0\" OLED touch screen\u003c\/div\u003e\n\u003chr\u003e\n\u003c\/div\u003e\n\u003cdiv\u003e\n\u003cdiv\u003e\n\u003cb\u003eData storage capacity:\u003c\/b\u003e\u003cspan\u003e 64\u003c\/span\u003e GB\u003c\/div\u003e\n\u003chr\u003e\n\u003c\/div\u003e\n\u003cdiv\u003e\n\u003cdiv\u003e\n\u003cb\u003eBattery Life :\u003c\/b\u003e\u003cspan\u003e\u003cspan\u003e  Approx. 4.5 – 9 hours (\u003cmeta charset=\"utf-8\"\u003eModel number: HEG-001)\u003c\/span\u003e\u003c\/span\u003e\u003cbr\u003e\n\u003c\/div\u003e\n\u003chr\u003e\n\u003c\/div\u003e\n\u003cdiv\u003e\n\u003cdiv\u003e\n\u003cb\u003eWarranty:\u003c\/b\u003e\u003cspan\u003e 1 Year Local Agent Warranty\u003c\/span\u003e\n\u003c\/div\u003e\n\u003chr\u003e\n\u003c\/div\u003e\n\u003cdiv\u003e\n\u003cb\u003eStreet Date\u003c\/b\u003e:\u003cspan\u003e October\u003c\/span\u003e 6, 2023\u003c\/div\u003e\n\u003cdiv\u003e\u003chr\u003e\u003c\/div\u003e\n\u003cdiv\u003e\n\u003cb\u003eOrigin\u003c\/b\u003e:\u003cspan\u003e Local (SG) by Maxsoft\u003c\/span\u003e\n\u003c\/div\u003e\n\u003c\/div\u003e\n\u003cdiv class=\"Col-favj32-0 hKWLcP h-padding-l-default\"\u003e\n\u003ch3 class=\"h-text-bs h-margin-b-default\"\u003e\u003cbr\u003e\u003c\/h3\u003e\n\u003c\/div\u003e\n\u003c\/div\u003e\n\u003c\/div\u003e\n\u003cdiv class=\"Col-favj32-0 hKWLcP h-padding-l-default\"\u003e\n\u003ch3 class=\"styles__StyledHeading-sc-1xmf98v-0 cyniyG h-text-bs h-margin-b-none\"\u003eDescription\u003c\/h3\u003e\n\u003cdiv class=\"h-margin-t-x2\" data-test=\"item-details-description\"\u003eWarp into a world of games with the Nintendo Switch – OLED Model: Mario Red Edition system. The system features a console, dock, and Joy-Con™ controllers all in the iconic Mario Red color. A silhouette design of Mario jumps into action on the back of the dock. Look closely, and you'll also find some hidden coins!\u003c\/div\u003e\n\u003cdiv class=\"h-margin-v-default\"\u003e\u003cbr\u003e\u003c\/div\u003e\n\u003cdiv class=\"Col-favj32-0 iXmsJV\"\u003e\n\u003cdiv data-test=\"wellnessBadgeAndDescriptionsContainer\"\u003e\n\u003cdiv data-test=\"wellnessBadgeAndDescription\" class=\"Row-uds8za-0 fdXLni h-margin-v-wide\"\u003e\n\u003cdiv class=\"Col-favj32-0 hggiUw\"\u003e\n\u003cdiv class=\"styles__WellnessIcon-sc-1abi2x5-3 cITITR h-padding-b-tiny h-padding-r-tight\"\u003e\n\u003cdiv\u003e\u003cpicture\u003e\u003csource srcset=\"https:\/\/target.scene7.com\/is\/image\/Target\/GUEST_030609dd-938f-49d1-8900-52a5b3f2982c?wid=75\u0026amp;hei=75\u0026amp;qlt=80\u0026amp;fmt=webp\" media=\"(min-width: 768px)\"\u003e\u003csource srcset=\"https:\/\/target.scene7.com\/is\/image\/Target\/GUEST_030609dd-938f-49d1-8900-52a5b3f2982c?wid=75\u0026amp;hei=75\u0026amp;qlt=80\u0026amp;fmt=webp\" media=\"(min-width: 0px)\"\u003e\u003cimg alt=\"\"\u003e\u003c\/source\u003e\u003c\/picture\u003e\u003c\/div\u003e\n\u003c\/div\u003e\n\u003c\/div\u003e\n\u003cdiv class=\"Col-favj32-0 jziCWo\" align=\"left\"\u003e\n\u003cdiv class=\"h-text-bold h-text-break-word\"\u003eNintendo Switch Compatible\u003c\/div\u003e\nCompatible with Nintendo Switch\u003cbr\u003e\u003cbr\u003e\n\u003c\/div\u003e\n\u003c\/div\u003e\n\u003c\/div\u003e\n\u003c\/div\u003e\n\u003c\/div\u003e\n\u003c\/div\u003e\n\u003c\/div\u003e","published_at":"2023-10-02T15:10:37+08:00","created_at":"2023-10-02T14:47:23+08:00","vendor":"Games Crazy Deals","type":"Nintendo-Switch-Console","tags":["Nintendo","Nintendo-Switch","Nintendo-Switch-Console"],"price":39500,"price_min":39500,"price_max":39500,"available":true,"price_varies":false,"compare_at_price":55000,"compare_at_price_min":55000,"compare_at_price_max":55000,"compare_at_price_varies":false,"variants":[{"id":42608433922101,"title":"Default Title","option1":"Default Title","option2":null,"option3":null,"sku":null,"requires_shipping":true,"taxable":true,"featured_image":null,"available":true,"name":"Nintendo Switch OLED Mario Red Edition With Free Mario + Rabbids Sparks Of Hope (1 Year Local Agent Warranty)","public_title":null,"options":["Default Title"],"price":39500,"weight":1500,"compare_at_price":55000,"inventory_quantity":5,"inventory_management":"shopify","inventory_policy":"deny","barcode":null}],"images":["\/\/gamescrazydeals.com\/cdn\/shop\/files\/Pre-Order_NintendoSwitchConsoleMarioRedEditionWithFreeMario_RabbidsSparksOfHope_1YearLocalAgentWarranty_1.png?v=1696230505","\/\/gamescrazydeals.com\/cdn\/shop\/files\/Pre-Order_NintendoSwitchConsoleMarioRedEditionWithFreeMario_RabbidsSparksOfHope_1YearLocalAgentWarranty_-1.jpg?v=1696230586","\/\/gamescrazydeals.com\/cdn\/shop\/files\/Pre-Order_NintendoSwitchConsoleMarioRedEditionWithFreeMario_RabbidsSparksOfHope_1YearLocalAgentWarranty_-2.jpg?v=1696230585","\/\/gamescrazydeals.com\/cdn\/shop\/files\/Pre-Order_NintendoSwitchConsoleMarioRedEditionWithFreeMario_RabbidsSparksOfHope_1YearLocalAgentWarranty_-3.jpg?v=1696230586","\/\/gamescrazydeals.com\/cdn\/shop\/files\/Pre-Order_NintendoSwitchConsoleMarioRedEditionWithFreeMario_RabbidsSparksOfHope_1YearLocalAgentWarranty_-4.jpg?v=1696230586","\/\/gamescrazydeals.com\/cdn\/shop\/files\/Pre-Order_NintendoSwitchConsoleMarioRedEditionWithFreeMario_RabbidsSparksOfHope_1YearLocalAgentWarranty.jpg?v=1696230585"],"featured_image":"\/\/gamescrazydeals.com\/cdn\/shop\/files\/Pre-Order_NintendoSwitchConsoleMarioRedEditionWithFreeMario_RabbidsSparksOfHope_1YearLocalAgentWarranty_1.png?v=1696230505","options":["Title"],"media":[{"alt":null,"id":26464187023413,"position":1,"preview_image":{"aspect_ratio":1.0,"height":1080,"width":1080,"src":"\/\/gamescrazydeals.com\/cdn\/shop\/files\/Pre-Order_NintendoSwitchConsoleMarioRedEditionWithFreeMario_RabbidsSparksOfHope_1YearLocalAgentWarranty_1.png?v=1696230505"},"aspect_ratio":1.0,"height":1080,"media_type":"image","src":"\/\/gamescrazydeals.com\/cdn\/shop\/files\/Pre-Order_NintendoSwitchConsoleMarioRedEditionWithFreeMario_RabbidsSparksOfHope_1YearLocalAgentWarranty_1.png?v=1696230505","width":1080},{"alt":null,"id":26464187351093,"position":2,"preview_image":{"aspect_ratio":1.335,"height":1124,"width":1500,"src":"\/\/gamescrazydeals.com\/cdn\/shop\/files\/Pre-Order_NintendoSwitchConsoleMarioRedEditionWithFreeMario_RabbidsSparksOfHope_1YearLocalAgentWarranty_-1.jpg?v=1696230586"},"aspect_ratio":1.335,"height":1124,"media_type":"image","src":"\/\/gamescrazydeals.com\/cdn\/shop\/files\/Pre-Order_NintendoSwitchConsoleMarioRedEditionWithFreeMario_RabbidsSparksOfHope_1YearLocalAgentWarranty_-1.jpg?v=1696230586","width":1500},{"alt":null,"id":26464187383861,"position":3,"preview_image":{"aspect_ratio":0.841,"height":1500,"width":1262,"src":"\/\/gamescrazydeals.com\/cdn\/shop\/files\/Pre-Order_NintendoSwitchConsoleMarioRedEditionWithFreeMario_RabbidsSparksOfHope_1YearLocalAgentWarranty_-2.jpg?v=1696230585"},"aspect_ratio":0.841,"height":1500,"media_type":"image","src":"\/\/gamescrazydeals.com\/cdn\/shop\/files\/Pre-Order_NintendoSwitchConsoleMarioRedEditionWithFreeMario_RabbidsSparksOfHope_1YearLocalAgentWarranty_-2.jpg?v=1696230585","width":1262},{"alt":null,"id":26464187416629,"position":4,"preview_image":{"aspect_ratio":1.777,"height":844,"width":1500,"src":"\/\/gamescrazydeals.com\/cdn\/shop\/files\/Pre-Order_NintendoSwitchConsoleMarioRedEditionWithFreeMario_RabbidsSparksOfHope_1YearLocalAgentWarranty_-3.jpg?v=1696230586"},"aspect_ratio":1.777,"height":844,"media_type":"image","src":"\/\/gamescrazydeals.com\/cdn\/shop\/files\/Pre-Order_NintendoSwitchConsoleMarioRedEditionWithFreeMario_RabbidsSparksOfHope_1YearLocalAgentWarranty_-3.jpg?v=1696230586","width":1500},{"alt":null,"id":26464187449397,"position":5,"preview_image":{"aspect_ratio":1.777,"height":844,"width":1500,"src":"\/\/gamescrazydeals.com\/cdn\/shop\/files\/Pre-Order_NintendoSwitchConsoleMarioRedEditionWithFreeMario_RabbidsSparksOfHope_1YearLocalAgentWarranty_-4.jpg?v=1696230586"},"aspect_ratio":1.777,"height":844,"media_type":"image","src":"\/\/gamescrazydeals.com\/cdn\/shop\/files\/Pre-Order_NintendoSwitchConsoleMarioRedEditionWithFreeMario_RabbidsSparksOfHope_1YearLocalAgentWarranty_-4.jpg?v=1696230586","width":1500},{"alt":null,"id":26464187482165,"position":6,"preview_image":{"aspect_ratio":1.332,"height":1126,"width":1500,"src":"\/\/gamescrazydeals.com\/cdn\/shop\/files\/Pre-Order_NintendoSwitchConsoleMarioRedEditionWithFreeMario_RabbidsSparksOfHope_1YearLocalAgentWarranty.jpg?v=1696230585"},"aspect_ratio":1.332,"height":1126,"media_type":"image","src":"\/\/gamescrazydeals.com\/cdn\/shop\/files\/Pre-Order_NintendoSwitchConsoleMarioRedEditionWithFreeMario_RabbidsSparksOfHope_1YearLocalAgentWarranty.jpg?v=1696230585","width":1500}],"content":"\u003ch2 data-mce-fragment=\"1\" class=\"Heading__StyledHeading-sc-1m9kw5a-0 fhmjpN h-text-center\" data-test=\"tabListHeading\"\u003e\u003cspan\u003eItem available on 6th October 2023\u003c\/span\u003e\u003c\/h2\u003e\n\u003cdiv class=\"Row-uds8za-0 fdXLni h-margin-v-default\"\u003e\n\u003cdiv class=\"Col-favj32-0 hKWLcP\"\u003e\n\u003cdiv class=\"styles__FullHeightDiv-sc-1abi2x5-1 cnoboG h-bg-white h-padding-a-tiny h-margin-h-default\"\u003e\n\u003ch3 class=\"h-text-bs h-margin-l-default h-margin-t-default\"\u003eAt a glance\u003c\/h3\u003e\n\u003cdiv class=\"Row-uds8za-0 fdXLni h-margin-h-tight h-margin-t-tight h-margin-b-default\" data-test=\"wellnessBadgesOnly\"\u003e\n\u003cdiv data-test=\"wellnessBadgeOnly\" class=\"h-margin-h-default h-margin-v-tiny h-text-center h-padding-h-tiny\"\u003e\n\u003cdiv class=\"styles__WellnessBadge-sc-1abi2x5-2 bOuErm h-text-break-word\"\u003e\n\u003cdiv\u003e\u003cpicture\u003e\u003csource srcset=\"https:\/\/target.scene7.com\/is\/image\/Target\/GUEST_030609dd-938f-49d1-8900-52a5b3f2982c?wid=75\u0026amp;hei=75\u0026amp;qlt=80\u0026amp;fmt=webp\" media=\"(min-width: 768px)\"\u003e\u003csource srcset=\"https:\/\/target.scene7.com\/is\/image\/Target\/GUEST_030609dd-938f-49d1-8900-52a5b3f2982c?wid=75\u0026amp;hei=75\u0026amp;qlt=80\u0026amp;fmt=webp\" media=\"(min-width: 0px)\"\u003e\u003cimg alt=\"Nintendo Switch Compatible\"\u003e\u003c\/source\u003e\u003c\/picture\u003e\u003c\/div\u003e\n\u003c\/div\u003e\n\u003cdiv class=\"styles__MaxWidth75Div-sc-1abi2x5-4 clrRTD h-text-bold\"\u003eNintendo Switch OLED Compatible\u003cbr\u003e\u003cbr\u003e\n\u003c\/div\u003e\n\u003c\/div\u003e\n\u003c\/div\u003e\n\u003c\/div\u003e\n\u003c\/div\u003e\n\u003cdiv class=\"Col-favj32-0 hKWLcP\"\u003e\n\u003cdiv class=\"styles__FullHeightDiv-sc-1abi2x5-1 cnoboG h-bg-white h-padding-a-tiny h-margin-h-default\"\u003e\n\u003ch3 class=\"h-text-bs h-margin-t-default h-margin-l-default\"\u003eHighlights\u003c\/h3\u003e\n\u003cdiv\u003e\n\u003cdiv class=\"styles__FullHeightDiv-sc-6aebpn-3 bBjdaQ h-bg-white\"\u003e\n\u003cul direction=\"column\" class=\"styles__BulletList-sc-6aebpn-1 ddyaWM h-display-flex h-margin-t-x2 h-margin-b-default\"\u003e\n\u003cli class=\"styles__Bullet-sc-6aebpn-0 dKfJvU h-padding-t-x2 h-padding-r-tight h-text-md\"\u003e\u003cspan\u003eVivid 7\" OLED screen\u003c\/span\u003e\u003c\/li\u003e\n\u003cli class=\"styles__Bullet-sc-6aebpn-0 dKfJvU h-padding-t-x2 h-padding-r-tight h-text-md\"\u003e\u003cspan\u003eDesign elements inspired by Mario\u003c\/span\u003e\u003c\/li\u003e\n\u003cli class=\"styles__Bullet-sc-6aebpn-0 dKfJvU h-padding-t-x2 h-padding-r-tight h-text-md\"\u003e\u003cspan\u003eThree play modes: TV, Tabletop, and Handheld\u003c\/span\u003e\u003c\/li\u003e\n\u003cli class=\"styles__Bullet-sc-6aebpn-0 dKfJvU h-padding-t-x2 h-padding-r-tight h-text-md\"\u003e\u003cspan\u003eLocal co-op*, local wireless*, and online multiplayer**\u003c\/span\u003e\u003c\/li\u003e\n\u003cli class=\"styles__Bullet-sc-6aebpn-0 dKfJvU h-padding-t-x2 h-padding-r-tight h-text-md\"\u003e\u003cspan\u003eDetachable Joy-Con controllers\u003c\/span\u003e\u003c\/li\u003e\n\u003cli class=\"styles__Bullet-sc-6aebpn-0 dKfJvU h-padding-t-x2 h-padding-r-tight h-text-md\"\u003e\u003cspan\u003e64 GB internal storage (a portion of which is reserved for use by the system)\u003c\/span\u003e\u003c\/li\u003e\n\u003cli class=\"styles__Bullet-sc-6aebpn-0 dKfJvU h-padding-t-x2 h-padding-r-tight h-text-md\"\u003e\u003cspan\u003eEnhanced audio in Handheld and Tabletop modes\u003c\/span\u003e\u003c\/li\u003e\n\u003cli class=\"styles__Bullet-sc-6aebpn-0 dKfJvU h-padding-t-x2 h-padding-r-tight h-text-md\"\u003e\u003cspan\u003eWide adjustable stand\u003c\/span\u003e\u003c\/li\u003e\n\u003cli class=\"styles__Bullet-sc-6aebpn-0 dKfJvU h-padding-t-x2 h-padding-r-tight h-text-md\"\u003e\u003cspan\u003eDock with wired LAN port (LAN cable sold separately)\u003c\/span\u003e\u003c\/li\u003e\n\u003cli class=\"styles__Bullet-sc-6aebpn-0 dKfJvU h-padding-t-x2 h-padding-r-tight h-text-md\"\u003e\u003cspan\u003eNintendo Switch is the home of Mario and more family-friendly series!\u003c\/span\u003e\u003c\/li\u003e\n\u003c\/ul\u003e\n\u003c\/div\u003e\n\u003c\/div\u003e\n\u003c\/div\u003e\n\u003c\/div\u003e\n\u003c\/div\u003e\n\u003cdiv class=\"h-bg-white h-margin-a-default h-padding-h-tiny h-padding-v-default\" id=\"specAndDescript\"\u003e\n\u003cdiv class=\"Row-uds8za-0 fdXLni\"\u003e\n\u003cdiv class=\"Col-favj32-0 hKWLcP h-padding-h-default\"\u003e\n\u003ch3 class=\"h-text-bs h-margin-b-default\" tabindex=\"-1\" data-mce-tabindex=\"-1\"\u003e\u003c\/h3\u003e\n\u003ch3 class=\"h-text-bs h-margin-b-default\" tabindex=\"-1\" data-mce-tabindex=\"-1\"\u003eSpecifications\u003cbr\u003e\n\u003c\/h3\u003e\n\u003cdiv\u003e\n\u003cdiv class=\"Col-favj32-0 hKWLcP h-padding-h-default\"\u003e\n\u003cdiv\u003e\n\u003cdiv\u003e\n\u003cb\u003eDimensions (Overall):\u003c\/b\u003e\u003cspan\u003e \u003cmeta charset=\"utf-8\"\u003e8.25 Inches (H) x 10.22 Inches (W) x 3.93 Inches (D)\u003c\/span\u003e\n\u003c\/div\u003e\n\u003chr\u003e\n\u003c\/div\u003e\n\u003cdiv\u003e\n\u003cdiv\u003e\n\u003cb\u003eWeight: \u003c\/b\u003e3.9 Pounds\u003c\/div\u003e\n\u003chr\u003e\n\u003c\/div\u003e\n\u003cdiv\u003e\n\u003cdiv\u003e\n\u003cb\u003eModel Compatibility:\u003c\/b\u003e\u003cspan\u003e \u003c\/span\u003eNintendo Switch OLED\u003c\/div\u003e\n\u003chr\u003e\n\u003c\/div\u003e\n\u003cdiv\u003e\n\u003cdiv\u003e\n\u003cb\u003eIncludes:\u003c\/b\u003e\u003cspan\u003e \u003c\/span\u003eNintendo Switch Console – OLED Model in Mario Red, Joy-Con (L)\/(R) controllers in Mario Red, Joy-Con strap, Nintendo Switch Dock – OLED Model in Mario Red, Joy-Con grip, Nintendo Switch AC Adapter, High speed HDMI cable\u003c\/div\u003e\n\u003chr\u003e\n\u003c\/div\u003e\n\u003cdiv\u003e\n\u003cdiv\u003e\n\u003cb\u003eElectronics Features:\u003c\/b\u003e\u003cspan\u003e \u003cmeta charset=\"utf-8\"\u003eBacklit Display, Touchscreen Display\u003c\/span\u003e\n\u003c\/div\u003e\n\u003chr\u003e\n\u003c\/div\u003e\n\u003cdiv\u003e\n\u003cdiv\u003e\n\u003cb\u003eConnection Types:\u003c\/b\u003e\u003cspan\u003e \u003c\/span\u003e\u003cspan data-mce-fragment=\"1\"\u003eUSB-C, HDMI, MicroSD\u003c\/span\u003e\n\u003c\/div\u003e\n\u003chr\u003e\n\u003c\/div\u003e\n\u003cdiv\u003e\n\u003cdiv\u003e\n\u003cb\u003eScreen Size: \u003c\/b\u003e7.0\" OLED touch screen\u003c\/div\u003e\n\u003chr\u003e\n\u003c\/div\u003e\n\u003cdiv\u003e\n\u003cdiv\u003e\n\u003cb\u003eData storage capacity:\u003c\/b\u003e\u003cspan\u003e 64\u003c\/span\u003e GB\u003c\/div\u003e\n\u003chr\u003e\n\u003c\/div\u003e\n\u003cdiv\u003e\n\u003cdiv\u003e\n\u003cb\u003eBattery Life :\u003c\/b\u003e\u003cspan\u003e\u003cspan\u003e  Approx. 4.5 – 9 hours (\u003cmeta charset=\"utf-8\"\u003eModel number: HEG-001)\u003c\/span\u003e\u003c\/span\u003e\u003cbr\u003e\n\u003c\/div\u003e\n\u003chr\u003e\n\u003c\/div\u003e\n\u003cdiv\u003e\n\u003cdiv\u003e\n\u003cb\u003eWarranty:\u003c\/b\u003e\u003cspan\u003e 1 Year Local Agent Warranty\u003c\/span\u003e\n\u003c\/div\u003e\n\u003chr\u003e\n\u003c\/div\u003e\n\u003cdiv\u003e\n\u003cb\u003eStreet Date\u003c\/b\u003e:\u003cspan\u003e October\u003c\/span\u003e 6, 2023\u003c\/div\u003e\n\u003cdiv\u003e\u003chr\u003e\u003c\/div\u003e\n\u003cdiv\u003e\n\u003cb\u003eOrigin\u003c\/b\u003e:\u003cspan\u003e Local (SG) by Maxsoft\u003c\/span\u003e\n\u003c\/div\u003e\n\u003c\/div\u003e\n\u003cdiv class=\"Col-favj32-0 hKWLcP h-padding-l-default\"\u003e\n\u003ch3 class=\"h-text-bs h-margin-b-default\"\u003e\u003cbr\u003e\u003c\/h3\u003e\n\u003c\/div\u003e\n\u003c\/div\u003e\n\u003c\/div\u003e\n\u003cdiv class=\"Col-favj32-0 hKWLcP h-padding-l-default\"\u003e\n\u003ch3 class=\"styles__StyledHeading-sc-1xmf98v-0 cyniyG h-text-bs h-margin-b-none\"\u003eDescription\u003c\/h3\u003e\n\u003cdiv class=\"h-margin-t-x2\" data-test=\"item-details-description\"\u003eWarp into a world of games with the Nintendo Switch – OLED Model: Mario Red Edition system. The system features a console, dock, and Joy-Con™ controllers all in the iconic Mario Red color. A silhouette design of Mario jumps into action on the back of the dock. Look closely, and you'll also find some hidden coins!\u003c\/div\u003e\n\u003cdiv class=\"h-margin-v-default\"\u003e\u003cbr\u003e\u003c\/div\u003e\n\u003cdiv class=\"Col-favj32-0 iXmsJV\"\u003e\n\u003cdiv data-test=\"wellnessBadgeAndDescriptionsContainer\"\u003e\n\u003cdiv data-test=\"wellnessBadgeAndDescription\" class=\"Row-uds8za-0 fdXLni h-margin-v-wide\"\u003e\n\u003cdiv class=\"Col-favj32-0 hggiUw\"\u003e\n\u003cdiv class=\"styles__WellnessIcon-sc-1abi2x5-3 cITITR h-padding-b-tiny h-padding-r-tight\"\u003e\n\u003cdiv\u003e\u003cpicture\u003e\u003csource srcset=\"https:\/\/target.scene7.com\/is\/image\/Target\/GUEST_030609dd-938f-49d1-8900-52a5b3f2982c?wid=75\u0026amp;hei=75\u0026amp;qlt=80\u0026amp;fmt=webp\" media=\"(min-width: 768px)\"\u003e\u003csource srcset=\"https:\/\/target.scene7.com\/is\/image\/Target\/GUEST_030609dd-938f-49d1-8900-52a5b3f2982c?wid=75\u0026amp;hei=75\u0026amp;qlt=80\u0026amp;fmt=webp\" media=\"(min-width: 0px)\"\u003e\u003cimg alt=\"\"\u003e\u003c\/source\u003e\u003c\/picture\u003e\u003c\/div\u003e\n\u003c\/div\u003e\n\u003c\/div\u003e\n\u003cdiv class=\"Col-favj32-0 jziCWo\" align=\"left\"\u003e\n\u003cdiv class=\"h-text-bold h-text-break-word\"\u003eNintendo Switch Compatible\u003c\/div\u003e\nCompatible with Nintendo Switch\u003cbr\u003e\u003cbr\u003e\n\u003c\/div\u003e\n\u003c\/div\u003e\n\u003c\/div\u003e\n\u003c\/div\u003e\n\u003c\/div\u003e\n\u003c\/div\u003e\n\u003c\/div\u003e"}
Quick View
{"id":7237324046389,"title":"[Pre-Order] Nintendo Switch Lite Animal Crossing New Horizon Isabelle \/ Timmy \u0026 Tommy Aloha Edition (1 Year Local Agent Warranty)","handle":"nintendo-switch-lite-animal-crossing-new-horizon-isabelle-timmy-tommy-aloha-edition-1-year-local-agent-warranty","description":"\u003cmeta charset=\"utf-8\"\u003e\n\u003cdiv data-mce-fragment=\"1\"\u003e\n\u003cdiv class=\"styles__FullHeightDiv-sc-6aebpn-3 bBjdaQ h-bg-white\" data-mce-fragment=\"1\"\u003e\n\u003ch4 class=\"styles__StyledHeading-sc-1xmf98v-0 cyniyG h-text-bs h-margin-b-none\" data-mce-fragment=\"1\"\u003eReleased Date: 3rd November 2023\u003c\/h4\u003e\n\u003cp\u003e\u003cimg alt=\"\" src=\"https:\/\/cdn.shopify.com\/s\/files\/1\/2540\/2134\/files\/Pre-Order_NintendoSwitchLiteAnimalCrossingNewHorizonIsabelle_Timmy_TommyAlohaEdition_1YearLocalAgentWarranty_480x480.jpg?v=1696227939\"\u003e\u003cimg src=\"https:\/\/cdn.shopify.com\/s\/files\/1\/2540\/2134\/files\/Pre-Order_NintendoSwitchLiteAnimalCrossingNewHorizonIsabelle_Timmy_TommyAlohaEdition_1YearLocalAgentWarranty_-3_480x480.jpg?v=1696227939\" alt=\"\" data-mce-fragment=\"1\" data-mce-src=\"https:\/\/cdn.shopify.com\/s\/files\/1\/2540\/2134\/files\/Pre-Order_NintendoSwitchLiteAnimalCrossingNewHorizonIsabelle_Timmy_TommyAlohaEdition_1YearLocalAgentWarranty_-3_480x480.jpg?v=1696227939\"\u003e\u003c\/p\u003e\n\u003ch4 class=\"styles__StyledHeading-sc-1xmf98v-0 cyniyG h-text-bs h-margin-b-none\" data-mce-fragment=\"1\"\u003eHighlights\u003c\/h4\u003e\n\u003cul class=\"styles__BulletList-sc-6aebpn-1 ddyaWM h-display-flex h-margin-t-x2 h-margin-b-default\" direction=\"column\" data-mce-fragment=\"1\"\u003e\n\u003cli class=\"styles__Bullet-sc-6aebpn-0 dKfJvU h-padding-t-x2 h-padding-r-tight h-text-md\" data-mce-fragment=\"1\"\u003e\u003cspan data-mce-fragment=\"1\"\u003eCompact, lightweight handheld system\u003c\/span\u003e\u003c\/li\u003e\n\u003cli class=\"styles__Bullet-sc-6aebpn-0 dKfJvU h-padding-t-x2 h-padding-r-tight h-text-md\" data-mce-fragment=\"1\"\u003e\u003cspan data-mce-fragment=\"1\"\u003eDesign elements inspired by the Animal Crossing series\u003c\/span\u003e\u003c\/li\u003e\n\u003cli class=\"styles__Bullet-sc-6aebpn-0 dKfJvU h-padding-t-x2 h-padding-r-tight h-text-md\" data-mce-fragment=\"1\"\u003e\u003cspan data-mce-fragment=\"1\"\u003eBuild your community from scratch and meet charming residents in Animal Crossing: New Horizons\u003c\/span\u003e\u003c\/li\u003e\n\u003cli class=\"styles__Bullet-sc-6aebpn-0 dKfJvU h-padding-t-x2 h-padding-r-tight h-text-md\" data-mce-fragment=\"1\"\u003e\u003cspan data-mce-fragment=\"1\"\u003eLocal wireless and online multiplayer\u003c\/span\u003e\u003c\/li\u003e\n\u003cli class=\"styles__Bullet-sc-6aebpn-0 dKfJvU h-padding-t-x2 h-padding-r-tight h-text-md\" data-mce-fragment=\"1\"\u003e\u003cspan data-mce-fragment=\"1\"\u003eInvite friends to your island or visit theirs with up to 1-8 players in local wireless** and online*** multiplayer\u003c\/span\u003e\u003c\/li\u003e\n\u003c\/ul\u003e\n\u003c\/div\u003e\n\u003c\/div\u003e\n\u003cdiv data-mce-fragment=\"1\"\u003e\n\u003ch4 class=\"styles__StyledHeading-sc-1xmf98v-0 cyniyG h-text-bs h-margin-b-none\" data-mce-fragment=\"1\"\u003e\u003c\/h4\u003e\n\u003ch4 class=\"styles__StyledHeading-sc-1xmf98v-0 cyniyG h-text-bs h-margin-b-none\" data-mce-fragment=\"1\"\u003eDescription\u003c\/h4\u003e\n\u003cdiv class=\"h-margin-t-x2\" data-test=\"item-details-description\" data-mce-fragment=\"1\"\u003eCreate your own island paradise and bring it with you wherever you go with this Isabelle's \/ Timmy \u0026amp; Tommy Aloha themed Nintendo Switch™ Lite system. The system features a lovely coral color, a white leaf pattern on the back, and a cute leaf design on the front, inspired by the Animal Crossing™ series.\u003cbr data-mce-fragment=\"1\"\u003e\u003cbr data-mce-fragment=\"1\"\u003eA full game download of Animal Crossing: New Horizons is included—a $60 value*!\u003cbr data-mce-fragment=\"1\"\u003e\u003cbr data-mce-fragment=\"1\"\u003eYour island paradise awaits\u003cbr data-mce-fragment=\"1\"\u003e\u003cbr data-mce-fragment=\"1\"\u003eIn the Animal Crossing: New Horizons game, escape to a deserted island and create your personal getaway. Customize your character, home, and even the landscape itself. Get to know the island residents, garden, fish, decorate, hunt for fossils, and more!\u003cbr data-mce-fragment=\"1\"\u003e\u003cbr data-mce-fragment=\"1\"\u003eShow off your island to friends and family or travel to theirs with local wireless** and online*** multiplayer.\u003cbr data-mce-fragment=\"1\"\u003e\u003cbr data-mce-fragment=\"1\"\u003eDedicated to handheld play\u003cbr data-mce-fragment=\"1\"\u003e\u003cbr data-mce-fragment=\"1\"\u003eThe Nintendo Switch Lite system is lightweight, compact, and designed exclusively for handheld play. Enjoy a little "me time" wherever you happen to be, whether you're on the road or in your own backyard.\u003cbr data-mce-fragment=\"1\"\u003e\u003cbr data-mce-fragment=\"1\"\u003eGames for the whole family\u003cbr data-mce-fragment=\"1\"\u003e\u003cbr data-mce-fragment=\"1\"\u003eNintendo Switch Lite plays all games that support handheld mode.\u003cbr data-mce-fragment=\"1\"\u003e\u003cbr\u003e\n\u003c\/div\u003e\n\u003c\/div\u003e","published_at":"2023-10-02T14:32:51+08:00","created_at":"2023-10-02T14:04:47+08:00","vendor":"Games Crazy Deals","type":"Nintendo-Switch-Console","tags":["New Arrivals","Nintendo","Nintendo-Switch-Console","Pre-Order"],"price":22000,"price_min":22000,"price_max":22000,"available":true,"price_varies":false,"compare_at_price":54900,"compare_at_price_min":54900,"compare_at_price_max":54900,"compare_at_price_varies":false,"variants":[{"id":42608431104053,"title":"Isabelle","option1":"Isabelle","option2":null,"option3":null,"sku":null,"requires_shipping":true,"taxable":true,"featured_image":{"id":34116421255221,"product_id":7237324046389,"position":5,"created_at":"2023-10-02T14:25:30+08:00","updated_at":"2023-10-02T14:25:39+08:00","alt":null,"width":1280,"height":720,"src":"\/\/gamescrazydeals.com\/cdn\/shop\/files\/Pre-Order_NintendoSwitchLiteAnimalCrossingNewHorizonIsabelle_Timmy_TommyAlohaEdition_1YearLocalAgentWarranty.jpg?v=1696227939","variant_ids":[42608431104053]},"available":true,"name":"[Pre-Order] Nintendo Switch Lite Animal Crossing New Horizon Isabelle \/ Timmy \u0026 Tommy Aloha Edition (1 Year Local Agent Warranty) - Isabelle","public_title":"Isabelle","options":["Isabelle"],"price":22000,"weight":2000,"compare_at_price":54900,"inventory_quantity":5,"inventory_management":"shopify","inventory_policy":"deny","barcode":null,"featured_media":{"alt":null,"id":26464182370357,"position":5,"preview_image":{"aspect_ratio":1.778,"height":720,"width":1280,"src":"\/\/gamescrazydeals.com\/cdn\/shop\/files\/Pre-Order_NintendoSwitchLiteAnimalCrossingNewHorizonIsabelle_Timmy_TommyAlohaEdition_1YearLocalAgentWarranty.jpg?v=1696227939"}}},{"id":42608431661109,"title":"Timmy \u0026 Tommy","option1":"Timmy \u0026 Tommy","option2":null,"option3":null,"sku":"","requires_shipping":true,"taxable":true,"featured_image":{"id":34116421156917,"product_id":7237324046389,"position":2,"created_at":"2023-10-02T14:25:30+08:00","updated_at":"2023-10-02T14:25:39+08:00","alt":null,"width":1280,"height":720,"src":"\/\/gamescrazydeals.com\/cdn\/shop\/files\/Pre-Order_NintendoSwitchLiteAnimalCrossingNewHorizonIsabelle_Timmy_TommyAlohaEdition_1YearLocalAgentWarranty_-3.jpg?v=1696227939","variant_ids":[42608431661109]},"available":true,"name":"[Pre-Order] Nintendo Switch Lite Animal Crossing New Horizon Isabelle \/ Timmy \u0026 Tommy Aloha Edition (1 Year Local Agent Warranty) - Timmy \u0026 Tommy","public_title":"Timmy \u0026 Tommy","options":["Timmy \u0026 Tommy"],"price":22000,"weight":2000,"compare_at_price":54900,"inventory_quantity":5,"inventory_management":"shopify","inventory_policy":"deny","barcode":"","featured_media":{"alt":null,"id":26464182468661,"position":2,"preview_image":{"aspect_ratio":1.778,"height":720,"width":1280,"src":"\/\/gamescrazydeals.com\/cdn\/shop\/files\/Pre-Order_NintendoSwitchLiteAnimalCrossingNewHorizonIsabelle_Timmy_TommyAlohaEdition_1YearLocalAgentWarranty_-3.jpg?v=1696227939"}}}],"images":["\/\/gamescrazydeals.com\/cdn\/shop\/files\/Pre-Order_NintendoSwitchLiteAnimalCrossingNewHorizonIsabelleTimmy_TommyAlohaEdition_1YearLocalAgentWarranty_3.png?v=1696227896","\/\/gamescrazydeals.com\/cdn\/shop\/files\/Pre-Order_NintendoSwitchLiteAnimalCrossingNewHorizonIsabelle_Timmy_TommyAlohaEdition_1YearLocalAgentWarranty_-3.jpg?v=1696227939","\/\/gamescrazydeals.com\/cdn\/shop\/files\/Pre-Order_NintendoSwitchLiteAnimalCrossingNewHorizonIsabelle_Timmy_TommyAlohaEdition_1YearLocalAgentWarranty_-5.jpg?v=1696227939","\/\/gamescrazydeals.com\/cdn\/shop\/files\/Pre-Order_NintendoSwitchLiteAnimalCrossingNewHorizonIsabelle_Timmy_TommyAlohaEdition_1YearLocalAgentWarranty_-6.jpg?v=1696227939","\/\/gamescrazydeals.com\/cdn\/shop\/files\/Pre-Order_NintendoSwitchLiteAnimalCrossingNewHorizonIsabelle_Timmy_TommyAlohaEdition_1YearLocalAgentWarranty.jpg?v=1696227939","\/\/gamescrazydeals.com\/cdn\/shop\/files\/Pre-Order_NintendoSwitchLiteAnimalCrossingNewHorizonIsabelle_Timmy_TommyAlohaEdition_1YearLocalAgentWarranty_-1.jpg?v=1696227939","\/\/gamescrazydeals.com\/cdn\/shop\/files\/Pre-Order_NintendoSwitchLiteAnimalCrossingNewHorizonIsabelle_Timmy_TommyAlohaEdition_1YearLocalAgentWarranty_-2.jpg?v=1696227939"],"featured_image":"\/\/gamescrazydeals.com\/cdn\/shop\/files\/Pre-Order_NintendoSwitchLiteAnimalCrossingNewHorizonIsabelleTimmy_TommyAlohaEdition_1YearLocalAgentWarranty_3.png?v=1696227896","options":["Aloha Ediion"],"media":[{"alt":null,"id":26464182304821,"position":1,"preview_image":{"aspect_ratio":1.0,"height":1080,"width":1080,"src":"\/\/gamescrazydeals.com\/cdn\/shop\/files\/Pre-Order_NintendoSwitchLiteAnimalCrossingNewHorizonIsabelleTimmy_TommyAlohaEdition_1YearLocalAgentWarranty_3.png?v=1696227896"},"aspect_ratio":1.0,"height":1080,"media_type":"image","src":"\/\/gamescrazydeals.com\/cdn\/shop\/files\/Pre-Order_NintendoSwitchLiteAnimalCrossingNewHorizonIsabelleTimmy_TommyAlohaEdition_1YearLocalAgentWarranty_3.png?v=1696227896","width":1080},{"alt":null,"id":26464182468661,"position":2,"preview_image":{"aspect_ratio":1.778,"height":720,"width":1280,"src":"\/\/gamescrazydeals.com\/cdn\/shop\/files\/Pre-Order_NintendoSwitchLiteAnimalCrossingNewHorizonIsabelle_Timmy_TommyAlohaEdition_1YearLocalAgentWarranty_-3.jpg?v=1696227939"},"aspect_ratio":1.778,"height":720,"media_type":"image","src":"\/\/gamescrazydeals.com\/cdn\/shop\/files\/Pre-Order_NintendoSwitchLiteAnimalCrossingNewHorizonIsabelle_Timmy_TommyAlohaEdition_1YearLocalAgentWarranty_-3.jpg?v=1696227939","width":1280},{"alt":null,"id":26464182501429,"position":3,"preview_image":{"aspect_ratio":1.778,"height":720,"width":1280,"src":"\/\/gamescrazydeals.com\/cdn\/shop\/files\/Pre-Order_NintendoSwitchLiteAnimalCrossingNewHorizonIsabelle_Timmy_TommyAlohaEdition_1YearLocalAgentWarranty_-5.jpg?v=1696227939"},"aspect_ratio":1.778,"height":720,"media_type":"image","src":"\/\/gamescrazydeals.com\/cdn\/shop\/files\/Pre-Order_NintendoSwitchLiteAnimalCrossingNewHorizonIsabelle_Timmy_TommyAlohaEdition_1YearLocalAgentWarranty_-5.jpg?v=1696227939","width":1280},{"alt":null,"id":26464182337589,"position":4,"preview_image":{"aspect_ratio":1.778,"height":720,"width":1280,"src":"\/\/gamescrazydeals.com\/cdn\/shop\/files\/Pre-Order_NintendoSwitchLiteAnimalCrossingNewHorizonIsabelle_Timmy_TommyAlohaEdition_1YearLocalAgentWarranty_-6.jpg?v=1696227939"},"aspect_ratio":1.778,"height":720,"media_type":"image","src":"\/\/gamescrazydeals.com\/cdn\/shop\/files\/Pre-Order_NintendoSwitchLiteAnimalCrossingNewHorizonIsabelle_Timmy_TommyAlohaEdition_1YearLocalAgentWarranty_-6.jpg?v=1696227939","width":1280},{"alt":null,"id":26464182370357,"position":5,"preview_image":{"aspect_ratio":1.778,"height":720,"width":1280,"src":"\/\/gamescrazydeals.com\/cdn\/shop\/files\/Pre-Order_NintendoSwitchLiteAnimalCrossingNewHorizonIsabelle_Timmy_TommyAlohaEdition_1YearLocalAgentWarranty.jpg?v=1696227939"},"aspect_ratio":1.778,"height":720,"media_type":"image","src":"\/\/gamescrazydeals.com\/cdn\/shop\/files\/Pre-Order_NintendoSwitchLiteAnimalCrossingNewHorizonIsabelle_Timmy_TommyAlohaEdition_1YearLocalAgentWarranty.jpg?v=1696227939","width":1280},{"alt":null,"id":26464182403125,"position":6,"preview_image":{"aspect_ratio":1.778,"height":720,"width":1280,"src":"\/\/gamescrazydeals.com\/cdn\/shop\/files\/Pre-Order_NintendoSwitchLiteAnimalCrossingNewHorizonIsabelle_Timmy_TommyAlohaEdition_1YearLocalAgentWarranty_-1.jpg?v=1696227939"},"aspect_ratio":1.778,"height":720,"media_type":"image","src":"\/\/gamescrazydeals.com\/cdn\/shop\/files\/Pre-Order_NintendoSwitchLiteAnimalCrossingNewHorizonIsabelle_Timmy_TommyAlohaEdition_1YearLocalAgentWarranty_-1.jpg?v=1696227939","width":1280},{"alt":null,"id":26464182435893,"position":7,"preview_image":{"aspect_ratio":1.778,"height":720,"width":1280,"src":"\/\/gamescrazydeals.com\/cdn\/shop\/files\/Pre-Order_NintendoSwitchLiteAnimalCrossingNewHorizonIsabelle_Timmy_TommyAlohaEdition_1YearLocalAgentWarranty_-2.jpg?v=1696227939"},"aspect_ratio":1.778,"height":720,"media_type":"image","src":"\/\/gamescrazydeals.com\/cdn\/shop\/files\/Pre-Order_NintendoSwitchLiteAnimalCrossingNewHorizonIsabelle_Timmy_TommyAlohaEdition_1YearLocalAgentWarranty_-2.jpg?v=1696227939","width":1280}],"content":"\u003cmeta charset=\"utf-8\"\u003e\n\u003cdiv data-mce-fragment=\"1\"\u003e\n\u003cdiv class=\"styles__FullHeightDiv-sc-6aebpn-3 bBjdaQ h-bg-white\" data-mce-fragment=\"1\"\u003e\n\u003ch4 class=\"styles__StyledHeading-sc-1xmf98v-0 cyniyG h-text-bs h-margin-b-none\" data-mce-fragment=\"1\"\u003eReleased Date: 3rd November 2023\u003c\/h4\u003e\n\u003cp\u003e\u003cimg alt=\"\" src=\"https:\/\/cdn.shopify.com\/s\/files\/1\/2540\/2134\/files\/Pre-Order_NintendoSwitchLiteAnimalCrossingNewHorizonIsabelle_Timmy_TommyAlohaEdition_1YearLocalAgentWarranty_480x480.jpg?v=1696227939\"\u003e\u003cimg src=\"https:\/\/cdn.shopify.com\/s\/files\/1\/2540\/2134\/files\/Pre-Order_NintendoSwitchLiteAnimalCrossingNewHorizonIsabelle_Timmy_TommyAlohaEdition_1YearLocalAgentWarranty_-3_480x480.jpg?v=1696227939\" alt=\"\" data-mce-fragment=\"1\" data-mce-src=\"https:\/\/cdn.shopify.com\/s\/files\/1\/2540\/2134\/files\/Pre-Order_NintendoSwitchLiteAnimalCrossingNewHorizonIsabelle_Timmy_TommyAlohaEdition_1YearLocalAgentWarranty_-3_480x480.jpg?v=1696227939\"\u003e\u003c\/p\u003e\n\u003ch4 class=\"styles__StyledHeading-sc-1xmf98v-0 cyniyG h-text-bs h-margin-b-none\" data-mce-fragment=\"1\"\u003eHighlights\u003c\/h4\u003e\n\u003cul class=\"styles__BulletList-sc-6aebpn-1 ddyaWM h-display-flex h-margin-t-x2 h-margin-b-default\" direction=\"column\" data-mce-fragment=\"1\"\u003e\n\u003cli class=\"styles__Bullet-sc-6aebpn-0 dKfJvU h-padding-t-x2 h-padding-r-tight h-text-md\" data-mce-fragment=\"1\"\u003e\u003cspan data-mce-fragment=\"1\"\u003eCompact, lightweight handheld system\u003c\/span\u003e\u003c\/li\u003e\n\u003cli class=\"styles__Bullet-sc-6aebpn-0 dKfJvU h-padding-t-x2 h-padding-r-tight h-text-md\" data-mce-fragment=\"1\"\u003e\u003cspan data-mce-fragment=\"1\"\u003eDesign elements inspired by the Animal Crossing series\u003c\/span\u003e\u003c\/li\u003e\n\u003cli class=\"styles__Bullet-sc-6aebpn-0 dKfJvU h-padding-t-x2 h-padding-r-tight h-text-md\" data-mce-fragment=\"1\"\u003e\u003cspan data-mce-fragment=\"1\"\u003eBuild your community from scratch and meet charming residents in Animal Crossing: New Horizons\u003c\/span\u003e\u003c\/li\u003e\n\u003cli class=\"styles__Bullet-sc-6aebpn-0 dKfJvU h-padding-t-x2 h-padding-r-tight h-text-md\" data-mce-fragment=\"1\"\u003e\u003cspan data-mce-fragment=\"1\"\u003eLocal wireless and online multiplayer\u003c\/span\u003e\u003c\/li\u003e\n\u003cli class=\"styles__Bullet-sc-6aebpn-0 dKfJvU h-padding-t-x2 h-padding-r-tight h-text-md\" data-mce-fragment=\"1\"\u003e\u003cspan data-mce-fragment=\"1\"\u003eInvite friends to your island or visit theirs with up to 1-8 players in local wireless** and online*** multiplayer\u003c\/span\u003e\u003c\/li\u003e\n\u003c\/ul\u003e\n\u003c\/div\u003e\n\u003c\/div\u003e\n\u003cdiv data-mce-fragment=\"1\"\u003e\n\u003ch4 class=\"styles__StyledHeading-sc-1xmf98v-0 cyniyG h-text-bs h-margin-b-none\" data-mce-fragment=\"1\"\u003e\u003c\/h4\u003e\n\u003ch4 class=\"styles__StyledHeading-sc-1xmf98v-0 cyniyG h-text-bs h-margin-b-none\" data-mce-fragment=\"1\"\u003eDescription\u003c\/h4\u003e\n\u003cdiv class=\"h-margin-t-x2\" data-test=\"item-details-description\" data-mce-fragment=\"1\"\u003eCreate your own island paradise and bring it with you wherever you go with this Isabelle's \/ Timmy \u0026amp; Tommy Aloha themed Nintendo Switch™ Lite system. The system features a lovely coral color, a white leaf pattern on the back, and a cute leaf design on the front, inspired by the Animal Crossing™ series.\u003cbr data-mce-fragment=\"1\"\u003e\u003cbr data-mce-fragment=\"1\"\u003eA full game download of Animal Crossing: New Horizons is included—a $60 value*!\u003cbr data-mce-fragment=\"1\"\u003e\u003cbr data-mce-fragment=\"1\"\u003eYour island paradise awaits\u003cbr data-mce-fragment=\"1\"\u003e\u003cbr data-mce-fragment=\"1\"\u003eIn the Animal Crossing: New Horizons game, escape to a deserted island and create your personal getaway. Customize your character, home, and even the landscape itself. Get to know the island residents, garden, fish, decorate, hunt for fossils, and more!\u003cbr data-mce-fragment=\"1\"\u003e\u003cbr data-mce-fragment=\"1\"\u003eShow off your island to friends and family or travel to theirs with local wireless** and online*** multiplayer.\u003cbr data-mce-fragment=\"1\"\u003e\u003cbr data-mce-fragment=\"1\"\u003eDedicated to handheld play\u003cbr data-mce-fragment=\"1\"\u003e\u003cbr data-mce-fragment=\"1\"\u003eThe Nintendo Switch Lite system is lightweight, compact, and designed exclusively for handheld play. Enjoy a little "me time" wherever you happen to be, whether you're on the road or in your own backyard.\u003cbr data-mce-fragment=\"1\"\u003e\u003cbr data-mce-fragment=\"1\"\u003eGames for the whole family\u003cbr data-mce-fragment=\"1\"\u003e\u003cbr data-mce-fragment=\"1\"\u003eNintendo Switch Lite plays all games that support handheld mode.\u003cbr data-mce-fragment=\"1\"\u003e\u003cbr\u003e\n\u003c\/div\u003e\n\u003c\/div\u003e"}
Nintendo-Switch-Games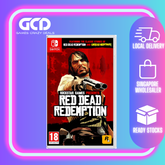 Quick View
{"id":7236376002613,"title":"Nintendo Switch Red Dead Redemption (EU)","handle":"copy-of-pre-order-nintendo-switch-red-dead-redemption-eu","description":"\u003cstrong\u003eGenre:\u003c\/strong\u003e Action Adventure\u003cbr\u003e\u003cstrong\u003eRegion:\u003c\/strong\u003e EU\u003cbr\u003e\u003cstrong\u003eRelease Date: \u003c\/strong\u003e13th October 2023\n\u003cp\u003e\u003ciframe title=\"YouTube video player\" src=\"https:\/\/www.youtube.com\/embed\/t5Nwgd_T1-4?si=a_NbHwFruvO1phDK\" height=\"315\" width=\"560\" allowfullscreen=\"\" allow=\"accelerometer; autoplay; clipboard-write; encrypted-media; gyroscope; picture-in-picture; web-share\" frameborder=\"0\"\u003e\u003c\/iframe\u003e\u003cbr\u003e\u003c\/p\u003e\n\u003csection id=\"overview\" class=\"content-wrapper-standard\"\u003e\n\u003cdiv class=\"overview-columns flex\"\u003e\n\u003cdiv class=\"overview-content\"\u003e\n\u003cdiv class=\"bullet-list drawer\" itemprop=\"description\"\u003e\n\u003cmeta charset=\"utf-8\"\u003e\n\u003cdiv class=\"constrained-sc-1d4m5hk-0 Articlestyles__NarrowConstrained-sc-jqr39t-3 cTFArn etCuSK\"\u003e\n\u003cp class=\"RichTextstyles__Paragraph-sc-16r5mbt-0 NqoHc\"\u003eWhen federal agents threaten his family, former outlaw John Marston is forced to hunt down the gang of criminals he once called friends.\u003c\/p\u003e\n\u003c\/div\u003e\n\u003cdiv class=\"constrained-sc-1d4m5hk-0 Articlestyles__NarrowConstrained-sc-jqr39t-3 cTFArn etCuSK\"\u003e\n\u003cp class=\"RichTextstyles__Paragraph-sc-16r5mbt-0 NqoHc\"\u003eExperience Marston's journey across the sprawling expanses of the American West and Mexico as he fights to bury his blood-stained past in the critically acclaimed adventure.\u003c\/p\u003e\n\u003c\/div\u003e\n\u003cdiv class=\"constrained-sc-1d4m5hk-0 Articlestyles__NarrowConstrained-sc-jqr39t-3 cTFArn etCuSK\"\u003e\n\u003cp class=\"RichTextstyles__Paragraph-sc-16r5mbt-0 NqoHc\"\u003eAlso included is Undead Nightmare, the ground-breaking horror story expansion that transforms the world of Red Dead Redemption into an apocalyptic fight for survival against a zombie horde.\u003c\/p\u003e\n\u003c\/div\u003e\n\u003cdiv class=\"constrained-sc-1d4m5hk-0 Articlestyles__NarrowConstrained-sc-jqr39t-3 cTFArn etCuSK\"\u003e\n\u003cp class=\"RichTextstyles__Paragraph-sc-16r5mbt-0 NqoHc\"\u003eFeaturing the complete single-player experiences of both games, Red Dead Redemption also includes bonus content from the Game of the Year Edition and more*\u003c\/p\u003e\n\u003c\/div\u003e\n\u003cul\u003e\u003c\/ul\u003e\n\u003c\/div\u003e\n\u003c\/div\u003e\n\u003c\/div\u003e\n\u003c\/section\u003e","published_at":"2023-09-29T17:38:33+08:00","created_at":"2023-09-29T17:30:24+08:00","vendor":"Games Crazy Deals","type":"Nintendo-Switch-Games","tags":["New Arrivals","Nintendo","Nintendo-Switch","Nintendo-Switch-Games","Pre-Order"],"price":5990,"price_min":5990,"price_max":5990,"available":true,"price_varies":false,"compare_at_price":null,"compare_at_price_min":0,"compare_at_price_max":0,"compare_at_price_varies":false,"variants":[{"id":42606553104437,"title":"Default Title","option1":"Default Title","option2":null,"option3":null,"sku":null,"requires_shipping":true,"taxable":false,"featured_image":null,"available":true,"name":"Nintendo Switch Red Dead Redemption (EU)","public_title":null,"options":["Default Title"],"price":5990,"weight":200,"compare_at_price":null,"inventory_quantity":5,"inventory_management":"shopify","inventory_policy":"deny","barcode":null}],"images":["\/\/gamescrazydeals.com\/cdn\/shop\/files\/NintendoSwitchRedDeadRedemption_EU_1.png?v=1695980104"],"featured_image":"\/\/gamescrazydeals.com\/cdn\/shop\/files\/NintendoSwitchRedDeadRedemption_EU_1.png?v=1695980104","options":["Title"],"media":[{"alt":null,"id":26462090330165,"position":1,"preview_image":{"aspect_ratio":1.0,"height":1080,"width":1080,"src":"\/\/gamescrazydeals.com\/cdn\/shop\/files\/NintendoSwitchRedDeadRedemption_EU_1.png?v=1695980104"},"aspect_ratio":1.0,"height":1080,"media_type":"image","src":"\/\/gamescrazydeals.com\/cdn\/shop\/files\/NintendoSwitchRedDeadRedemption_EU_1.png?v=1695980104","width":1080}],"content":"\u003cstrong\u003eGenre:\u003c\/strong\u003e Action Adventure\u003cbr\u003e\u003cstrong\u003eRegion:\u003c\/strong\u003e EU\u003cbr\u003e\u003cstrong\u003eRelease Date: \u003c\/strong\u003e13th October 2023\n\u003cp\u003e\u003ciframe title=\"YouTube video player\" src=\"https:\/\/www.youtube.com\/embed\/t5Nwgd_T1-4?si=a_NbHwFruvO1phDK\" height=\"315\" width=\"560\" allowfullscreen=\"\" allow=\"accelerometer; autoplay; clipboard-write; encrypted-media; gyroscope; picture-in-picture; web-share\" frameborder=\"0\"\u003e\u003c\/iframe\u003e\u003cbr\u003e\u003c\/p\u003e\n\u003csection id=\"overview\" class=\"content-wrapper-standard\"\u003e\n\u003cdiv class=\"overview-columns flex\"\u003e\n\u003cdiv class=\"overview-content\"\u003e\n\u003cdiv class=\"bullet-list drawer\" itemprop=\"description\"\u003e\n\u003cmeta charset=\"utf-8\"\u003e\n\u003cdiv class=\"constrained-sc-1d4m5hk-0 Articlestyles__NarrowConstrained-sc-jqr39t-3 cTFArn etCuSK\"\u003e\n\u003cp class=\"RichTextstyles__Paragraph-sc-16r5mbt-0 NqoHc\"\u003eWhen federal agents threaten his family, former outlaw John Marston is forced to hunt down the gang of criminals he once called friends.\u003c\/p\u003e\n\u003c\/div\u003e\n\u003cdiv class=\"constrained-sc-1d4m5hk-0 Articlestyles__NarrowConstrained-sc-jqr39t-3 cTFArn etCuSK\"\u003e\n\u003cp class=\"RichTextstyles__Paragraph-sc-16r5mbt-0 NqoHc\"\u003eExperience Marston's journey across the sprawling expanses of the American West and Mexico as he fights to bury his blood-stained past in the critically acclaimed adventure.\u003c\/p\u003e\n\u003c\/div\u003e\n\u003cdiv class=\"constrained-sc-1d4m5hk-0 Articlestyles__NarrowConstrained-sc-jqr39t-3 cTFArn etCuSK\"\u003e\n\u003cp class=\"RichTextstyles__Paragraph-sc-16r5mbt-0 NqoHc\"\u003eAlso included is Undead Nightmare, the ground-breaking horror story expansion that transforms the world of Red Dead Redemption into an apocalyptic fight for survival against a zombie horde.\u003c\/p\u003e\n\u003c\/div\u003e\n\u003cdiv class=\"constrained-sc-1d4m5hk-0 Articlestyles__NarrowConstrained-sc-jqr39t-3 cTFArn etCuSK\"\u003e\n\u003cp class=\"RichTextstyles__Paragraph-sc-16r5mbt-0 NqoHc\"\u003eFeaturing the complete single-player experiences of both games, Red Dead Redemption also includes bonus content from the Game of the Year Edition and more*\u003c\/p\u003e\n\u003c\/div\u003e\n\u003cul\u003e\u003c\/ul\u003e\n\u003c\/div\u003e\n\u003c\/div\u003e\n\u003c\/div\u003e\n\u003c\/section\u003e"}